May 24, 2023
Reading Time:
4
min
MilleniumOne Review: Details Regarding This Scam Broker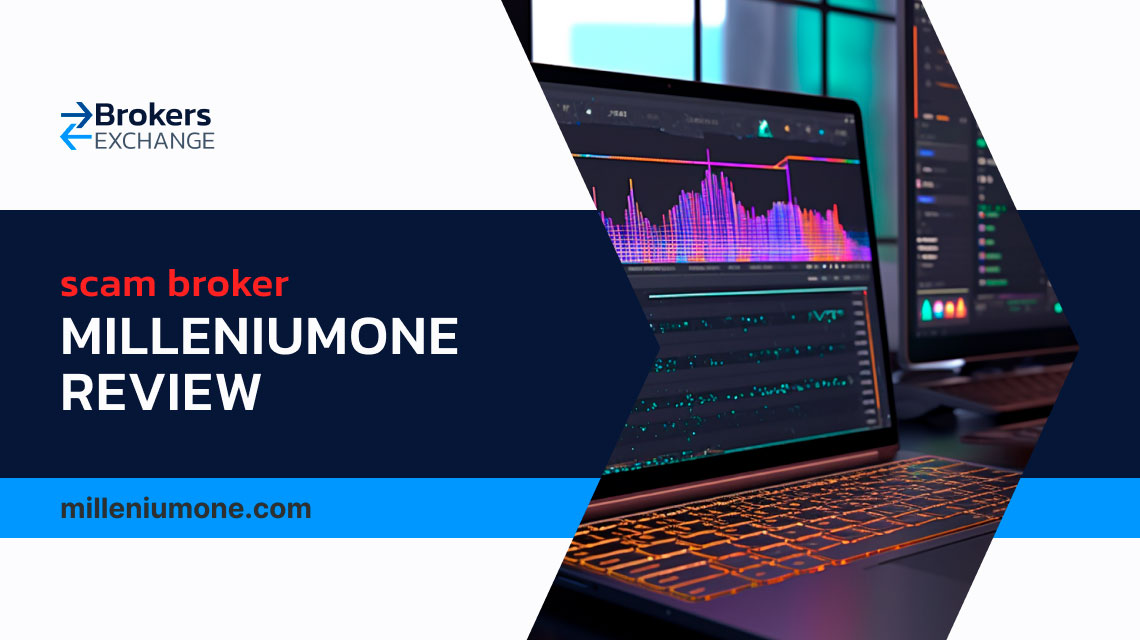 Looks, looks and more looks. That is the only thing MilleniumOne can offer you. To be honest, their website looks well put together but once you dig a bit deeper, there isn't actually anything.

And that is mainly because the only detail that MilleniumOne broker shared is their St. Vincent and Grenadines address. We lack details about the initial deposit, phone number and other important things, which is quite a concern.

From an offshore address, to no regulation or minimum deposit disclosed, there is a lot to cover in this MilleniumOne broker review, so stick around and read on.

| | |
| --- | --- |
| Company | Fiesta LLC |
| Regulation | Unregulated offshore broker |
| Warning | BaFin, CNMV, AFM, FSMA |
| Website | milleniumone.com |
| Address | Suite 305, Griffith Corporate Centre, Beachmont, Kingstown, St. Vincent and the Grenadines |
| Email | [email protected] |
| Phone | N/A |
| Minimum Deposit | N/A |
| Leverage | 1:100 |
| Bonuses | N/A |
MilleniumOne Regulation and Security of Funds
MilleniumOne is said to be owned by Fiesta LLC, registered in December 2021 in Saint Vincent and the Grenadines. Since the firm shares the address with hundreds of scheme firms and is incorporated by the same third-party affiliate, we can see the pattern.
Mainly because St. Vincent and Grenadines is a haven for all illicit brokers out there. This is because SVG doesn't actually offer any regulation and its government doesn't overlook any forex or CFD trading.

And that's why MilleniumOne is not regulated and holds no license. Additionally, they also have a lot of warnings issued against them.

They are blacklisted by BaFin, CNMV, AFM, and FSMA. So trading with MilleniumOne and TigersFM is very dangerous. 
Trading Platform Overview
MilleniumOne, just like many other fraudulent brokers, claims to offer a top-notch trading platform in MetaTrader 4 as well as a browser-based terminal called WebTrader.

But here comes the kicker. There isn't any actual MetaTarder4 available anywhere on their website as they boost about so much. Once you try to open the platform, the only option you have available is a basic Web Trader.

It has somewhat advanced functions, pending orders, Stop Loss, and Take Profit. Instead of a plain TradingView chart, clients can actually apply some strategies and gain profits. That's why it's for the best to work with legitimate brokers that offer the real deal such as MetaTrader 4 and MetaTrader5. 
Account Types Available at MilleniumOne
On the MilleniumOne website, they have stated the following three types of trading accounts. Those include the following: 
While we know virtually nothing about these account types except for the minimum leverage, clients ask how much they need to deposit. The answer is that you'll need to wait for an evaluation by the broker's employees.

This is just absurd and not heard of in the world of regulated brokers. They do offer a Demo account but it's a  lure for inexperienced traders. Upon registering an account, you'll be allowed to practice trades and almost certainly gain profit.

This should make you comfortable enough to invest in real funds. And once you do, you'll be dragged into the scheme quite quickly.

Funding Options Available
As we have mentioned, MilleniumOne doesn't have any minimum deposit information disclosed anywhere on their website. The only thing they have mentioned is that clients need to contact Account Managers so they can allow the client to start using the trading account and agree to the minimum deposit.

All of this is too fishy and very scammy. All regulated brokers have their minimum deposit disclosed and stated on the main page of their website. Also, the deposit methods are nowhere to be seen either. 
The same goes for the withdrawals. The only thing disclosed is that accounts with no trading activity will be charged 3% when a withdrawal is requested.
The Methods Used in the Fraud
This will come as no surprise, but trading scams like Finex Trader or MilleniumOne are not original at all. The broker first tries to get your personal information if you have left it on some sketchy sites and then they will harass you. They will likely first start with one or two calls a day which will in no time turn into 5 calls a day until you crack and invest with them.
It is important to note that scams like this one can happen to anyone. The agents calling you are persuasive professionals who scam people for a living. Even if you say no, they will continue to call you until you agree to make an initial deposit. 
In case you have been scammed before or are being currently harassed, be sure to contact us as we can help you get your money back.
MilleniumOne Summary
We wanted to conduct this MilleniumOne review to warn you about yet another SVG-based scam broker. They allegedly give their clients an opportunity to invest in forex, commodities, indices, and shares. But as with any other scam broker, they are just pocketing your money and making you believe there is some trading happening on their basic web trader.
This broker has been blacklisted by multiple Tier1 regulators and to name just a few, there are BaFin, CNMV, and FSMA.
Another sketch thing we must mention is a minimum deposit requirement which is nowhere to be found on the broker's website. This is really concerning and just imagine if they did not provide something as basic as this info, what else are they keeping from you? It would be the best decision to just stay away from this dishonest broker and always choose a transparent one. 
FAQs About MilleniumOne Broker
Is My Money Safe with MilleniumOne?
No, your money is not safe with this offshore scam broker that has been blacklisted multiple times by Tier1 regulators.
Does MilleniumOne Offer a Demo Account?
As expected, MilleniumOne does not offer a demo account for potential clients. There are only live trading accounts.
What Trading Instruments are Available at MilleniumOne?
The trading instruments available at MilleniumOne are forex, commodities, indices and shares.