July 26, 2023
Reading Time:
5
min
Mogo CA Review: Is Mogo CA Legit?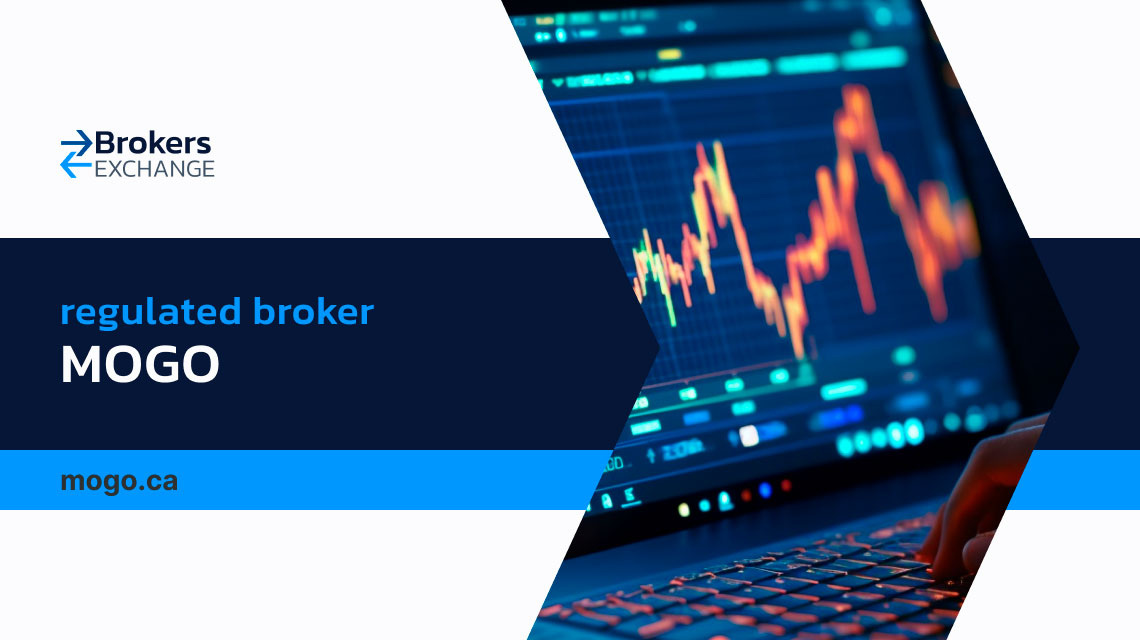 Unfortunately, there is a rising number of shady brokers and fewer trustworthy ones. You will learn everything there is to know about the broker in this Mogo CA review, enabling you to make an informed choice. It can be difficult to identify a decent broker without professional advice. 
Check out our Tradiva, Xeno Capital, and Xnvest reviews for other consideration-worthy options. 
What Is Mogo CA? All About The Broker
Mogo is a fintech (financial technology) company registered at 300, 4 Place Ville Marie, Montreal, QC, H3B 2E7. They were founded in 2008 by MogoTrade Inc. 
Mogo

Reliable Broker Must Have

Legal name:

MogoTrade Inc, Mogo Finance Technology

Transparently displayed in the disclaimer or legal documents

Regulation:

Regulated by IIROC

Within your legal jurisdiction – local regulator

Registered at:

2100-401 W Georgia St.

Vancouver, BC

V6B 5A1

300, 4 Place Ville Marie, Montreal, QC, H3B 2E

Your country or the country whose license applies in your legal jurisdiction 

Established:

2008

The older the domain – the higher the possibility the company is trustworthy

Website:

www.mogo.ca

Domain should be from local or international zones, no .xyz etc.

Financial Authorities Warnings:

None

None

Contacts:

Mogo CA Phone Number: 604-659-4380, 514-307-9077

Email: [email protected], [email protected]  

Live Chat

Phone, email, social media, web form

Is a withdrawal possible:

Yes

Yes

Fees:

NSF fees x2 $20–$50
Dishonoured Payment Fee $25-$50

Transparent fees – list of spread and commissions

If Active on Social Media:

Yes

Often present on social media

Investor Protection:

CIPF

Compensation fund
Regulation Info
Mogo CA is regulated by the Investment Industry Regulatory Organization of Canada (IIROC), which means the business is subject to IIROC oversight and rules. In order to guarantee that Mogo CA upholds high levels of professionalism, integrity, and investment protection, regulatory oversight is essential.
Your funds are kept by CI Investment Services, and in the event of CIPF's insolvency, they are insured up to $1,000,000 for all general accounts combined and $1,000,000 for all registered retirement accounts combined, within certain conditions.
Mogo Broker Profile
A variety of financial services and products are offered by the Canadian financial technology firm Mogo CA, including personal loans, mortgages, a virtual prepaid Visa card, and a Mogo CA credit score. You can trade thousands of publicly-traded common stocks and exchange-traded funds (ETFs) on the TSX and TSX Venture in Canada, along with NYSE, NASDAQ, and other major US exchanges. 
With apply Mogo CA, you can apply for a loan immediately and get pre-approved. Visit the Mogo CA login page for more details.
Trading platforms:

Mogo Trade

Account types:

TFSA, RRSP, PERSONAL

Financial Instruments On Offer:

Personal Loans

Mortgages

Virtual Prepaid Visa Card

Credit

Stocks

ETFs

Maximum leverage:

/

Minimum Deposit:

Not required

Commissions/bonuses:

No commission or bonuses

Mobile app:

Yes

Desktop app:

No

Autotrading:

No

Demo account:

No

Education or Extra tools:

N/A
Mogo CA Account Types
You can accumulate wealth tax-free on the gains you make over time by using a Tax-free Savings Account.
You can postpone and reduce your taxes until when you retire with a Registered Retirement Savings Plan.
When your RRSP and TFSA balances are at their maximum, you can continue investing in a Personal Investment Account, which is a taxable account.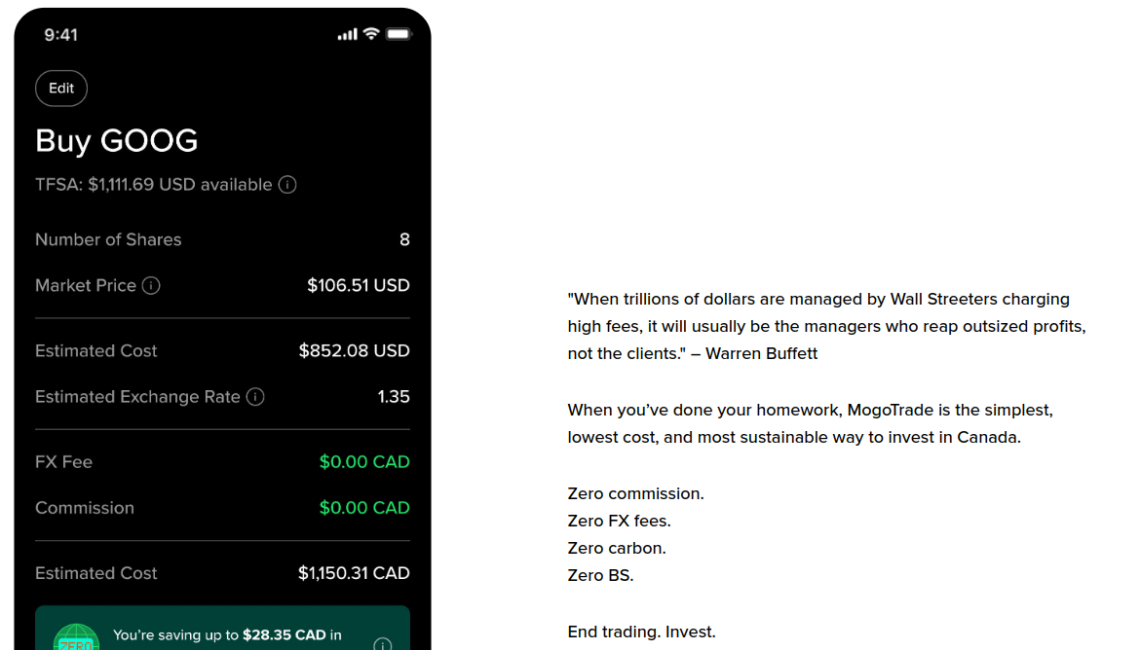 Mogo CA Promotions
Mogo CA Bitcoin was a promotion allowing you to trade bitcoins but it was closed on December 12, 2022. 
The MogoMini line of credit offer is enhanced with the added MogoMini Service Bundle that is available at www mogo ca login. You'll receive the following advantages in addition to your line of credit for a regular flat fee:
Free Moka Account

Skip a Payment Twice a Year

Re-Accessing Funds Waiting Period Waived

Dishonoured Payment Fee Waived

Priority Funding
GetMoney Mogo CA or the 100-day Money Back Guarantee is an offer that gives you 100 days to decide whether you like the loan or not. If you don't, all you have to do is pay the principal and you'll get your 100 days' worth of interest and fees back.  
Is Mogo Safe To Trade With?
Mogo offers a level of safety and security for Canadian traders and investors because it is a Canadian business that is governed by IIROC (Investment Industry Regulatory Organization of Canada) and offers investor protection through CIPF (Canadian Investor Protection Fund). Mogo CA contact details are available on their website in various forms, which is a positive side. 
By explicitly defining its fees, the company strives to give users transparency and help them understand the costs of trading and investing on its platform. Trading with Mogo has the additional benefit of having zero commissions. Users can now execute transactions without paying the customary commission fees. 
Although Mogo's regulatory oversight and open fee structure are advantageous aspects, it is always advised to undertake careful research and due diligence before engaging in any trading or investing operations. This entails evaluating your own investment objectives, risk tolerance, and market knowledge. 
Mogo Review: Traders' Thoughts and Opinions
With a little less than 80 reviews on Trustpilot, it surprised us to see that almost 80% of them are negative. Several reviewers complained that the lengthy loan repayment terms were frustrating. 
One reviewer mentioned taking out a $500 loan in 2015 and still owing money, which suggests a protracted repayment time. Such situations may be a sign of a borrower's personal situation or the loan's stipulations, which have prolonged the repayment process.
This emphasizes how crucial it is to carefully research and comprehend all of the terms and conditions, including the interest rates, of any loan before accepting it. If you have any questions or need any help, get in touch with us right away. 
A Look at Mogo's Traders They Serve
Fortunately, the bulk of their customers are Canadians, while some come from the USA and Kenya. A broker who is subject to IIROC regulation must abide by the rules and specifications of the relevant regulatory bodies in Kenya and the United States before they may conduct business there. 
Brokers are frequently subject to Securities and Exchange Commission (SEC) regulations in the US, and they may also need to register with the Financial Industry Regulatory Authority (FINRA). In a similar vein, brokers in Kenya would be governed by and under the authority of the Capital Markets Authority (CMA). 
Contact us today for professional advice so you can get into trading without any doubts. 
Deposits and Withdrawal Methods
Deposits and withdrawals can only be done through 2 options:

Direct Deposit into your bank account

Interac e-Transfer (Email Money Transfer)
Deposits are normally credited to your account within 2 to 4 business days and all withdrawals are processed via EFT (Electronic Funds Transfer). Help Mogo CA is a help center on their website that can help you get through the most asked questions to better understand the company and its services. 
Mogo Pros and Cons
Pros
Cons

Low fees

Regulated

No commissions

No minimum deposit requirement 

Not regulated to operate in the US and Kenya

Bad reviews
Insights from Our Trading Experts
Mogo CA offers Canadian users a safe and secure platform because it is a corporation that is governed by IIROC (Investment Industry Regulatory Organization of Canada). A further layer of security for customers is provided by the company's provision of investor protection through CIPF (Canadian Investor Protection Fund). Low fees make Mogo CA stand out, enabling consumers to cut expenditures and perhaps increase returns on their investments. 
The broker's clientele and a large number of unfavorable Trustpilot evaluations were the only cautionary signs we could identify. Some of the broker's clients are from unregulated countries like Kenya and the US. Unfortunately, there is no such thing as a perfect broker, but there is a perfect broker for you. Give us a call right away, and we'll help you discover someone like that. 
FAQ Section
What is Mogo Ca?
Mogo.ca is a Canadian financial technology company that offers a range of digital financial products and services, including personal loans, mortgages, credit monitoring, and investing options.
Is Mogo Ca a legitimate company?
Yes, Mogo.ca is a legitimate company that operates as a regulated financial technology firm in Canada, offering various financial services and products to its customers. They are regulated by IIROC and protected by CIPF.
Is the Mogo app free?
Although it is free to download and use the Mogo app, some of its services and features can have additional charges or prices, such as investing fees, loan interest, or premium membership choices.