May 05, 2023
Reading Time:
5
min
Moneta Markets Review: Who Is Behind This Scam Broker?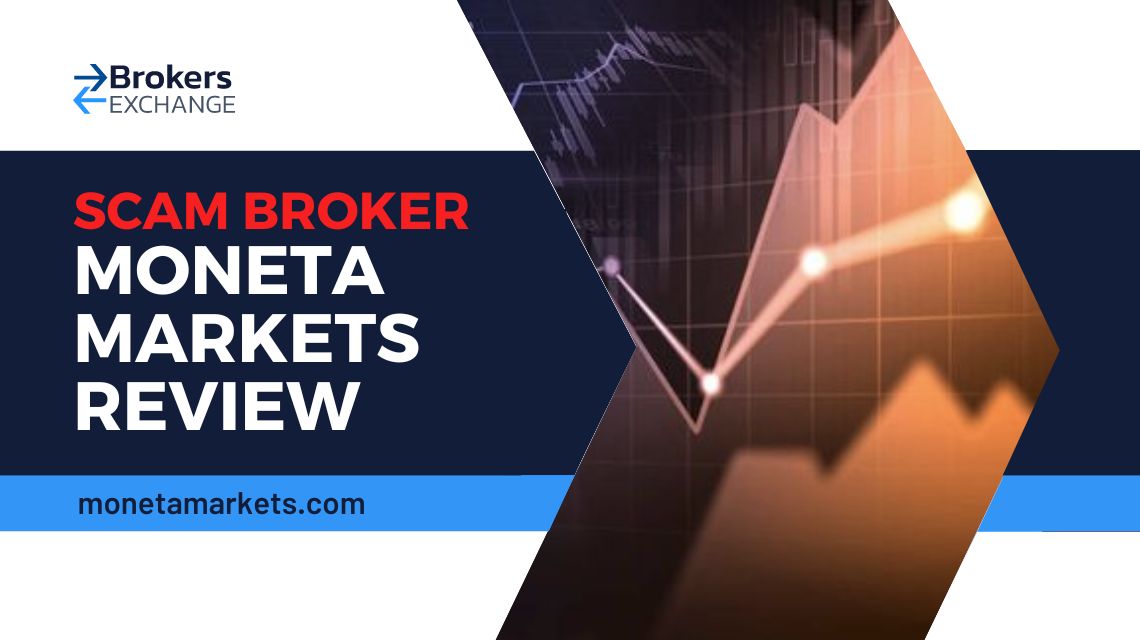 Moneta Markets Review, We can't exactly pinpoint one person or company behind the devious fake broker – Moneta Markets. The website itself mentions supposedly different entities of one big company: Moneta Markets South Africa (Pty) Ltd, Moneta LLC, and MMonexia LTD. 
All of them are allegedly regulated by some financial authority. SVGFSA, FSA (Seychelles), and FSCA (South Africa) license numbers are given, but all are fake. One address of company registration is Cyprus, but they do not operate under CySEC supervision. The other is in Hong Kong and there is indeed an entity under this name but only registered, not otherwise supervised by SFC. 
One Canadian financial authority (CSA) has detected their scam activities in the area and warned the public about it: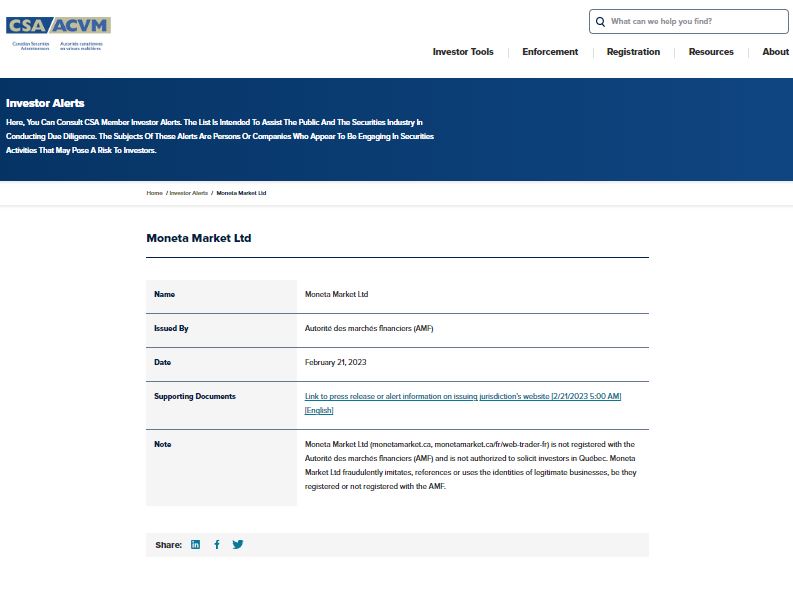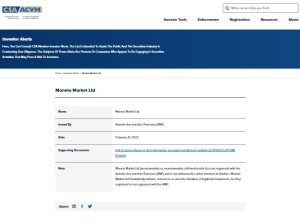 Keep reading this Moneta Markets review as we uncover the truth behind this complex and deceptive, fraudulent scheme. 
What is more, we strongly advise you not to invest in FTMarkets and Active Brokerz fraudulent brokers.
| | |
| --- | --- |
| Company | Moneta Markets South Africa (Pty) Ltd/ Moneta LLC/ MMonexia LTD |
| Regulation | Unregulated |
| Warning | CSA (Canada) |
| Website | monetamarkets.com |
| Address | Cyprus |
| Email | [email protected] |
| Phone | +44 (113) 3204819 |
| Minimum Deposit | $50 |
| Leverage | 1:1000 |
| Bonuses | Yes but undisclosed |
Licensing and Security of Moneta Markets
Let's start with the claims about regulations and forged license numbers we found in the footer of the Moneta Markets homepage. Searching the registers where Moneta Markets supposedly appears proved the broker to be nothing but a liar. 
The company is not regulated by SVGFSA, FSCA, or FSA (Seychelles). Perhaps if it wasn't so easy to check this, their story about licenses would be more believable. But these registers are public for a reason, and we're grateful for that. 
Although all three are offshore regulators and aren't strict in terms of standards for issuing licenses, any license is still better than none. 
However, since this broker has an office in Cyprus, we have to revise the conditions enforced by this Tier One regulator:
An initial deposit of at least 730 000 EUR

Segregation of funds through separate bank accounts

Leverage ratio of 1:30 at most 

Negative balance protection

Compensation funds

Transparency and transaction reporting
Forging a license is a crime by itself, and if Moneta Markets was indeed regulated, they wouldn't have to fake a broker certificate. 
Apart from that, Moneta Markets breaks all possible rules that strict regulators keep. They do not provide segregated bank accounts, their leverage goes up to even 1:1000 and no negative balance protection shields clients from becoming indebted. Transparency doesn't exist and compensation funds don't guarantee you payouts in case the broker fails. 
Trading Platform Overview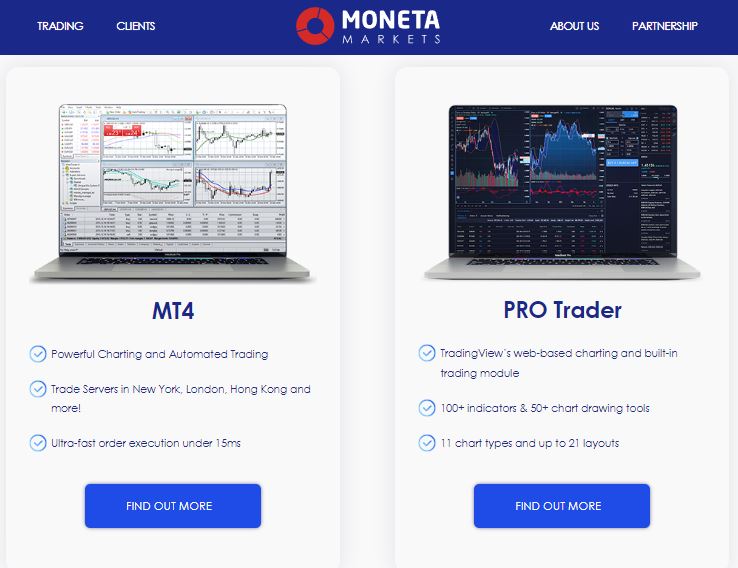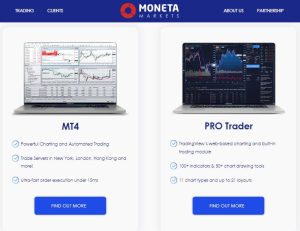 Demo account is available, that stands. But it's practically useless, as you can't do anything with it. To access any of the features in the user panel you have to deposit and open a live trading account. 
We managed to download the MT4 demo version but Moneta Markets didn't provide the credentials for logging in. It would be nothing new if the swindler just used a MT4 Demo version to attract customers and then bail out on them as soon as they invested. 
We have no proof if Moneta Markets has their own trading server. MT5 could be downloaded too, but through another client – VantageFXinternational. 
Web trader was unavailable for us since we didn't want to deposit actual cash with this con artist. All in all, very suspicious and shady. 
Account Types Offered
In an attempt to make their offer as alluring as possible, Moneta Markets did invest a significant effort into the account types. With a minimum deposit of only $50, spreads starting from 0.0 pips and leverage up to 1:1000, professional traders may even be tempted to consider the offer. However, Moneta Markets is still a cybercriminal, whatever they may be offering. Don't forget the products are intentionally exaggerated, not realistic. 
Let's revise the pricing:
Direct STP – $50

Prime ECN – $200

Ultra ECN – $50 000
| | | | | | | | |
| --- | --- | --- | --- | --- | --- | --- | --- |
| Broker | Moneta Markets | FXTM | OctaFX | FPMarkets | XM Broker | HFM | FBS Broker |
| Minimum Deposit | $50 | $10 | $100 | $100 | $5 | $5 | $100 |
Deposit and Withdrawal Methods
Wouldn't Moneta Markets like their clients to believe their funding channels are all safe and basically instant? That's why a separate section of the website describes the following money-transferring channels and claims there are zero fees:
Wire Transfers

Credit/Debit cards (Visa, MasterCard)

Fasapay

JCB

Sticpay
Withdrawals should be processed within 24 hours and your funds sent to you in 1 to 7 business days. 
Of course, there are fees. You will pay a certain fee if you have only deposited funds and haven't traded a minimum amount of times. What this requirement exactly is, Moneta Markets doesn't explicitly say, but they reserve the right to deduct the funds straight from your total cash without any prior notice. 
How Is Fraud Set Up?
Moneta Markets has its entire sophisticated scheme pretty decently designed. There are the regulatory statements, general trading conditions in precise terms and the policies. However, there's the threatening presence of bonuses, which Moneta Markets uses to their advantage and to turn you into their financial hostage. 
Bonuses require certain rules to be met, like the trading volume requirement. Then there are fees. And as if that isn't enough, Moneta Markets remains shady about everything and doesn't clearly state any of the concrete rules. They will, on their own accord, deduct funds from your account under various excuses, until there's nothing left. 
Forex Brokerage Suggestions
We can make this easier for everyone and just agree that Moneta Markets is a proven scammer, as the warning explains. Their complex web of lies is the definition of shadiness and dishonesty. 
Quite the opposite of that, the brokerage conglomerates from our suggestions will have no need to lie to you. These brokers have been so long on the market, every trader knows them. There's a huge possibility everyone you know has at some point collaborated with them. Open a demo account and find out why they're so favored and preferred before all others.
| | | | | |
| --- | --- | --- | --- | --- |
| Broker | Country | Rating | Min. Deposit | Website |
| FXTM Broker | Cyprus, UK, Mauritius | 4.5 | $10 | Forextime.com |
| OctaFX Broker | Cyprus, SVG | 4.4 | $100 | OctaFx.Com |
| FP Markets Broker | Australia, Cyprus | 4.7 | $100 | FpMarkets.Com |
| XM Broker | Cyprus, Belize, Australia | 4.7 | $5 | Xm.Com |
| HFM HF Markets Broker | Cyprus, UK, South Africa, UAE, Kenya | 4.3 | $5 | Hfm.Com |
| FBS Broker | Cyprus, Belize, Marshall Islands | 4.85 | $100 | Fbs.com |
Moneta Markets
Summary
In short, Moneta Markets is not a safe place to invest and where you can learn and advance as a trader. They're like a bad street seller that keeps talking to confuse you and manipulate you but eventually doesn't say anything smart. 
If they can, they will attempt to defraud you. Because why would they bother earning like the rest of us, when they can just scam people? That's how most of them think. So don't let them turn you into their next victim! Invest safely and choose only the best broker-dealers to represent you on the market. 
FAQs About
Moneta Markets
Broker
Is Moneta Markets a Regulated Broker?
No, this is not a regulated broker, and you can see for yourself if you check their licenses with the regulators they claim to have issued them.
Is My Money Safe with Moneta Markets?
Investments are never safe with unregulated brokers that don't follow the legal directives for security measures and other criteria.
Does Moneta Markets Offer a Demo Account?
Yes, but it's a hoax. You can't do anything with it, not even test the trading environment.