August 30, 2023
Reading Time:
6
min
MTrading Review: We Will Show You the Ugly Truth About MTrading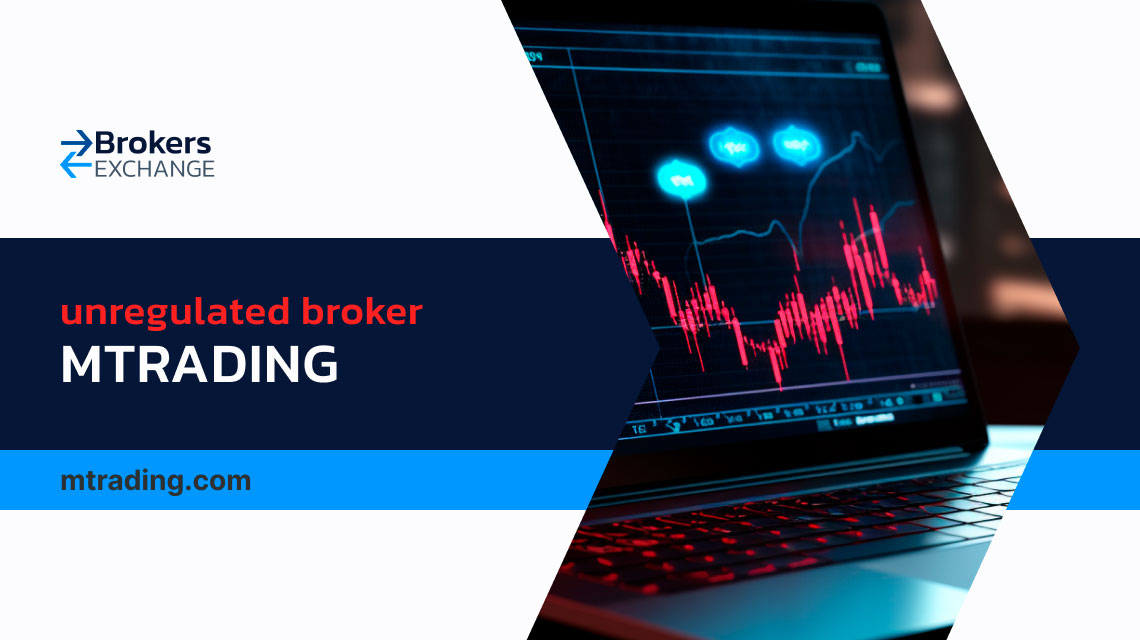 MTrading is a prime example of a wolf in sheep's clothing. On the one hand, they show you a license, but can you really trust it? Find out in our MTrading Review, where we tackle the issue of their regulation, country of origin, trading environment, and much more. 
We won't keep you waiting much longer. Let's begin!
Broker name
Reliable Broker Must Have
Legal name:

Finvest Solutions Limited

ServiceComsvg LLC

Transparently displayed in the disclaimer or legal documents

Regulation:

No

Within your legal jurisdiction – local regulator

Registered in:

Nevis, SVG

Your country or the country whose license applies in your legal jurisdiction 

Established:

2012

The older the domain – the higher the possibility the company is trustworthy

Website:

mtrading.com/

Domain should be from local or international zones, no .xyz, etc.

Financial Authorities Warnings:

No

None

Contacts:

Online form

Phone, email, social media, web form

Is withdrawal possible:

Highly unlikely

Yes

Fees:

1% fee for credit card withdrawals

3% fee for e-wallet withdrawals

Transparent fees – list of spread and commissions

If Active on Social Media:

Facebook, Telegram, LinkedIn, Instagram, YouTube

Often present on social media

Investor Protection:

No

Compensation fund
Regulation Info
First things first – regulation. No legitimate broker should be without one, just like a doctor or a policeman wouldn't. MTrading claims to have a license from the Financial Commission, but turns out it does not. At the time of this review, there is no Finvest Solutions Limited or ServiceComsvg LLC in the FINACOM register.
The two legal names of MTrading have two different places of origin. The first one is in Nevis and the other is in SVG. Neither of them are promising signs as they do not offer even the basic protections to traders. 
On the contrary. St. Vincent and the Grenadines is known for being a scammer haven because it does not regulate the Forex market. With that in mind, you should not approach MTrading as they are clearly dangerous.
Instead, you want a broker that has reliable regulation, which comes from reputable authorities. There are plenty of those around the world but we would highlight those coming from the UK, US, Germany, Cyprus, etc. Since this broker does not have any of those, and has a dangerous operating background, we suggest you find a different broker.
MTrading Profile
Found on www.mtrading.com, this broker has an appealing trading environment, at least for some. The first on the list of trader goodies is the MTrading mt4 trading platform. This is a fantastic software that offers great functionality, advanced tools, graphs, charts, and a sleek, user-friendly interface. It is beloved by many traders, both beginners, and veterans, and is the prime selling point of MTrading.
There is also an MTrading app, which is a proprietary WebTrader. We advise you to steer away from all WebTraders as they can be easily manipulated by scammers like MTrading, to lure you into a false sense of security.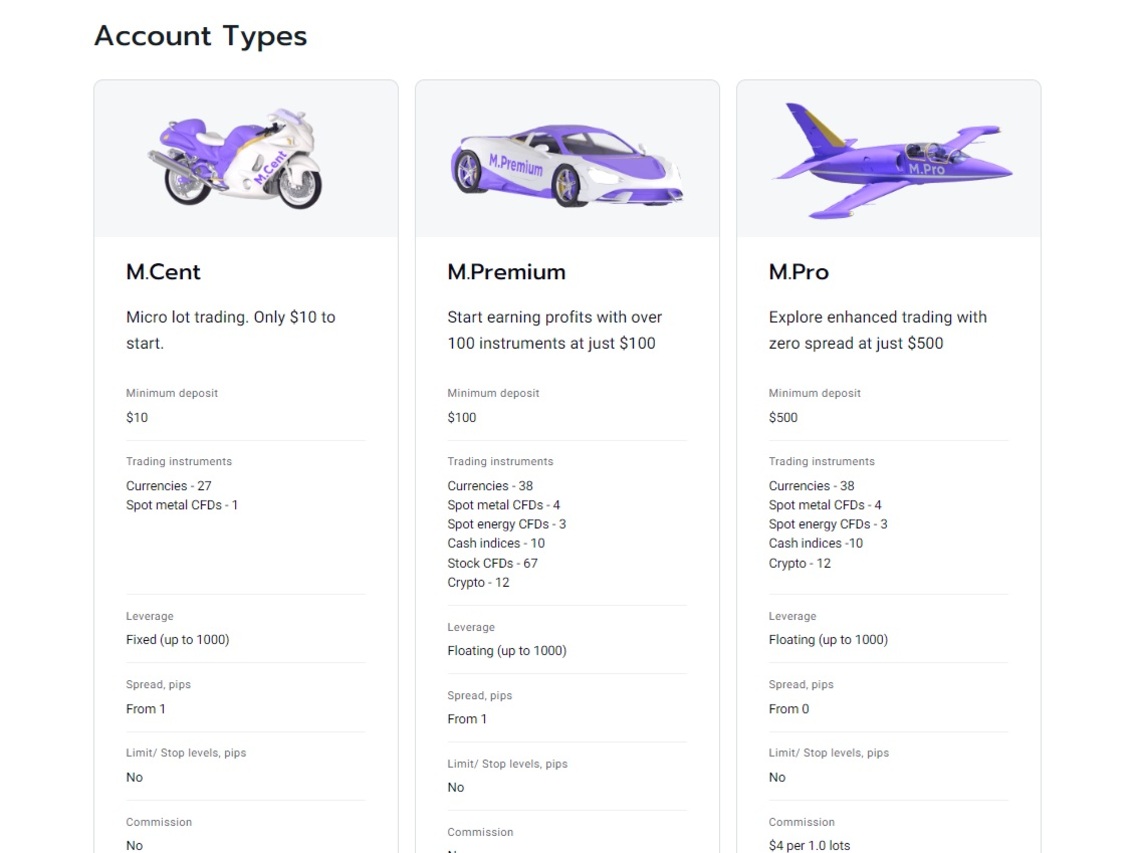 Furthermore, the account situation is not bad, with three options:
M.Cent – $10

M.Pro – $100

M.Premium – $500
The minimum deposit is very low, which is always nice to see. Too bad the broker does not have a license. Had that been the case, the price for opening an account would be very enticing. The MTrading spread goes from 1 pip for M.Cent and M.Premium accounts and from 0 for the M.Pro one. We would like to point out that there is no MTrading demo account, however.
The broker also has a varied instrument offer, where clients can enjoy MTrading forex, metal, stock, index, energy, and crypto trading.
Trading platforms:

MetaTrader 4, WebTrader

Account types:

M.Cent – $10

M.Pro – $100

M.Premium – $500

Financial Instruments On Offer:

Currencies (USD, EUR, GBP, etc.)

Spot metal CFDs (gold, silver, etc.)

Spot energy CFDs (oil, gas, etc.)

Cash indices (US500, Japan 225, etc.)

Stock CFDs (Apple, Facebook, Tesla, etc.)

Crypto (Bitcoin, USDT, etc.)

Maximum leverage:

1:1000

Minimum Deposit:

$10

Commissions/bonuses:

Yes, deposit and welcome bonuses

Mobile app:

Yes

Desktop app:

Yes

Autotrading:

Yes

Demo account:

No

Education or Extra tools:

Yes
Is This Broker Safe?
So, is MTrading legit? Much like Celo Market, MTrading broker does not have a license and is, therefore, not safe! You should research no further if you see a broker does not have a valid license. This is a dealbreaker because they cannot guarantee you any safety, and you should not enter risky situations, especially in Forex.
Find a broker with a reputable background and strong regulatory backing. Lucky for you, we know a lot of them and all you need to do is contact us today for free consultations. Learn everything you need to succeed in the Forex world with us.
Trader Reviews – Sharing Experiences
You can find MTrading on Trustpilot, which is always good as you know the broker is not anonymous. It has a 2.8-star rating with 134 people leaving reviews. Among those, you can find 5-star and 1-star reviews, and also everything in between.
Unsurprisingly, most of the negative comments focus on withdrawal issues, with one of them saying:
"We have applied for withdrawal of the amount of USD 1500 on 20th March 2023 (7th April time of review) and even after 18 days we are still waiting for the amount to be credited in my bank account. Only emails are getting forwarded without any concrete response from MTrading as to when the amount shall be credited to the account."
Another one had a similar experience, commenting
"I am still waiting for the refund of the amount and getting no response after accepting misappropriation for my transferred funds from MTrading India."
How Does the MTrading Platform Reach Clients and Who Are They?
Since we have many reviews online, we managed to put together a list of regions with the most MTrading clients. It includes:
Malaysia

India

Vietnam

Thailand and

Indonesia
We also saw some cases from Nigeria and Bahrain, but not many. You can clearly see the broker targets mostly the Asian market, so be wary if you see any ads for them. Some traders mentioned they recommended MTrading, but do not fall for the same trap as they did. In the end, all of them see the real face of this broker and regret investing, but their money is long gone. Do not let that be you.
Additionally, the MTrading support team has not been very helpful in commenting on negative reviews. They just say they are sorry and they are doing their best to fix the problem which doesn't really do much for traders.
Deposits and Withdrawal Methods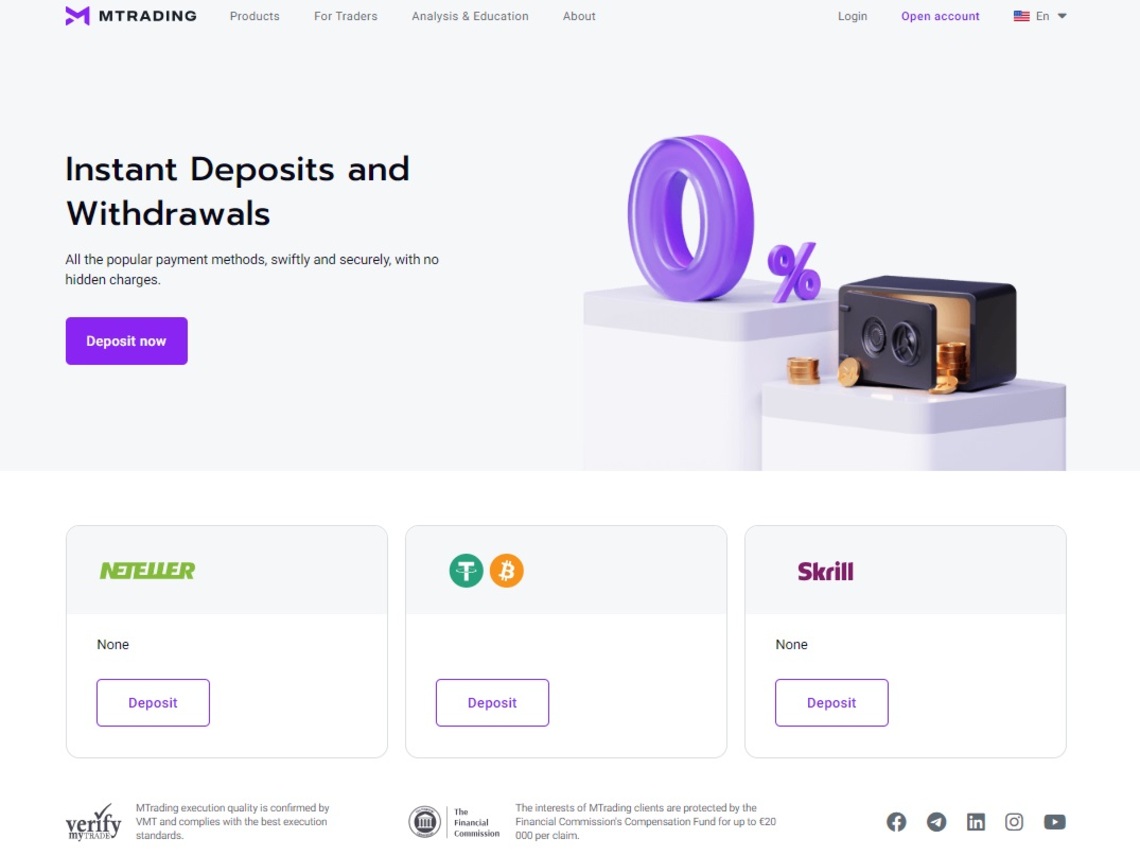 MTrading accepts a bevy of payment methods, including:
Visa

Mastercard

Wire transfers

Neteller

Skrill

Local bank transfer

Crypto, etc.
As stated, the minimum deposit is only $10 and they come with no additional charges in most cases. MTrading states that the following countries pay certain fees:
India (Minute Pay (ZotaPay) – 3% deposit fee

CIS (Qiwi wallet) – 1.5% deposit fee

CIS (Alfa-Click / Rus standard bank) – 1% deposit fee 
Additionally, the broker charges withdrawal fees in the amount of 1% for credit card withdrawals, and 3% for e-wallet ones.
Reasons To Avoid This Company
We could sit here all day and tell you why mtrading com is not a good option for you. But we will be brief. The biggest reason to pass on this broker is its license or lack thereof. Just like we said with Caplita, no license means no security for you and you do not need that.
They might have an appealing offer, but you cannot trust it. Unregulated brokers operate without any regulatory supervision, allowing them to do whatever they want and get away with it. If you invest money with MTrading, you will surely lose it for good.
Our Safe Trading Experts' Opinion of MTrading 
At the end of our MTrading review, we hope you have a clearer picture of the dangers this scammer presents. But this should not bring your spirits down as there are many legit brokers that can show you the real beauty in Forex. 
Reach out to us today for free advice on how to find and get in touch with them.
FAQ Section
Is MTrading A Good Broker?
No, MTrading is not a good broker. They might have a nice trading environment, but they do not have a license, making them unreliable and risky.
How do I get into Forex trading?
Firstly, you should become knowledgeable about the market. Learn what you can trade, how trading works, and how to do it safely. After that, you should find a reliable broker to partner with, and this is where we come in. Contact us, and we will provide you with a free consultation where we work together to find you the perfect broker for your needs.
How can you help me find a good broker?
The most important service we do for you is personalizing our recommendations. When you come to us, we consider everything – your needs, skill, budget, etc. and then form a list of what we think are the best brokers for you. And the best thing of all is that our consultations are completely free.