February 22, 2023
Reading Time:
4
min
Celo Market Review: Learn More About CeloMarket.Com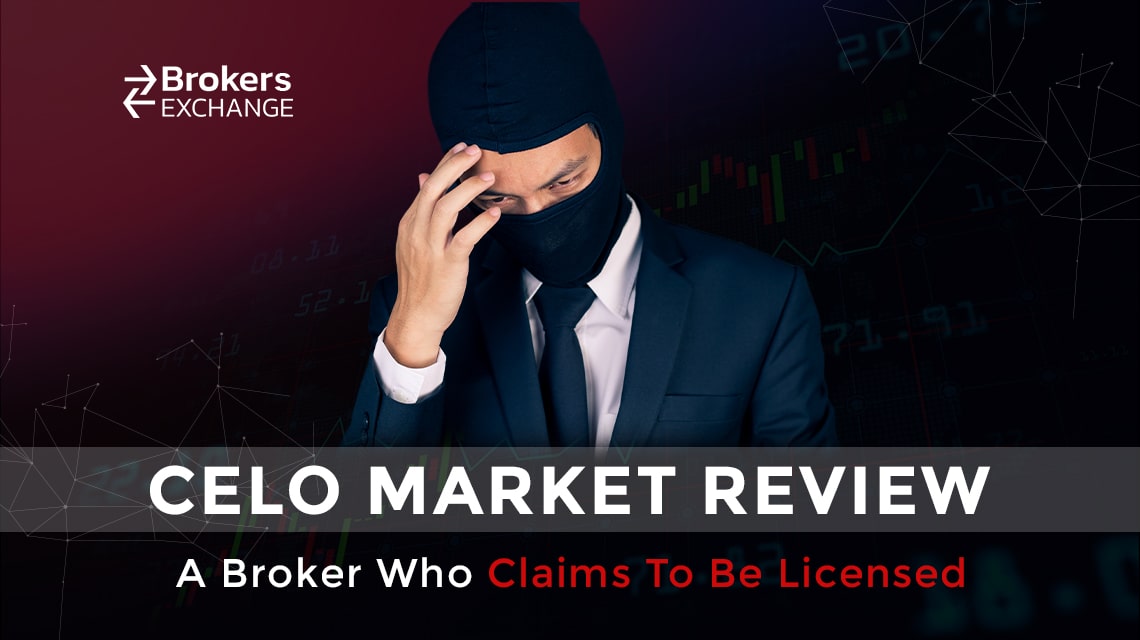 Celo Market is allegedly an Austrian-based broker that gives its clients an opportunity to invest in crypto. However, with poor trading range, no regulatory oversight, and the lacking platform it is highly unlikely any trading will actually take place.  
What's even funnier is the fact that they not only failed to provide the name of the company behind it but also wrote the Terms and Conditions in English while the rest of the website is in German.  
We suggest you read this in-depth celomarket.com review to learn why you should stay away from this fraudster and its shady tactics.
Dealing with dishonest brokers like those I've listed below falls under this as well as XCM Markets, Well FX, and Crystal Trust.
| | |
| --- | --- |
| Company  | N/A  |
| Website  | CeloMarket.Com  |
| Address  | Marxergasse 151030 Wien, Austria  |
| Email  | [email protected]  |
| Phone  | +43720022246  |
| Minimum Deposit  | $25  |
| Leverage  | N/A  |
| Bonuses  | First deposit bonus  |
| Regulation  | Unregulated  |
| Warning  | FMA |
Celo Market.com Funds Safety and Regulation  
Celo Market claims to operate from Austria, however, the regulatory regime there as well as in the rest of the EU, has explicitly prohibited the provision of bonuses. This is due to the common tendency of scammers to abuse them. In order for a broker to operate from Austria they must follow regulations set by the Austrian Financial Market Authority (FMA) which this broker doesn't.
Since Celo Market scam does offer promotions and bonuses, they must be operating offshore. So, not only are they lying about their address but they also lack any regulatory oversight.  
This scam broker is providing financial services without a license and follows no regulations so your funds are at great risk.  
Celo Market Trading Platform  
While conducting this Celo Market review, we of course took a look at the trading platform broker offers. It seems like they have some sort of web-based trading platform that is very easy to navigate but with only a few useful trading functions. Some basic charting tools are available, but nothing more sophisticated like automated trading is possible.  
It is safe to say that the platform they provided is rather limited, especially compared to the industry standard MetaTrader 5.   
However, a good platform is only one step in trading profitably. You also need a good, licensed broker, or otherwise, you could just end up getting scammed.  
Deposit and Withdrawal at Celo Market.com 
The two main deposit methods available are  
Credit Cards  
Wire Transfers  
This is a really good thing actually. So, if you by any chance deposited your money by a credit card, file a complaint with your bank and seek a chargeback. The thing with this broker is that the payment you make will not be going through a safe payment system but through the broker's own website instead. 
Considering the fact that such brokers ask for additional personal information, later on, it is not hard to imagine that they might try to make payment on your behalf.   
As for the withdrawal policy, we looked into the Celo Market broker's Terms and Conditions. After just a quick look it is obvious you will encounter a lot of withdrawal issues. We already mentioned that the broker gives bonuses after the first deposit and of course those come with strings attached. In order to withdraw your money, you would have to reach a turnover of 30 times the bonus.  
Additionally, such scammers tend to change their Terms and Conditions without notice and you might find that the turnover threshold has been increased or that you are not allowed to withdraw your own deposits and profits either. You just never know with such investment scams which is why we urge you to pick a better trading solution than this one.  
Unregulated Brokerage Techniques  
One of the most common techniques we already talked about is bonuses. You should know that they are banned and with a good reason, so if the broker you consider working with offers them you should see it as a red flag.  
Unfortunately, this isn't the only tactic scammers use to defer withdrawals. It is all too common for them to pretend that clients are making big profits and then call them asking for more money in order to get even bigger gains.   
Of course, any such winnings are illusory and once you attempt to withdraw any money, you will be prohibited from that. As for the withdrawal fees of these companies, they are commonly incredibly high and can easily be up to 30% of your funds. It is not typical for brokers to demand withdrawal fees at all nowadays so if one does and seeks such big amounts too, it is clear you are dealing with a scam.  
Celo Market Summary 
In this Celo Market broker review, we tried to warn you about this online trading scam and the many tactics they use to scam people. 
Doing proper research is a must if you are new to the world of trading because many phony brokers pop up overnight. Don't get played by the fairytales they are going to tell you and be careful with making any investments. 
Be sure to read as many reviews as possible because there will always be many complaints about the broker if they are untrustworthy. In case you had any negative experience with this or any other fraudulent broker, we would greatly appreciate it if you could share it with us as we can assist you by reporting your scammer.
FAQs About Celo Market Broker  
Is Celo Market Legally Registered?  
No, Celo Market isn't legally regulated and operates without having any license.  
How Secure is Celo Market Broker?  
This broker isn't secure at all and you should avoid it at all costs.  
Does Celo Market Have Hidden Fees for Withdrawal?  
Yes, they have many hidden fees you will encounter as soon as you try to get any of your funds back.