August 29, 2023
Reading Time:
6
min
Parker Prime Review: Exposing the Dirty Tricks Used by the Broker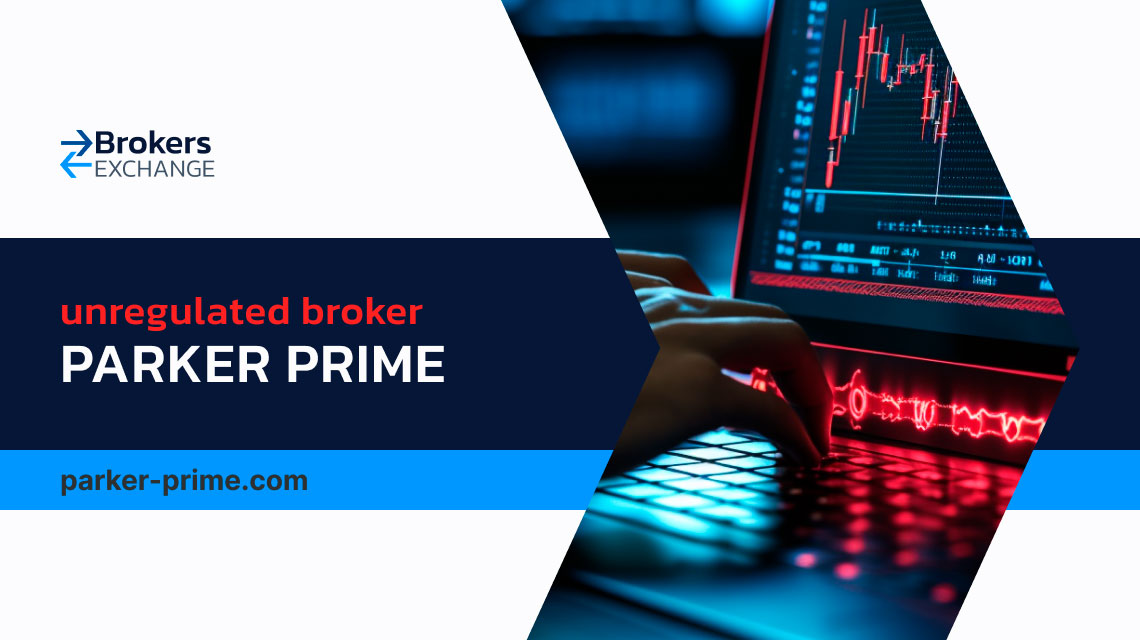 If you come across Parker Prime, watch out. Not only that this unregulated brokerage scams people by deleting their accounts and creating withdrawal problems, but they present themselves as a reliable and trustworthy option, leading you to deposit your money. Read our Parker Prime review and learn why this broker is the worst choice you can make. 
Considering multiple warnings, hidden information, and many other red flags, this broker climbed to the top of our blacklist. Unfortunately, Parker Prime is not the only broker you should be on the lookout for. Eurinvesting takes pride in scamming people and our review exposes them. Make sure to read it and stay informed at all times. 
Who Is Parker Prime? All About parker prime com
Parker Prime broker claims to be registered in Estonia and Bulgaria, however, no proof of registration has been found on the addresses the broker provides. To make trading with them worse than it already seems, the broker hides all important information like fees, leverage, spreads, and so on. 
The Parker Prime company prides itself on scamming people and does so without any remorse or shame. They are a walking red flag and you should avoid any communication with this brokerage. 
Parker Prime
Reliable Broker Must Have
Legal name
Parker Prime

Transparently displayed in the disclaimer or legal documents

Regulation
Unregulated

Within your legal jurisdiction – local regulator

Registered in

Peterburi tee 47, Tallinn 11415, Estonia

5th & 6th Floor, Landmark Building, 14 Tsar Osvoboditel Blvd, Sofia 1000, Bulgaria

Your country or the country whose license applies in your legal jurisdiction 

Established
2021

The older the domain – the higher the possibility the company is trustworthy

Website
parker-prime.com

Domain should be from local or international zones, no .xyz, etc.

Financial Authorities Warnings

FCA
Central Bank of Ireland

None

Contacts

[email protected]

 

+3 53768886039

+3 2039663385

+3 726189492

+3 5924903032

Phone, email, social media, web form

If a withdrawal is possible
Highly unlikely

Yes

Fees

Transparent fees – list of spread and commissions

If Active on Social Media
No

Often present on social media

Investor Protection
None

Compensation fund
Regulation Info
Parker Prime complaints focus mainly on withdrawal issues, which is a consequence of their lack of regulation. Regulated brokers don't have withdrawal problems because they are supervised by authorities. The broker doesn't hold a valid license, hence problems with withdrawals are more likely to occur. 
The FCA has published a warning against Parker Prime, warning investors that they are targeting UK residents without a license: 
The Central Bank of Ireland also issued a warning on the unauthorized firm, advising the broker operates in the State in the absence of appropriate authorizations:
Doing proper research before choosing a broker is crucial, especially for these reasons. You can't know if a broker is reliable or not if you didn't look him up. The Parker Prime information regarding their regulation is nowhere to be found, which only suggests that they lack supervision from financial authorities. 
Parker Prime Broker Profile 
The broker claims to have MT4 as a platform, however, once you want to download it, the file seems corrupt. It wouldn't be surprising if the MT4 download link is actually for some suspicious apps that the broker can use to access your computer. Overall, everything regarding ParkerPrime is suspicious and raises serious questions. 
You can trade forex, indices, and commodities once you deposit a minimum of $250. Information about spreads or leverage is hidden, along with other important things. The broker seems like a mystery until you start researching, and only then the real truth will be uncovered. 
Trading Platform

MT4, Web Trader

Account Types

Basic, Silver, Gold, Platinum, Diamond

Financial Instruments On Offer

Forex

(EURUSD, EURGBP, USDNOK)

Indices

(S&P 500 Index, Dow Jones Industrial Average, FTSE 100 Index)

Commodities

(Crude Oil, Natural Gas, Corn)

Maximum leverage

N/A

Minimum Deposit

$250

Commissions/Bonuses

N/A

Mobile app

Yes

Desktop app

Yes

Autotrading

No

Demo account

No

Education or Extra tools

None
Parker Prime Account Types
They include Basic, Silver, Gold, Platinum, and Diamond account types. The minimum deposit for a Basic account is $10,000, $25,000 for Silver, $50,000 for Gold, $150,000 for Platinum, and $250,000 for Diamond. Imagine some low-income individuals depositing $250,000 in the belief that they will become successful traders, only to be left with nothing. 
Regarding the advantages, spread-related information is shrouded in secrecy, putting traders in the dark as to what to anticipate. The only benefit you receive is a Parker Prime video lesson on how to trade, and leverage is also concealed. Overall, if you deposit everything you have, you gain nothing. 
Is Parker Prime Safe To Trade With? 
There are too many red flags surrounding this brokerage to be considered safe to trade with. Not only by the FCA and Central Bank of Ireland, but also by their traders' reviews, lack of transparency and regulation, and missing information about leverage or spreads. The Parker Prime scam is evident and if you trade with them, be prepared to lose all of your money. 
FewaTrade is another scam broker that would only take your money and disappear. Don't waste your time and avoid falling for these scams. Do research and contact us so we can find a reliable broker you will enjoy trading with. 
Parker Prime Review: Traders' Thoughts and Opinions
The best way to check if a broker is reliable is to check their reviews. Experiences from other traders will tell you precisely if there are any withdrawal problems or fake promises. Parker Prime has an overall score of 1.8 on Trustpilot and almost 90% of their 39 reviews are unfavorable. Most reviews focus on withdrawal issues and how their accounts disappear as soon as they start making profits. 
A couple of reviews caught our attention: 
"I wanted to earn some money and it felt real. I was assured that it was safe, certificates were shown, and my husband and I decided to try. Everything worked until the end of last month, my trading account has simply disappeared."
"They never get back your money and you can not do anything regarding withdrawing. They block all your withdrawals and you gone waist time sending emails to support contacts or another person, including from chat or senior analysts. All this company is a scam…be careful and do not make a deposit."
An overall score of 1.8 is really bad and when you add the lack of transparency and regulation, it's evident that the broker shouldn't be trusted. 
How Is the Scam Carried Out? 
Scams are becoming more and more common and people are just confused as to what to believe in. Persuasive brokers call in the middle of the night, promising high returns and profits, and once you accept, there is no going back. They will harass you until they leave you without a penny, or worse, in debt. 
Parker Prime's victims mostly come from the United States, Canada, the UK, Germany, and India. However, to operate from these nations, brokers would have to be regulated by the SEC in the US, FCA in the UK, or BaFin in Germany. It's vital to note that the broker doesn't have any license, making them unreliable and unsafe to trade with, no matter what nation you are from. 
Deposits and Withdrawal Methods
The only accepted methods are credit cards and wire transfers, for both deposits and withdrawals. The minimum deposit is $250, however, to get to the Basic account type, you are required to deposit at least $10,000. 
The withdrawal process is not explained, nor are the fees associated with them. The broker doesn't even offer a demo account so you can really see their services before depositing real money. Overall, their lack of transparency is all over the place, and trading with them would only bring you stress. Avoid brokers like Parker Prime or Fin Art Media who are only after your money. 
Parker Prime Pros and Cons
Pros
Cons

None! 

Unregulated

Bad reviews

Lack of transparency

Hidden fees

No information about leverage, spreads, or deposits

Suspicious trading platform
Long Story Short – Parker Prime
To summarize what we learned, never trust brokers like Parker Prime who are only after your investments. Stay away from unregulated brokerage companies, that hide their information and crucial factors like spreads and leverage. Be on the lookout for brokers who have so many bad reviews like Parker Prime and with warnings issued by financial authorities. 
You can never know what to expect when trading with brokers like Parker Prime. The worst thing they can do is to take your money but before that, they can impose hidden fees, ask you to deposit more and more to withdraw, and especially make false promises about high returns and profits. Don't believe everything without checking the facts. 
If it's challenging for you to find a trustworthy choice, reach out immediately for better alternatives than Parker Prime. There are so many reliable options out there, just waiting for you to reach out. We can find not only a reliable broker but also one tailored to your trading preferences. 
FAQ Section
What Is Parker Prime?
Parker Prime is a scam brokerage company claiming to be located in Bulgaria and Estonia, however, there is no proof of their registration anywhere.
Is Parker Prime Legit Or Scam?
Parker Prime is definitely a scam. Once you deposit or start making profits, they will just disappear with your money and lock you out of your accounts. The Parker Prime web traffic is so low, confirming that it's only a scam.
What Is Parker Prime's Website?
The broker is using www.parker-prime.com as their domain, however, once you open the link it will take you to an unreliable and badly designed 'website'. Avoid Parker Prime at all costs.