June 01, 2023
Reading Time:
4
min
Our Royal Tungsten Review Will Open Your Eyes to This Scammer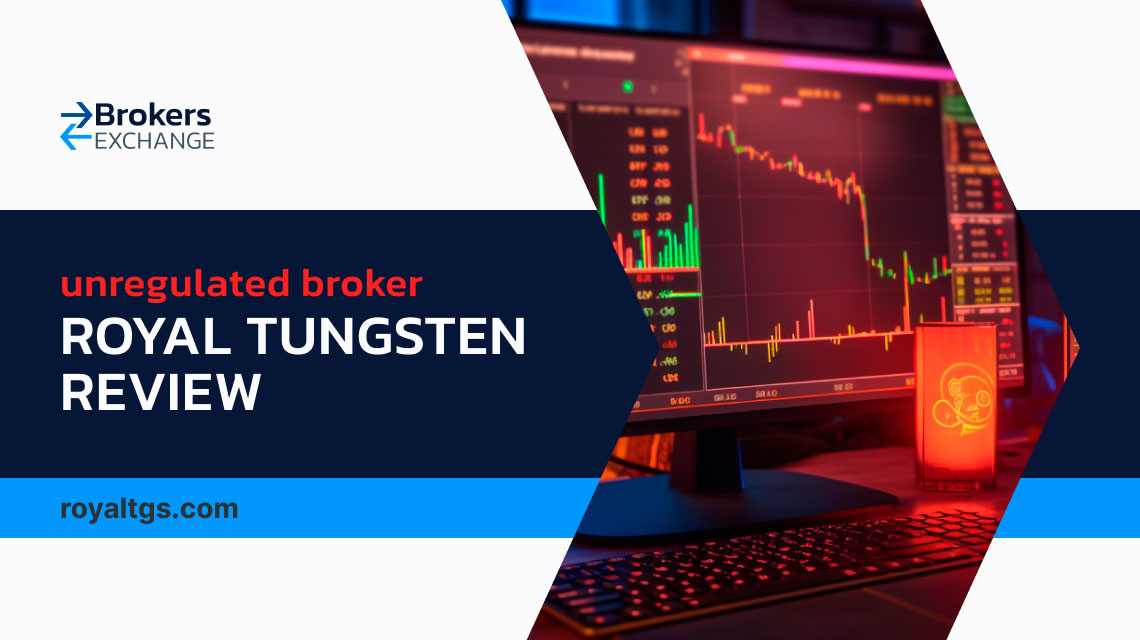 Royal Tungsten is a name that has been making waves in the forex trading world, but not for the right reasons. Suspicions and concerns have arisen regarding the legitimacy of this company, which prompted us to conduct an extensive review.
In our Royal Tungsten Review, we will dive deep into the details of this shady broker, highlighting the warning signs and red flags you should be on the lookout for. Let's start.
| | |
| --- | --- |
| Company | Royal Tungsten |
| Regulation | Unregulated Broker |
| Warning | N/A |
| Website | royaltgs.com |
| Address | 118, Russell St Melbourne, VIC 3000, Australia |
| Email | [email protected] |
| Phone | N/A |
| Minimum Deposit | $100 |
| Leverage | 1:1000 |
| Bonuses | N/A |
How Are You Safe at Royal Tungsten? Regulation and Security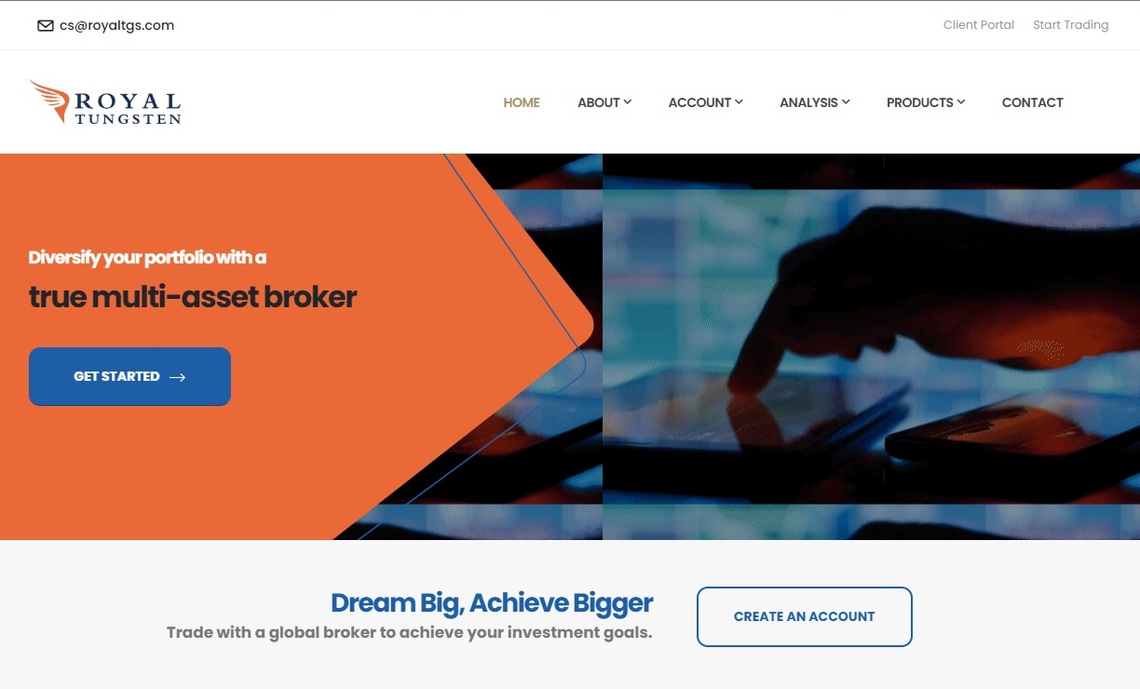 One of the first alarming aspects of Royal Tungsten is its lack of regulation. The company claims to provide forex trading services but fails to provide any information about licenses or regulatory oversight on its website. 
Legitimate trading platforms typically display their registration numbers, allowing potential clients to verify their authenticity. The absence of this crucial information raises serious concerns about the legitimacy and trustworthiness of Royal Tungsten.
Investing with an unregulated broker like Royal Tungsten poses a significant risk to your funds. Since the company lacks proper regulation, it cannot guarantee the safety and security of its investments. 
When entrusting your money to a forex broker, it is essential to ensure they are regulated by a reputable financial authority. Unregulated brokers like FTMarkets and Invest Ecapitals often operate without proper oversight, leaving investors vulnerable to potential scams.
We strongly advise you to avoid investing with Royal Tungsten or any unregulated broker.
An Overview of Trading Software
Royal Tungsten claims to offer two trading platforms for its customers: MetaTrader 4 (MT4) and MetaTrader 5 (MT5). 
Both of these platforms are widely recognized and reputable trading platforms in the forex industry, providing users with valuable features such as automated trading, real-time market reports, and multiple timeframes.
But although it's great news that they offer an industry-standard platform, nothing can make up for the lack of license, always bear that in mind!
Royal Tungsten Account Types
Although their website looks supreme, the lack of information is beyond alarming and the info that does exist is not that easy to find.
Having said that, we managed to dig up that Royal Tungsten offers two accounts:
Zero spread account

Copy trading account
However, we couldn't pinpoint anything else about these, except that the minimum deposit is $100. Unlike some other scammers, they do provide a free Demo account which they say is risk-free.
They also claim the clients' funds are held in segregated accounts which is also a plus. 
Funding Procedure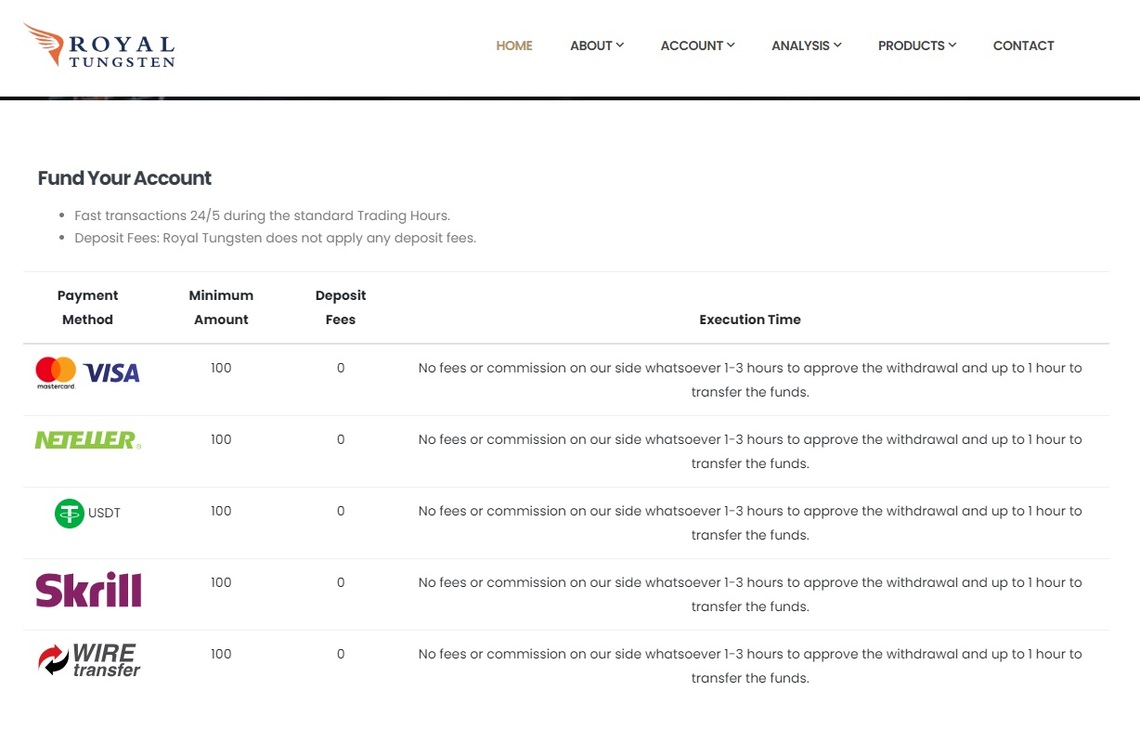 Concerning the funding procedure, Royal Tungsten accepts various payment methods, including Visa, MasterCard, wire transfers, USDT, Neteller, and Skrill. As stated above, the minimum deposit is $100 and the scammer also says that there are no fees when depositing money.
They also mention that they will not charge you when withdrawing money, which doesn't seem realistic, since scammers usually impose outrageously high fees. The minimum amount you can withdraw is also $100.
How is the Scam Carried Out?
Similar to other forex scammers, Royal Tungsten follows a common scheme. The process typically begins with a phone call after you sign up on their website, providing your email and phone number. The brokers will then attempt to persuade you to invest, promising substantial profits.
However, these promises are often empty and designed to lure unsuspecting individuals into their trap. Once you invest, the senior scammers take over, pressuring you to invest more money.
And the real problems start when you decide to withdraw your funds. At that point, you will encounter significant obstacles and delays, giving the scammers plenty of time to exploit your investment fully. But don't relent!
Keep all the emails you sent requesting withdrawals and go to your bank. You can show them those and file a chargeback, which will hopefully be enough to get you your money back.
Royal Tungsten
Summary
Our Royal Tungsten Review has shed light on the numerous warning signs associated with this forex scammer. Dealing with unregulated brokers like them can have dire consequences, as they operate without any accountability and oversight.
Before investing with any broker, it is crucial to conduct thorough research, ensuring they are properly regulated and have a positive reputation in the industry. So stay vigilant, look out for signs of a scam, and have fun navigating the forex trading world.
FAQs About
Royal Tungsten
Broker
Is My Money Safe with Royal Tungsten?
Absolutely not! They do not have a trading license and those brokers are always dangerous to invest with.
Does Royal Tungsten Offer a Demo Account?
Yes they do. They claim that it's an unlimited risk-free account, but take that with some reserve.
What Is The Minimum Deposit at Royal Tungsten?
The minimum deposit you can make is $100. This is regardless of the type of account as far as we could tell.