April 16, 2023
Reading Time:
4
min
Invest Ecapitals Review: Is Invest-Ecapitals.Com Legit?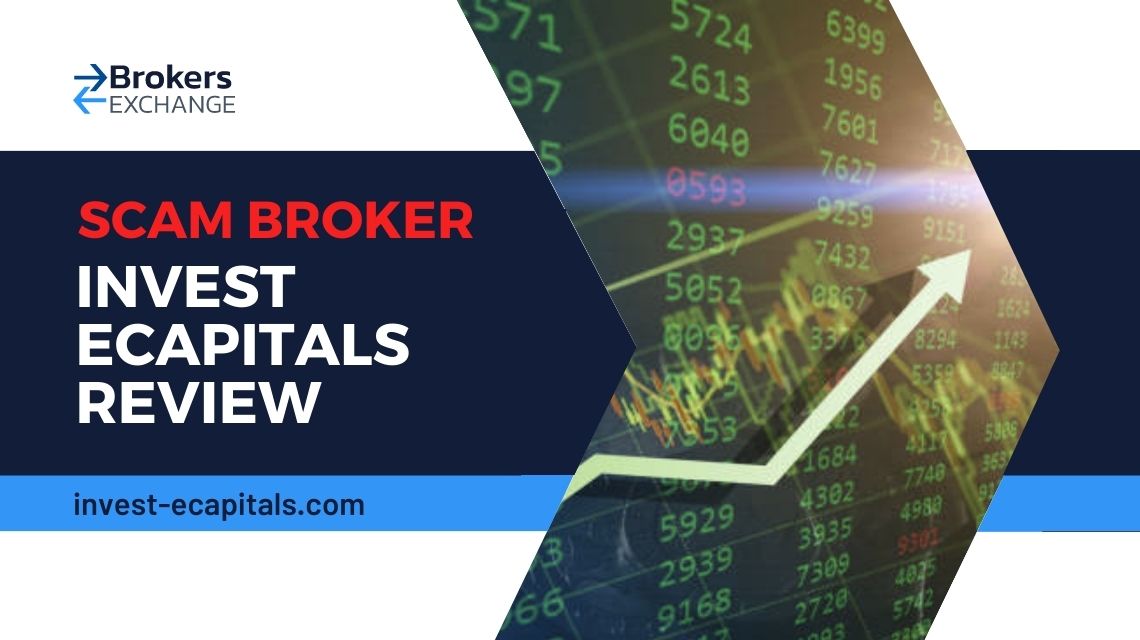 Invest Ecapitals Review, Out of the most offshore menaces in the form of crypto scams, Invest Ecapitals sure stands out with the lack of transparency. 
Swindlers behind the site promote the ultimate Forex experience with seamless trading under their fast and secure conditions. Our Invest Ecapitals review investigates if that's really so.
But from the looks of it, Invest Ecapitals is run from the shadows by an unidentified company. The true whereabouts are completely hidden, as are all channels of communication, except one email. 
Yet, they require all their users to fully reveal their identity and put crazy amounts of cash at risk. Who in their right mind would do that? That's not all, though. Keep reading this review to see how truly rotten this site is. 
What is more, we strongly advise you not to invest in Active Brokerz, Bullexo, and TradeHUB fraudulent brokers.
| | |
| --- | --- |
| Company | N/A |
| Website | Invest-Ecapitals.Com |
| Address | N/A |
| Email | [email protected] |
| Phone | N/A |
| Minimum Deposit | 12 500 EUR |
| Leverage | 1:400 |
| Bonuses | Welcome bonus |
| Regulation | Unregulated |
| Warning | N/A |
Invest Ecapitals Reliability – Regulation and Security
Invest Ecapitals propagates its trading tools and conditions as if they're God-given. As if they don't need a license for the business they're conducting – the only rightful evidence of their legitimacy. Because of such a pretentious attitude, we set out to find out the truth about their regulatory status. 
Due to the missing location and any company information, we had to start checking the databases of regulated brokers in the jurisdictions where we know Invest Ecapitals offers their services. 
Not at all surprising, but Invest Ecapitals doesn't show up in any of the public registers we've searched through FCA, ASIC, CySEC, NFA, IIROC, FINMA, BaFin, CONSOB, CNMV. Now, let's do a small comparison of the regulatory standards and the conditions that Invest Ecapitals actually provides to customers. 
Depending on the jurisdiction, a broker is first required to invest a certain amount of money. In the UK and EU, that sum is 730 000 EUR/GBP, while in the US it's 20 000 000 USD. Leverage cap is set to 1:30 or 1:50 at most, while Invest Ecapitals boldly offers these traders up to 1:400. 
Without the required negative balance protection! Invest Ecapitals has nothing to do with providing access to the Compensation Funds to ensure payouts in case they go bankrupt. They also offer bonuses to EEA clients, which are actually prohibited in the area. 
Based on all the facts laid out for you, does Invest Ecapitals seem like a good place for investments starting from 12 500 EUR? The answer is one big NO.
Trading Platform Overview
Registering an account with Invest Ecapitals is incredibly easy, you don't even set a password. How we are supposed to log in later again is evidently none of the broker's business. 
Either way, a smooth account opening process opened the way to the web trader. Basic and to all intents and purposes useless, the Invest Ecapitals software is jokingly primitive compared to the industry standards. Starting leverage is set to 1:100, while you can unlock up to 1:400 later with bigger deposits. 
Present functions allow setting the stop/loss limits and buy options but we don't believe it works. The broker has to obtain a license first before they can allow you to legally trade. 
Account Types Available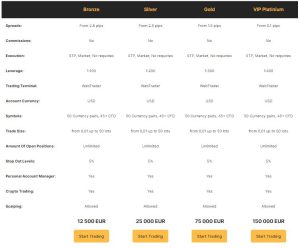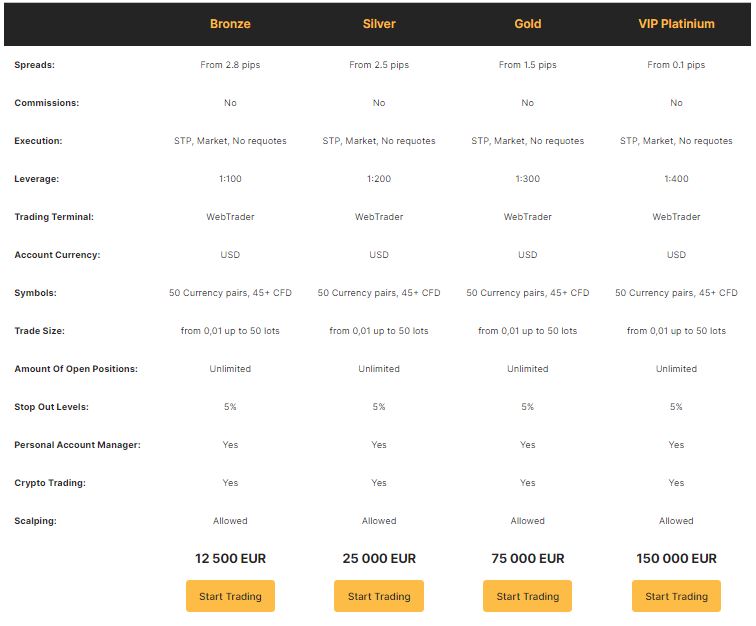 The key difference between the account types that require bigger deposits is the starting spreads and maximum leverage ratio. 
That's how the starting account has spreads starting from 2.8 pips and leverage up to 1:100. Bougie accounts provide tighter spreads and higher leverage, but they also cost all your hopes and dreams of ever becoming rich from trading 
Forex. See for yourself:
Bronze – 12 500 EUR

Silver – 25 000 EUR

Gold – 75 000 EUR

VIP Platinum – 150 000 EUR
Deposits and Withdrawals Method
All money transfers at Invest Ecapitals are thankfully processed through credit cards (Visa, MasterCard, Maestro). Don't forget these methods are most widely used by regulated brokers because they allow issuing a chargeback. So in case you've deposited with this fraud, we implore you to immediately contact your bank. 
Withdrawals can take a long 30 days to complete, which is just unreasonable in today's age and technology. Supposedly free withdrawals don't include any hidden fees, but we're having a hard time believing a scammer's words. The minimum amount you have to have on your trading account before any payouts is $50. 
How is the Fraud Delivered?
Like all other brokers in this niche, the broker has its own methods of turning you into its financial marionette. They do so by issuing bonuses. These may seem attractive and highly helpful at first, because who doesn't accept free money, right? Keep reading this review to find out why they're actually prohibited in the EU. 
Suspicious brokers offer bonuses to gain easier control over you. However, these always come with special conditions, such as trading volume requirements. Invest Ecapitals stops all your withdrawals until you fulfill those conditions. Did we mention it is practically impossible? 
For example: if an account is funded with $1000 and receives a bonus of $200, a trading volume of 50 lots (200/4) has to be done in order to withdraw anything. One standard Forex lot is 100 000 units. Can you even make 5 million dollars with a little over a thousand?!
Overall
Summary
Although not yet blacklisted, Invest Ecapitals is still selling its shady services and products without anyone's validation. The only proper confirmation of a broker's legitimacy is a regulator's license. Invest Ecapitals doesn't have one, yet operates under suspicious circumstances and with full anonymity. 
Don't let them turn you into their next victim. Rely on public registers and guidance of authorities. Report anyone suspicious offers you get and turn to us for advice and additional info. 
FAQs About
Invest Ecapitals
Broker
Is My Money Safe With Invest Ecapitals?
Invest Ecapitals provides zero safety to the investments by customers, because they respect no regulatory framework.
Does Invest Ecapitals Offer a Demo Account?
Virtual funds and trading simulators aren't available with this one.
Is Invest Ecapitals a Trustworthy Broker?
Simply put: No. Invest Ecapitals abides by no regulatory standards and rules. Their unlawful behavior only does harm to investors.