August 29, 2023
Reading Time:
5
min
Tradaxa Review: The Real Face of The Brokerage Uncovered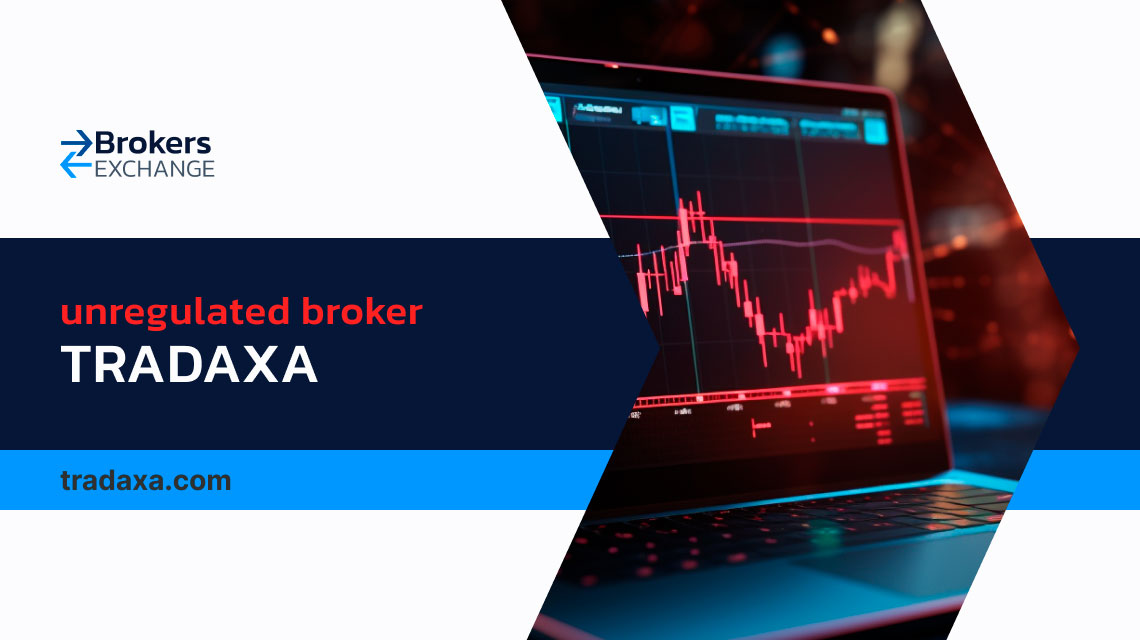 We love nothing more than to expose scam brokers, so our Tradaxa review will shed light and uncover the real truth hidden behind this brokerage. From regulation, leverage, and minimum deposit, to transparency and reliability, we cover all grounds so you easily make an informed decision. 
Unfortunately for traders, the Tradaxa broker is not the only one you should be on the lookout for. Eurinvesting is another brokerage on the market trying to scam people and steal their money. Make sure to stay informed and knowledgeable at all times. 
Who Is Tradaxa? All About the Tradaxa Forex Broker
Sisma Capital Group is the parent company of Tradaxa, and both of them are unreliable choices. All important information is hidden from their website, so it is evident that transparency is not one of their strongest suits. To make trading with Tradaxa even worse, the company operates without a license, so requesting a withdrawal can become very stressful. 
There are multiple reports that the company is operating under different names but that has not been confirmed. The worse thing that can happen while trading with Tradaxa is losing all of your investments because brokers like this one are more likely to go out of business, leaving you broke or in debt. They will also lock you out of your accounts, especially if you make profits. 
| | | |
| --- | --- | --- |
| | Tradaxa | Reliable Broker Must Have |
| Legal name | Tradaxa, Sisma Capital Group | Transparently displayed in the disclaimer or legal documents |
| Regulation | Unregulated | Within your legal jurisdiction – local regulator |
| Registered in | N/A | Your country or the country whose license applies in your legal jurisdiction  |
| Established | N/A | The older the domain – the higher the possibility the company is trustworthy |
| Website | www.tradaxa.com | Domain should be from local or international zones, no .xyz, etc. |
| Financial Authorities Warnings | | None |
| Contacts | [email protected] | Phone, email, social media, web form |
| If a withdrawal is possible | Highly unlikely | Yes |
| Fees | | Transparent fees – list of spread and commissions |
| If Active on Social Media | No | Often present on social media |
| Investor Protection | None | Compensation fund |
Regulation Info
Tradaxa is not regulated or supervised by any financial authority, which makes trading with them even harder than it already is. Considering multiple reports about the broker operating under various names, it's not surprising that they aren't regulated. The broker will use all means necessary to lure traders into depositing money and then probably leave without a trace. 
The majority of their victims come from the United States, Chile, and Brazil, among other nations. The broker would have to be regulated by the US Securities Exchange Commission (SEC), the Superintendencia de Valores y Seguros (SVS) in Chile, or the Comissão de Valores Mobiliários (CVM) in Brazil to operate in those nations, however, the broker holds no valid license. 
Tradaxa Broker Profile
Tradaxa offers to trade in forex, crypto, indices, and commodities on the MT4 trading platform. In addition to the MT4, the Sisma Capital Group company offers a suspicious web trader without any beneficial features. The MT4 platform is considered reliable, however, traders should be cautious because the platform can be manipulated and many unreliable brokers create fake MT4 platforms to make it seem like you are earning money when instead, you are losing it.
The broker claims to operate from New Zealand, however, no registration has been found, meaning the scammers could operate from any place in the world. While the domain was active, the only contact information the broker provided was an email that was either fake or no one replied to it. Overall, the Tradaxa scam is evident and people should proceed with caution. 
Trading Platform
MT4, Web trader
Account Types
N/A
Financial Instruments On Offer

Forex (EURUSD, EURGBP, USDNOK)
Cryptocurrencies (BTC, ETH, XRP)
Indices (S&P 500 Index, Dow Jones Industrial Average, FTSE 100 Index)
Commodities (Crude Oil, Natural Gas, Corn)

Maximum leverage
1:100
Minimum Deposit
$500
Commissions/Bonuses
N/A
Mobile app
Yes
Desktop app
Yes
Autotrading
No
Demo account
No
Education or Extra tools
None
Is Tradaxa a Safe Choice?
Reliable brokers are regulated, transparent, and open about their business. They provide various contact details and clear information regarding leverage, spreads, and deposits. Tradaxa doesn't offer any of that and to make it even worse, there isn't even a demo account to try out their services before depositing real money. 
On top of all of that, the broker's domain is no longer active, meaning they either shut it down themselves or it was shut down due to scam reports. The minimum deposit of $500 is enough for them to scam you because as soon as you deposit, they will lock you out of your account and disappear. 
Don't waste your time on brokers like Tradaxa or FewaTrade. We know finding a reliable broker can be challenging and time-consuming but it is necessary to research and compare brokers to have a safe trading experience. If you reach out to us today, we will do all the work for you and recommend reliable choices tailored to your needs. 
How Is the Scam Carried Out?
First, they will make you believe that trading is easy and risk-free. They will promise high returns and easy money and once you deposit, they will disappear without a trace. You may think that it isn't easy to fall prey to scam brokers, however, you have no idea how persuasive they can be. Cold calling and offering high profits is very common with unreliable brokers, so if you receive a phone call from a broker offering you high profits and bonuses, hang up immediately. 
The broker aims at nations like the United States, Chile, Brazil, Italy, and Colombia. Needless to say, to operate from these nations, the broker would have to be regulated by reputable financial authorities in those nations like SEC in the US, CONSOB in Italy, or the CMF in Chile. It is advisable not to try your luck with Tradaxa and to stay away from them and similar brokers that are only after your money. Reach out to us for more reliable choices and we promise a safer experience.
Deposits and Withdrawal Methods
Only untraceable and anonymous payment methods are available with Tradaxa. The broker doesn't accept credit cards, which suggests they're trying to avoid people filing chargebacks with their banks so they can easily scam them. Without a demo account, you have to deposit a minimum of $500 straight away, which makes a perfect strategy to scam people. 
The withdrawal process is not explained, nor are the fees associated with it. Since cards are not accepted, you won't be able to report the withdrawal issue to your bank, so your money will be lost. It would be best to avoid Tradaxa and similar brokers that lack transparency to ensure a safer trading journey. 
Tradaxa Pros and Cons Uncovered
Pros
Cons

None! 

Unregulated

High deposit

No demo account

Lack of transparency

Lack of educational material

Hidden information about the company

Hidden fees

Anonymous payment methods
Summary
To summarize what we learned, avoiding unregulated brokers who lack transparency is the best way to ensure a safer trading experience. Don't get caught up in lies of fake bonuses and profits, instead, do the necessary research and check every claim. Avoid brokers like Tradaxa or Fin Art Media, who hide important information about their company and features and lack supervision from financial regulators. 
If you get scammed, don't be embarrassed. Scams are very common nowadays and people find all kinds of ways to execute them. Contact us for professional advice and recommendations, or to report a scam broker. While it may take some time, getting your money back is possible and the best part is, our services carry no obligation. 
FAQ Section
What Is Tradaxa?
Tradaxa trading company is an unreliable brokerage you should avoid.
Is Tradaxa Regulated?
Tradaxa is not regulated by any financial authority, therefore your funds are at constant risk if you choose to trade with this broker.
What Is Tradaxa's Website?
The domain Tradaxa was using is www.tradaxa.com, however, the domain is on sale now. Since there were so many reports of scams for the company, they probably changed the domain and are operating under a different name.