April 15, 2023
Reading Time:
4
min
TradeHUB Review: Reasons You Must Avoid This Broker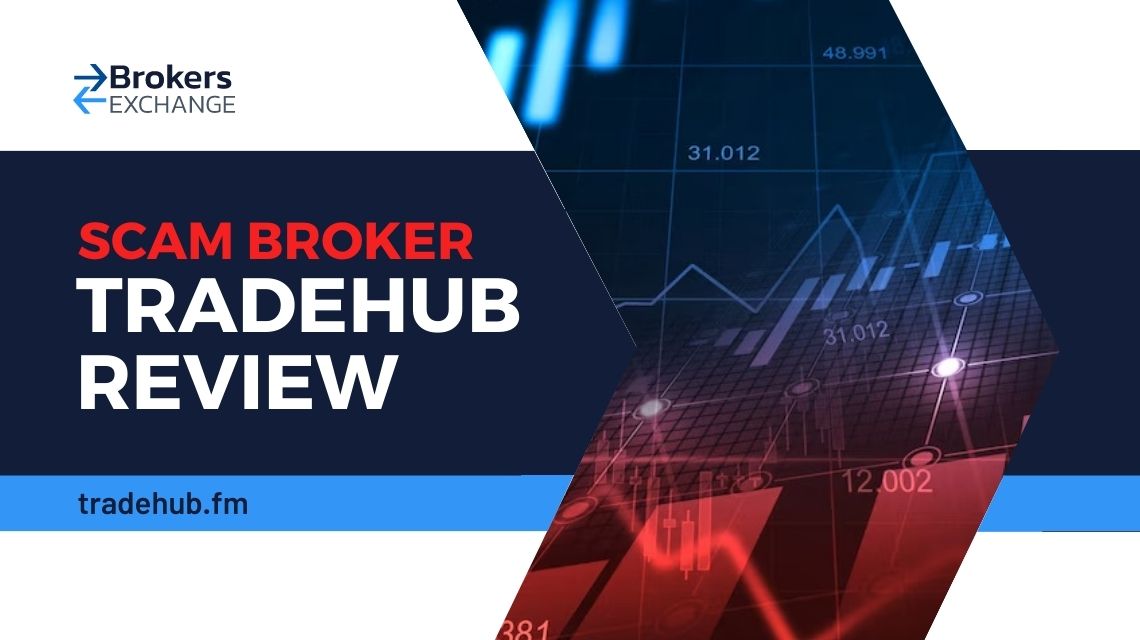 TradeHUB Review, We need to mention TradeHUB when we talk about good scammers. The broker TradeHUB has quite a convincing story. 
Allegedly, the company has won multiple awards as the best Forex broker and it's regulated by 4 different authorities and based in the financial hub, Switzerland. One may think they have the perfect trading company right there. But of course, that is not true. 
TradeHUB has a professional look, but its positive appearance is that way because the entire website was stolen from another broker, a well-established legitimate company with more than 40 years of experience. 
TradeHUBis a clone firm impersonating HYCM, a global brokerage holding licenses issued in various jurisdictions. Clones like TradeHUB are pure scams and should be avoided.  But that has not gone unnoticed by the financial authorities in the UK, who have recently blacklisted Trade Hub as an outright scam.
Also, we recommend you not to invest in the fraudulent brokers Finex Trader, Opendealbroker, and Martyn Services.
| | |
| --- | --- |
| Company | TradeHUB |
| Website | TradeHUB.FM |
| Address | Hardstrasse 201, 8005 Zürich, Switzerland |
| Email | [email protected] |
| Phone | +442081570864 |
| Minimum Deposit | $100 |
| Leverage | 1:200 |
| Bonuses | N/A |
| Regulation | Unregulated |
| Warning | N/A |
TradeHUB Regulation and Funds Security 
TradeHUB claims to be regulated and safe but as we know that is not true. As mentioned, TradeHUB is a clone firm impersonating HYCM. 
The fraudsters are so arrogant that they use the corporate information, the license numbers of HYCM, and even the entire website copied. Clone firms are particularly dangerous, as they skilfully trick people into believing that the scam broker is a legitimate firm.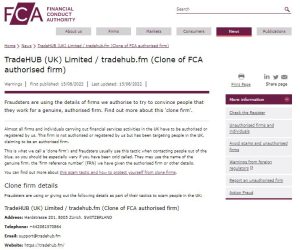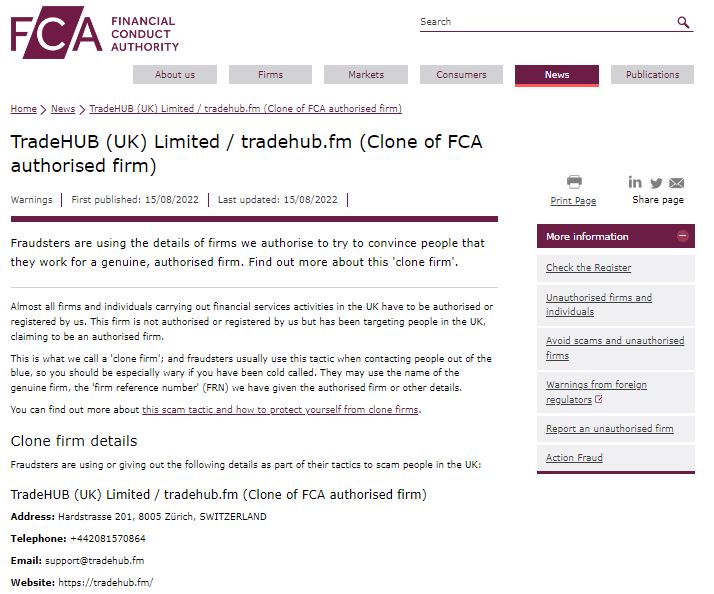 On top of that Trade Hub claims to be headquartered in Switzerland and to be licensed virtually everywhere, from the UK and Cyprus to Dubai and the Cayman Islands. But that can not be true given that even the financial authorities in the UK are saying they are a scam.
TradeHUB Supported Trading Overview 
They have copied HYCM but their trading conditions are not the same. Most trading conditions are standard, but some reveal the true nature of the broker. The asset classes available for trading are Forex, Stocks, Indices, Crypto, Commodities, and Metals. This is a typical selection that is often given.
However, the trading risks are high and indeed reveal that TradeHUB is a scam. Namely, the leverage is 1:200 by default, a risky ratio prohibited by both FCA and CySEC. 
That is a high leverage and no real broker can issue something like that. On top of that the maximum allowed by the EU is 1:30, and that makes this type of leverage even more ridiculous. 
Funding Methods Available at TradeHUB 
When we talk about funding methods they also differ from HYCM. First, their minimum deposit is $100, which is a lot considering most brokers will open up an account for just $5.
The funding methods are Credit/Debit cards and Cryptocurrencies, out of which we will always recommend the first option. 
Bank card deposits guarantee the opportunity to charge back for up to 540 days after the transaction, while cryptos are final and non-refundable. Unfortunately, those who used cryptocurrencies to deposit with TradeHUB will not be able to reclaim their money.
Discussing withdrawals is generally worthless, knowing that TradeHUB is a scam. Nevertheless, we will do it. The minimum withdrawal is $500 for Wire Transfers and $100 for Credit/Debit cards, which are highly adverse requirements, and most brokers will not ask for such high amounts of money.
On top of that the fees are just enormous. TradeHUB imposes wild charges for no particular reason, and they even fail to explain what these fees are. 
First, they charge 25% for early withdrawals, 30% for benchmark fees, a 3.25% management fee, and a 3.5% commission per so-called quartal. 
Account Types Offered at TradeHUB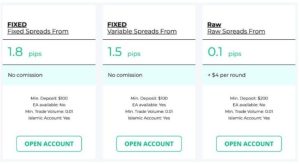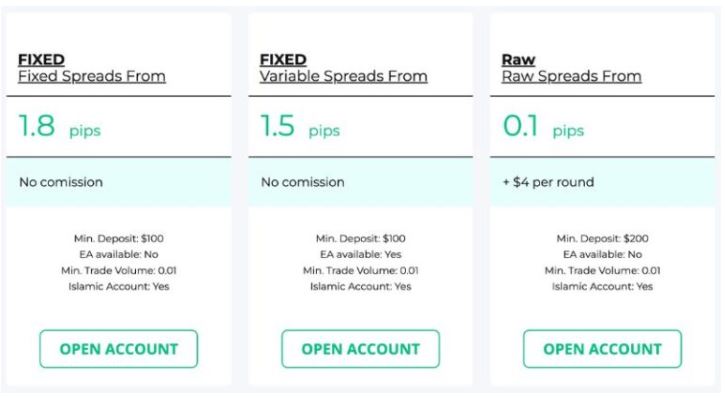 When it comes to account types you can choose between three options. They all differ in the number of spreads you can choose. So the first option is an account called a fixed spread from 1.8 pips and it costs $100. The next is called Variable spread from 1.5 pips and it also cost $100. And the final one is called Raw spread from 0.1 pips and it cost $200 to be opened. And also there is no demo account.
How the Scam Is Undertaken 
You know you are being scammed but how does the scam work?
Well, they are usually the same in every scammer. Scam brokers are always unregulated and usually registered somewhere offshore, which helps scammers remain anonymous and untraceable. 
If you open an account with such an entity, you should expect endless phone calls. Scammers will constantly try to approach you and make you deposit money as quickly as possible. 
Remember that urgency is always a treacherous sign, so it's probably a scam if someone calls you thirty times per day, asking for money. 
If you deposit scammers will persuade you to trade instead of you. You'll soon see magnificent profits generated which are false, of course, and you'll get excited, asking to take your money back. 
As you probably guess, they won't let you do so and will try to get another deposit from you, promising that much more lucrative gains are waiting. Or, they can ask for a false tax, saying that withdrawals are only possible if you cover the charge in advance. 
If you pay, you'll increase the amount stolen from you, but if you keep asking for your money. And once you realize it's a scam your money will be long gone.
TradeHUB
Summary
 In this TradeHUB broker review, we tried to warn you about this alleged UK-based broker. They claim to offer their clients an opportunity to invest in forex, commodities, indices, and cryptocurrencies. 
But in reality, they are just a copy of a legitimate broker and are just pocketing your hard-earned money. 
Copycat brokers are the most dangerous ones because you can't know if you are being scammed or not. Reading reviews can help you prevent this and we always encourage you to do it.
FAQs About
TradeHUB
Broker
What Is The Minimum Deposit at TradeHUB?
The minimum deposit is $100.
Is TradeHUB Offer a Demo Account?
What Instruments Can I Trade with TradeHUB?
You can trade with Forex, Stocks, Indices, Crypto, Commodities, and Metals