August 24, 2023
Reading Time:
5
min
TradexOption Review: Uncovering the Real Truth Behind the Brokerage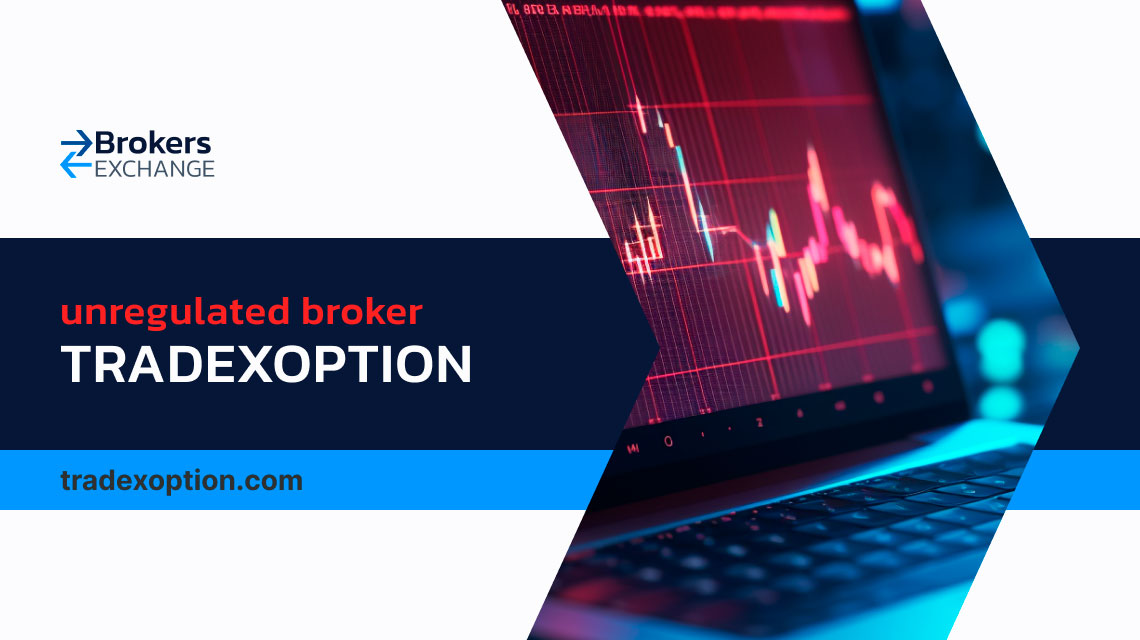 It's challenging to locate a reliable broker and have a good trading experience, especially since there are so many brokers that present themselves as reliable and honest but in reality, they are nothing more than a scam. That is why we wrote this TradexOption review, so you can learn how to distinguish one from another and learn everything you need about this brokerage to make an informed decision. 
Delve deep into the broker's regulation, fees, account types, and overall pros and cons with this TradexOption review and learn how to recognize and avoid scam attempts. Without further ado, let's start. 
Who Is TradexOption? All About tradexoption com
TradexOption claims to be founded in 2014, making them an experienced broker in the market. However, the broker is not regulated by any financial authority, so that is a long time to operate without a license. 
We wish that is the only dark side of the broker but unfortunately, more concerns about their reliability will emerge during this TradexOption review. 
TradexOption
Reliable Broker Must Have
Legal name
Tradex Option

Transparently displayed in the disclaimer or legal documents

Regulation
Unregulated

Within your legal jurisdiction – local regulator

Registered in
New York, United States

Your country or the country whose license applies in your legal jurisdiction 

Established
2014

The older the domain – the higher the possibility the company is trustworthy

Website
tradexoption.com

Domain should be from local or international zones, no .xyz, etc.

Financial Authorities Warnings
FCA

None

Contacts

[email protected]

 

 +1 989 623 9466

Web Form

Live Chat

Phone, email, social media, web form

If a withdrawal is possible
Highly unlikely

Yes

Fees
Hidden fees

Transparent fees – list of spread and commissions

If Active on Social Media
No

Often present on social media

Investor Protection
None

Compensation fund
Regulation Info
On the broker's website, there is no information about regulations, confirming that they are operating without a license. Since they are founded in 2014, they have lacked regulation, and in 2018, the FCA noticed it. 
The Financial Conduct Authority (FCA) has issued a warning stating that the broker TradexOption targets UK clients and lacks a license. Any brokerage that wants to conduct business out of the UK must be subject to FCA regulation. 
It's also important to note that the broker mostly operates from Greece, the United States, and Germany, however, they lack a license from BaFin in Germany, Hellenic Capital Market Commission (HCMC) in Greece, and the Securities and Exchange Commission (SEC) in the US. 
TradexOption Broker Profile
TradexOption claims to be located in New York and offers to trade in forex, cryptocurrencies, binary options, crude oil WTI, and ETF commodities, bonds, and stocks. The minimum deposit required to start trading is $250 and the maximum is $100,000. The broker promises up to 300% of returns, however, traders are advised to proceed with caution. 
Trading Platform

TradexOption web-based platform

Account Types

Starter, Silver, Gold, Platinum

Financial Instruments On Offer

Forex

(EURUSD, EURGBP, USDNOK)

ETF Stocks

(Apple, Amazon, Microsoft)

Cryptocurrencies

(BTC, ETH, XRP)

ETF Commodities

(Crude Oil, Natural Gas, Corn)

ETF Bonds

(Bund, JGB, U.S. Treasury Bonds)

Binary Options
Crude Oil WTI

Maximum leverage

N/A

Minimum Deposit

$200

Commissions/Bonuses

Up to 300% returns

Mobile app

No

Desktop app

No

Autotrading

No

Demo account

No

Education or Extra tools

None
TradexOption Account Types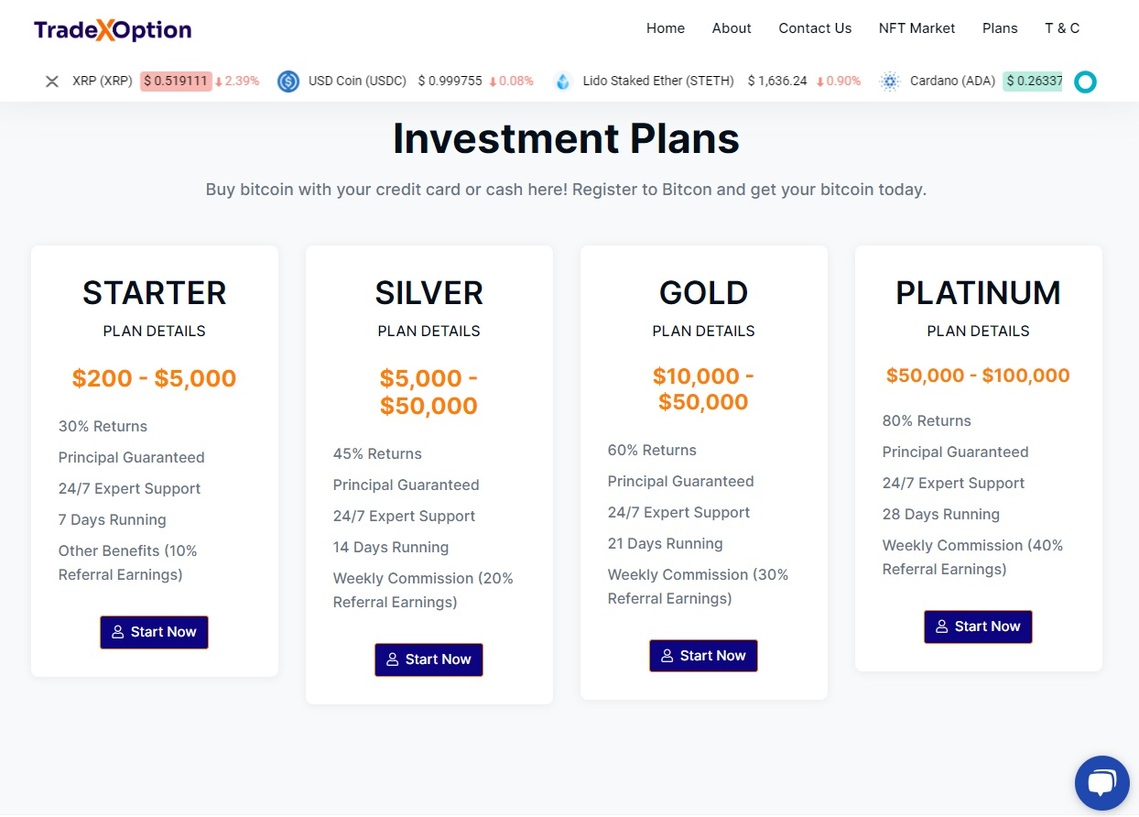 Check out these account type options. Not quite favorable, while promising profits. You already know it's a scheme.
Starter Account: 
30% Returns

Principal Guaranteed

24/7 Expert Support

7 Days Running

Other Benefits (10% Referral Earnings)
Silver Account: 
45% Returns

Principal Guaranteed

24/7 Expert Support

14 Days Running

Weekly Commission (20% Referral Earnings)
Gold Account: 
60% Returns

Principal Guaranteed

24/7 Expert Support

21 Days Running

Weekly Commission (30% Referral Earnings)
Platinum Account: 
80% Returns

Principal Guaranteed

24/7 Expert Support

28 Days Running

Weekly Commission (40% Referral Earnings)
Is TradexOption Safe To Trade With?
All things considered, they are untrustworthy for a broker with so much experience. They are unregulated, there are no ratings, and they make deceptive promises. That doesn't sound reputable or trustworthy in the least. ScamAdviser revealed that the website has a very poor trust score and that the domain was only recently registered, indicating that the claim that it was founded in 2014 is untrue. 
In addition to everything else that is wrong, the broker lacks transparency because leverage and the spread of information are suppressed. In general, it is better to stay away from brokers like TradexOption and Primeinv. Contact us today to discuss more dependable choices and put your worries at ease. The best part is that there is no obligation to get in touch. 
A Look at TradexOption's Traders They Serve
False promises about 300% returns, false claims regarding their experience, their affiliate program, and many other factors are the ones that attract traders and start the scam. Promises that you can earn while trading and getting your money back are very common with scammers and you should proceed with caution. 
Greece, the United States, Germany, Cyprus, and Nigeria are the countries most commonly impacted by the TradexOption fraud. The broker should not operate from any place because it isn't regulated by any financial authority, which is crucial to highlight. Avoid brokers like TradexOption and RoboticsForex at all costs. Invest your money in trustworthy options to have a successful trading experience. All you have to do to start trading stress-free is reach out.
Deposits and Withdrawal Methods
The only available payment methods with TradexOption are various e-wallets and bank wires. Credit and debit cards are not accepted, which raises even more questions regarding the broker's reliability. ScamAdviser reported anonymous payment methods available on the broker's website, meaning in case you want to file a chargeback, it won't be possible. 
The withdrawal process is explained in their FAQ section, making it seem easy, however, it is mentioned that the request needs to be approved and it takes a couple of days just to process it. The minimum payout amount is $300 and the maximum you can withdraw is unlimited. 
TradexOption Pros and Cons
Pros
Cons

None! 

Unregulated

False promises

Lack of transparency

Hidden fees

Hidden information about leverage and spreads

Lying about experience

Doesn't accept cards
Long Story Short – TradexOption
If we consider every piece of information we gathered for TradexOption, it is evident that they are an unreliable brokerage and should be avoided. First, they are unregulated so your investments will be at constant risk. Second, false promises regarding high returns and bonuses are another thing to worry about. Fees, leverage, and spreads are hidden and the fact that the broker is lying about their experience says a lot. 
Overall, we advise it is best to avoid brokers that are unregulated and lack transparency if you wish to have a profitable and stress-free trading experience. It's not easy finding a reliable choice, especially next to so many brokers that are falsely presenting themselves. Don't hesitate any longer and reach out to us for a free consultation. If you have been scammed, don't be embarrassed. It can happen to anyone and the important thing is to keep your head clear and remember, getting your money back is possible. 
FAQ Section
What Is TradexOption?
TradexOption is a brokerage company claiming to be located in New York, US, offering trading in 450+ financial instruments.
Is TradexOption Legit Or Scam?
All things considered, we can conclude that the broker is a scam. There are no reviews for the broker considering it has been established in 2014, they are unregulated, and false claims regarding profits and returns raise more red flags.
Where Does TradexOption Proft From?
All money that investors deposit is used for trading and investing. The broker also makes money from running ads and generating leads.