March 04, 2023
Reading Time:
4
min
UberChains Review: Reasons Why This Broker Is Bogus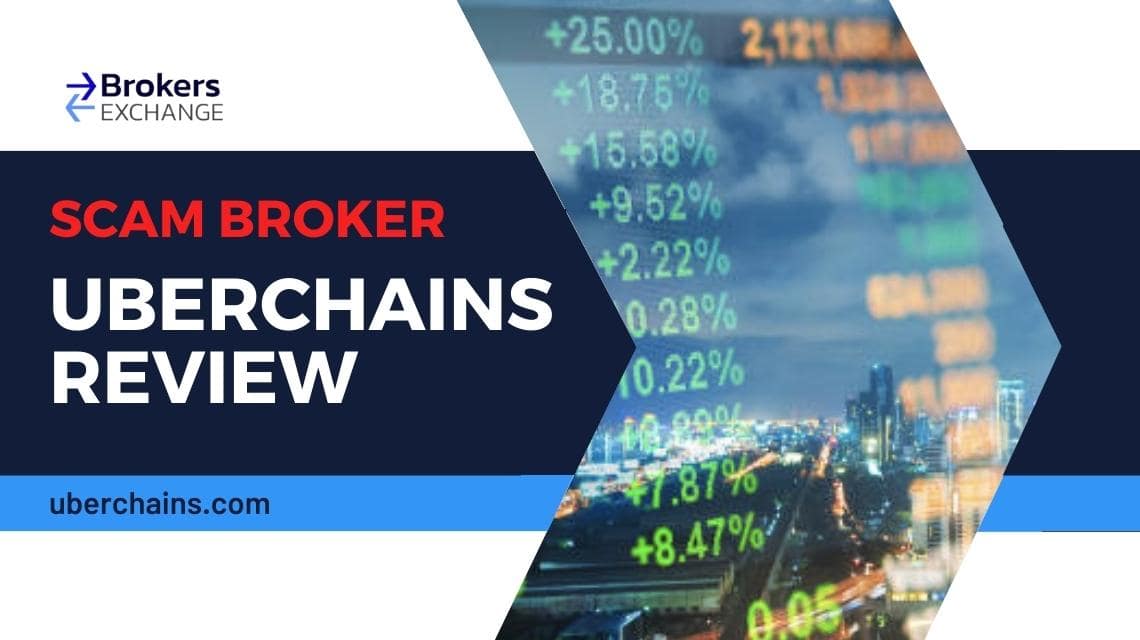 UberChains is another unregulated offshore broker that makes the claim that it can offer its clients profitable and safe trading; unfortunately, these businesses are never able to deliver on such promises. Of course, most of them are frauds, and given that UberChains has no legal documents and has lied about its regulation, it is highly possible that the company is nothing different from others. 
Yet, even if we chose to treat the broker like a broker and overlook the serious problems with its lack of regulation, the company would still be unable to give customers access to a reliable service. The minimal deposit, for instance, is no longer at all competitive!
Overall, the business has nothing to offer anyone, thus you must stay away from it at all costs. If you have a different opinion, though, read the whole UberChains review that follows, which covers all of the related topics.
Furthermore, you should stay away from trading with dishonest brokers like Green Capitalz, Goldmar and Bitsterzio.
| | |
| --- | --- |
| Company | UberChains |
| Website | UberChains.Com |
| Address | 9863 – 9867 MILL ROAD, CAMBRIDGE, MG09 99HT |
| Email | [email protected] |
| Phone | N/A |
| Minimum Deposit | $10.000 |
| Leverage | N/A |
| Bonuses | N/A |
| Regulation | No |
| Warning | N/A |
UberChains Funds Security and Compliance
UberChains has no licensing whatsoever. The organization does not even pretend to be directly overseen by anyone; rather, it does so through implication. It would seem that since UberChains is posing as a British brokerage, its clients would also be entitled to the same safeguards that British broker clients enjoy. 
UberChains, however, violates the FCA's rules on crypto CFDs, making the broker ineligible for something like an FCA license in the first place! Only brokers regulated by FCA, the UK regulator, are permitted to trade on its platforms, therefore only they are allowed to operate there! 
Due to the fact that UberChains is an anonymous firm, the provided address is either fictitious or does not correspond to the broker. These brokers should be avoided since they are risky.
Trading Platform They Used on Their Website
Users who have not made a deposit are not permitted to use UberChains' trading platform. This is unusual in a market where trial accounts are openly offered by authorized brokers; in fact, you should use a demo account before making a deposit to determine whether the broker offers the service you require. 
In any case, because we can't access the program, we don't know what UberChains has to provide. Overall, you require a reputable broker and a reliable platform, neither of which UberChains broker can deliver!
UberChains Deposit and Withdrawal
The website states that a $10,000 deposit is required. Given that 99% of the fraudulent brokers we review tend to set their minimum deposit restrictions between $1 and $500, there is very little possibility that this is the case. And a $10,000 minimum is absurd no matter how you look at it.
That is all the payment-related information we can provide you with at this time. Not because we couldn't find it, but only because the broker doesn't provide any. There are no withdrawal requirements anywhere, hence there is unquestionably no evidence to support any withdrawal at all!
The payment options have also been hidden at the rear, in addition to everything else. When an agent appears to not know what it's doing, why would you trust them? Avoid investing in UberChains since it is risky for everyone, they are scam brokers!
How this Brokerage Carried Out the Fraud?
Scam brokers employ a few methods that combine to form a large plan that has not altered since its start, making it very simple to avoid. Once the dealer approaches the victim, who had unintentionally given up his or her contact data in the past via some seemingly innocent method, the scam begins.
As the opposite side uses sweet talk to get its way into your pocket, interacting with the broker could appear like a nice experience. Because they are more vulnerable to this form of verbal trickery, non-trading audiences are the ones who are most frequently targeted by scams. In any other case, users risk receiving emails touting unrealistically wealthy investment opportunities.
The first deposit, which scammers are eager to sell, is the tipping point. The user has been captured by the fraudster after this initial investment. Either the client will be persuaded to pay more by fictitious guarantees of additional "profit," or the consumer will desire to have his initial deposit returned and will request it, to which he will be informed that additional investments are required.
You will almost certainly not be able to withdraw, no matter which side of the argument you, the user, are on. For a variety of similarly ridiculous reasons, all withdrawal attempts will be rejected. Investments scam is the scariest when unnoticed.
UberChains Summary
Before our UberChains review comes to an end, we'd like to underline the dangers of depositing money and investing in dishonest and uncertain businesses.
Scam brokers frequently prey on a small group of inexperienced investors and traders. They use deceitful tactics and create opportunities, then disappear when they are discovered. Avoid non-regulated platforms and businesses as much as possible. 
FAQs About UberChains Broker
Is My Money Safe With UberChains?

Not at all, no. The security of your money is not guaranteed by UberChains broker.
What Is The Minimum Deposit for UberChains?

The minimum deposit amount is unknown. We do know that the Bronze account requires a minimum deposit of $10,000.
Does UberChains Offer Demo Account?

At this time, UberChains broker does not offer demo accounts.