July 31, 2023
Reading Time:
6
min
Uptrend Center Review: Unraveling the Broker's Scheme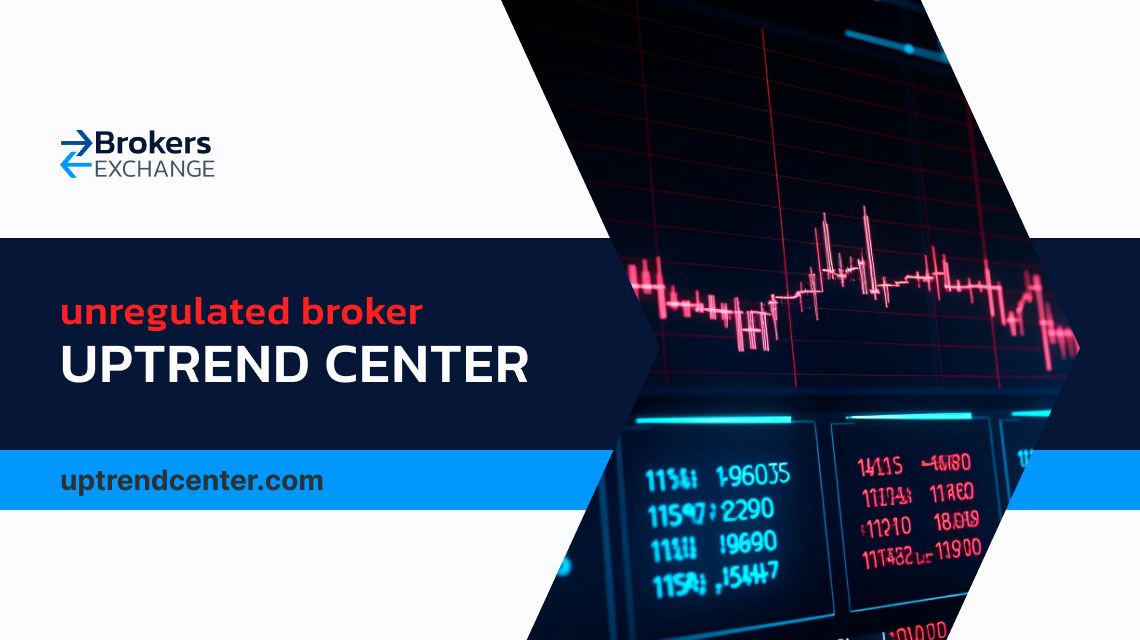 It might be difficult to find a trustworthy broker, especially with all the scammers out there. If Uptrend Center is a broker you're thinking about using, read this Uptrend Center review to learn more about the broker's motivations. 
Read the reviews of WaveSolutions, Finaguide, and Perlybit as well to keep up with additional shady brokers you should be aware of. 
Who Is Uptrend Center? All About uptrendcenter com
Commodities, indices, currency, and other assets can all be traded through The Uptrend Center, a CFD brokerage firm. There isn't much information available on the firm itself, including when it was established, whether it is registered, and the fee structure. Overall, UptrendCenter smells like trouble. 
Uptrend Center

Reliable Broker Must Have

Legal name:

The Uptrend Center

Transparently displayed in the disclaimer or legal documents

Regulation:

Unregulated

Within your legal jurisdiction – local regulator

Registered at:

N/A

Your country or the country whose license applies in your legal jurisdiction 

Established:

N/A

The older the domain – the higher the possibility the company is trustworthy

Website:

uptrendcenter.com

Domain should be from local or international zones, no .xyz etc.

Financial Authorities Warnings:

BCSC, OSC

None

Contacts:

[email protected]

 

Web Form

Phone, email, social media, web form

Is a withdrawal possible:

Highly unlikely 

Yes

Fees:

Rollover fee
Spreads from 0.6 – 3.0
Dormant account fee $99
Overnight fees
Additional fees
Hidden fees

Transparent fees – list of spread and commissions

If Active on Social Media:

No

Often present on social media

Investor Protection:

None

Compensation fund
Regulation Info
The broker operates without any regulatory organizations monitoring him, even after giving the broker the benefit of the doubt and looking over their Terms and Conditions and other legal documentation. But because of our thorough research for this Uptrend Center review, we found cautionary tales concerning their business. 
We were startled to see that the broker has US clients, although their disclaimer states they do not accept clients from the US. Furthermore, they are not legally allowed to operate anywhere, yet the majority of their customers are from Canada. 
BC Securities Commission (BCSC) warns against the Uptrend Center, which accepts BC residents as clients but is not registered to trade securities or advise on them. They urge caution when dealing with firms not registered in BC.
Ontario Securities Commission also issued a warning on November 9th, 2022, warning Canadian residents that Uptrend Center is a sham broker operating in Canada without a license. 
Uptrend Center Broker Profile 
CFDs broker Uptrend Center deals in a variety of instruments. They are unregulated and their fee structures are not very clear. Their web-based Uptrend Center trading platform isn't considered secure given that they don't provide MT4 or MT5. There are more and more warning signs, making the broker less and less safe to use. 
Trading platforms:

Web-based Uptrend Center

Account types:

Basic, Silver, Gold, Platinum, VIP

Financial Instruments On Offer:

Forex

(EURUSD, EURGBP, USDNOK)

Stocks

(Apple, Amazon, Microsoft)

Cryptocurrencies

(BTC, ETH, XRP)

Metals

(Gold, Silver, Platinum)

Indices

(S&P 500 Index, Dow Jones Industrial Average, FTSE 100 Index)

Commodities

(Crude Oil, Natural Gas, Corn)

Futures

(E-mini S&P 500 Futures, Crude Oil Futures, Gold Futures)

Shares

(Facebook, Tesla, Netflix)

Energies

(Brent Crude Oil, WTI Crude Oil, Natural Gas)

Bonds

(Bund, JGB, U.S. Treasury Bonds)

Crypto Debit Card

Maximum leverage:

1:400

Minimum Deposit:

250 – 100,000 USD/GBP/EUR

Commissions/bonuses:

N/A

Mobile app:

No

Desktop app:

No

Autotrading:

No

Demo account:

No

Education or Extra tools:

e-Books, Glossary, Asset Index
Uptrend Center Account Types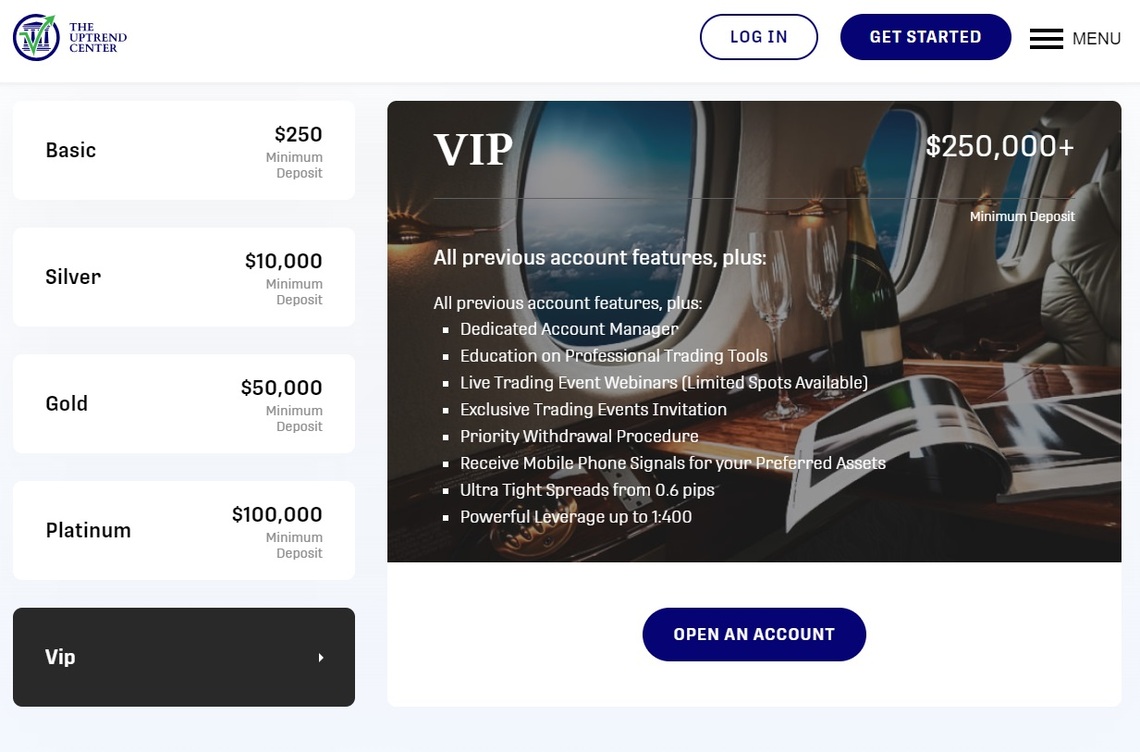 Depending on the amount you deposit, you will unlock an account type that has different benefits. You can open an account at the Uptrend Center login page. There are 5 account types in total: 
Basic

($250): One-on-one Academy, platform introduction, crypto wallet introduction, spreads from 3.0 Pips, flexible leverage up to 1:30

Silver

($10,000): Crypto Wallet Introduction, dedicated account manager, tight spreads from 2.4 pips, flexible leverage up to 1:30

Gold

($50,000): Dedicated account manager, education on professional trading tools, live trading event webinars, tight spreads from 1.9 pips, flexible leverage up to 1:400

Platinum

($100,000): Dedicated account manager, education on professional trading tools, live trading event webinars, exclusive trading events invitation, priority withdrawal procedure, ultra tight spreads from 1.2 pips, leverage up to 1:400

VIP

($250,000+): All previous account features in addition to the priority withdrawal procedure, receive mobile phone signals, spreads from 0.6 pips, leverage up to 1:400
Is Uptrend Center Safe To Trade With? 
Uptrend Center's safety concerns are significant due to a lack of regulation, hidden fees, and unclear conditions. This lack of transparency leaves investors defenseless against potential fraud. Additionally, the company's history and ownership details remain inaccessible, casting doubt on its reliability and validity.
In addition to these red flags, Uptrend Center fails to provide a secure trading platform, exposing traders to risks of data breaches and unauthorized access to personal information. Alarmingly, both the British Columbia Securities Commission (BCSC) and the Ontario Securities Commission (OSC) have issued warnings against Uptrend Center, emphasizing the broker's untrustworthiness and lack of regulatory compliance. 
Based on these concerning factors, it is evident that trading with Uptrend Center is far from safe, and investors should exercise extreme caution to protect their interests and funds. Reach out to us today if you want a reliable broker by your side with whom you'll learn the positive side of trading. 
Uptrend Center Review: Traders' Thoughts and Opinions
Considering their uncontrolled and opaque nature, Uptrend Center Trustpilot reviews have amassed a total of 39, which is quite impressive. It's important to remember that even though the broker received a rating of 3.9 stars, a significant 16% of the evaluations were unfavorable, which raises worrying questions about their business operations.
One such unfavorable review describes the unpleasant experience of a customer who lost over $30,000 from their line of credit and emergency fund as a result of a system error at Uptrend Center that the broker ignored. On May 19, 2023, the user sought to withdraw their remaining cash, but two months later, the withdrawal request was still pending. Instead, the broker assessed an illogical $49 commission to them. 
The Uptrend Center Reddit reviews are completely different. There are only a couple of commenters, complaining about the Uptrend Center scam. People are complaining about multiple calls made by the broker and forcing them to invest money offering all kinds of benefits. People who receive calls from broker only have two choices: to hang up or to invest with them. 
A Look at Uptrend Center's Traders They Serve
Uptrend Center uses various tactics to attract investors, including a referral program and incentives for introducing friends and family. However, they often call prospective clients and pressure them to invest, which can cause overwhelming feelings and potentially costly errors. Uptrend Center has a large international clientele, including traders from Canada, Portugal, India, Israel, and the US. 
Brokers must register with regulatory bodies like CSA, CMVM, SEBI, ISA, FINRA, or SEC, depending on their activities and services. Prospective investors should exercise caution and confirm the broker's regulatory status with the appropriate authorities to ensure safe investments. Contact us for a more pleasant trading experience, as we know some of the best brokers in the world and we offer an obligation-free service.
Deposits and Withdrawal Methods
Payment methods for making deposits are Credit cards, Wire transfers, and various e-payment options. You can withdraw money from your account using the same method you used for depositing money, either through a credit card or a wire transfer. The minimum withdrawal amount is $100 and there are no withdrawal fees.  The maximum deposit amount depends on the deposit method:
Credit card – Amount varies.

Wire transfer – Unlimited.

E-wallets – Amount varies.
It is clear that even if you are fortunate enough to receive a withdrawal one time, it will become increasingly difficult every subsequent time when you take into account their high deposit amounts, cautions, traders' experiences, and other warning signs. 
Uptrend Center Pros and Cons
Pros
Cons

Positive reviews

Unregulated

High deposit

Hidden fees

No phone number

Warnings from BCSC and OSC

Lack of transparency and info

No MT4 or MT5
Insights from Our Trading Experts
Our trading specialists have carefully examined Uptrend Center and found some alarming red flags, suggesting that it might not be a reliable broker to trust with your capital. The risks seem severe, from its lack of regulation and transparency to claims of aggressive marketing strategies and unresolved withdrawal concerns.
Your money deserves a more secure and reliable environment, in our opinion. Better options are available on the market with proven track histories, strong regulatory compliance, and open business practices.
We encourage you to start by exploring safer options and getting specific advice from our specialists. Contact us right away to schedule your free consultation. Let's make sure a trustworthy broker who puts your success first and looks out for your best interests is leading you on your financial journey.
FAQ Section
What Is Uptrend Center?
Uptrend Center is an unregulated financial brokerage firm, offering trading services and investment opportunities to clients worldwide.
Is Uptrend Center Regulated?
No, UptrendCenter is not subject to any kind of regulation. Despite the broker's positive reviews, it is nevertheless advised to investors to stay away from them.
Who Is The CEO Of Uptrend Center?
The CEO of The Uptrend Center is Mr. Marc Vela