October 18, 2022
Reading Time:
4
min
AnalystQue Review – Who's Behind Analystque.com?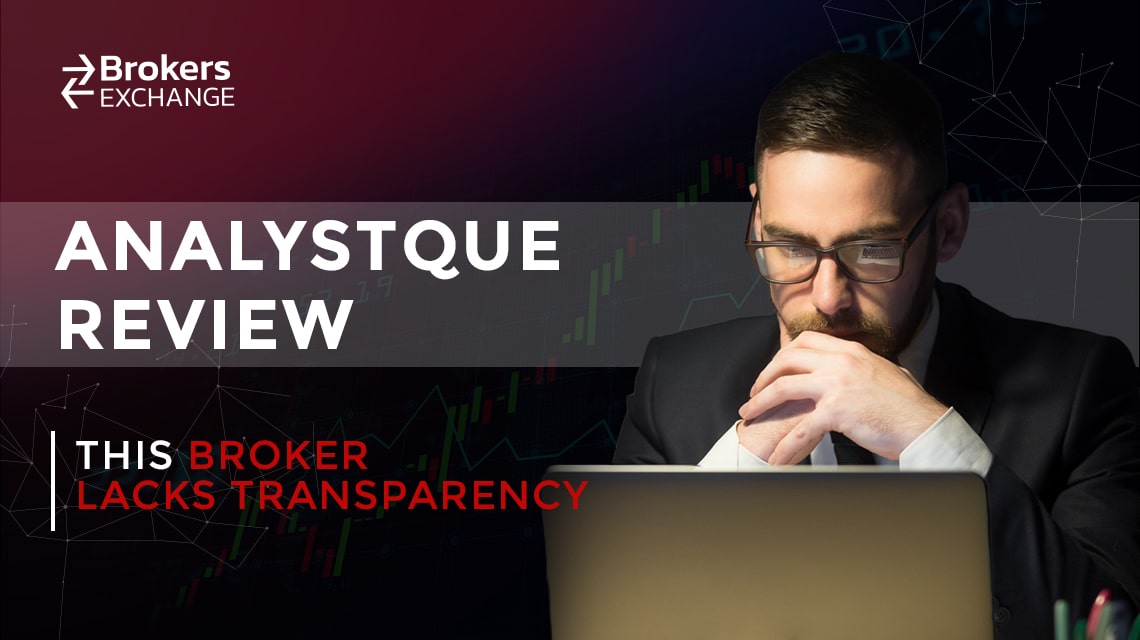 From the minute of visiting the AnalystQue website, you will realize that the company makes every effort to persuade visitors it's a legit brokerage with competitive offers. 
Initially, all appears normal from a trendy webpage with all catchy phrases and boastful statements to many international partners, numerous awards, and a broker's license. 
In reality, everything about this company is erroneous, with only one purpose: to trick people into believing they do business with a skilled company. 
The only thing this firm is adept at is cheating. Please read our full AnalystQue review enabling you to protect yourself from scam brokers.
For this and many other reasons, we strongly suggest staying away from brokers who might be scammers like The Active Traders, EvoCapitals, and Trader Powers.
| | |
| --- | --- |
| Company | AnalystQue Inc |
| Website | Analystque.Com |
| Address | Dominica |
| Email | [email protected] |
| Phone | +442033188788 |
| Minimum Deposit | 500 USD |
| Leverage | 1:300 |
| Bonuses | Yes |
| Regulation | No |
| Warning | CNMV, DFSA |
Regulation, and Fund Security at  AnalystQue
The first sign of shady business is inconsistent and inconclusive claims. Fraudsters use perplexing information to hide facts about their business.
According to the AnalystQue terms section, it's allegedly based in Dominica, but it omits to provide more info (owner, address, registration number, etc.). 
Likewise, this brokerage professes it's regulated by SVGFCA, which is altogether another jurisdiction; yet again, there are no details about its license number. 
Anyway, after checking the SVGFCA (Saint Vincent and the Grenadines Financial Services Authority) website, there is no info about AnalystQue. More, no financial supervisory body authorizes this firm. Therefore, this broker falsely declares it's accredited.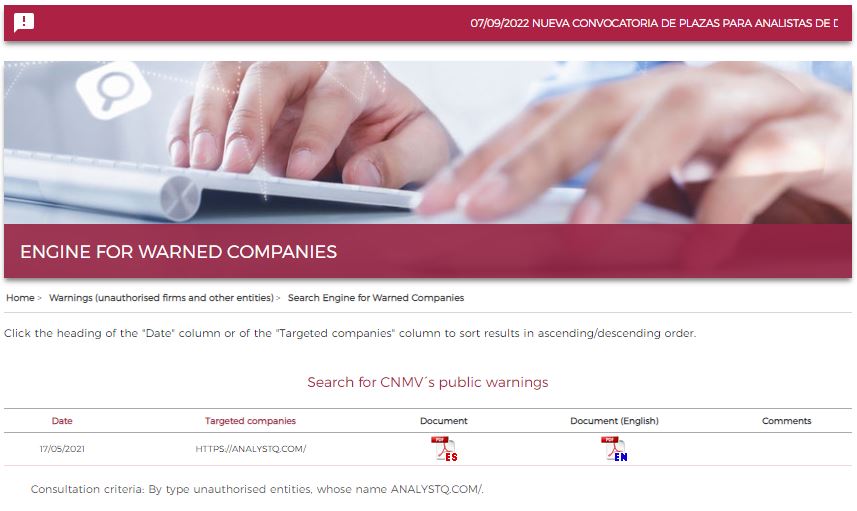 The non-registered foreign organization is a clear indicator of an investment scam. Offshore jurisdictions like Dominica have light requirements for forex providers; some don't regulate them whatsoever and are hideouts for hoaxers.
Legit offshore brokers, regardless of their jurisdiction (e.g., SVG, Belize, Mauritius), hold multiple licenses in places like Cyprus (CySEC), the UK (FCA), Australia (ASIC), and South Africa (FSCA). 
Although not all licenses carry the same weight, it's far better to hold any (valid) trading credential than to operate unregulated (or worse, faking a license).
Genuine legal documents in place imply that a broker abides by legislation. By doing so, the interests of traders are always protected. Your biggest concern when investing is the safety of your capital. 
Unlike bogus brokers, legitimate companies, per stipulations of financial regulators, take care of your equity by implementing risk management strategies such as negative balance protection, guaranteed funds, and segregated accounts.
Forex trading is a heavily regulated industry, and corporations must satisfy rigorous criteria to get approved, including having sufficient net working capital measured in few hundred thousand to millions of dollars. 
This practice allows sustainable business and assures customers that they can trade safely since an indemnity bond covers clients if such a broker ceases trading. 
For example, FCA's compensation schemes go up to 85.000 GBP, CySEC covers up to 20.000 EUR, and ASIC offers a max of 100.000 AUD—this is contingent on a monetary regulator.
Last but not least, so far, two regulators have put AnalystQue on a warning list (Spanish CNMV and Danish DFCA).
Overview of AnalystQue Trading Software
When it comes to the AnalystQue trading software, it's surprising that it succeeds in offering not so bad trading platform, which is atypical for phony brokers. Its WebTrader comes with proper tools for trading and simpleness, which can do the work. 
By the way, WebTrader programs, like cTrader and Sirix, are worthy. However, unsurpassed trading platforms are the legendary MetaTrader4 (MT4) and its upgraded version, MetaTrader5 (MT5). 
MT4 and MT5 are widely used due to their advanced features, such as automated and social trading, stop loss, an economic calendar, and much more. No wonder why leading trading enterprises offer these two platforms.
No matter its trading software, AnalystQue remains advised against it.
Deposit and Withdrawal Procedures at AnalystQue
Accepted means of payment much contribute to the justifiable criticism against AnalystQue. 
Namely, the company accepts only Bitcoins for deposits and withdrawals; criminals mainly use this payment technique since it can't be traced. Lawful FX providers support various funding methods, including credit/debit cards, bank wire transfers, and e-wallets. 
In addition, in compliance with the anti-money laundering policy, brokers must offer the same options for depositing and withdrawing.
What're more, AnalystQue levies fees for nontrading. If your account has been inactive for three months, you will be charged $50; subsequently, it's $100 monthly. Most brokerages don't set this kind of commission, but even if they do, it's far less. 
For example, FXTM Broker applies an inactivity fee that's $5 monthly after six months of nontrading. A further reason why you shouldn't deposit money with AnalystQue.
Here's How They Execute the Scam
As for the AnalystQue scam, it resembles all other scamming schemes. When you type "online trading" in an internet search engine, you will get many results, including potential scammers. 
Their websites are appealing, offering profitable opportunities that are arranged to mislead and convince you to put your funds. Soon after you invest money and start trading, you will discover their false promises. 
Once financial swindlers get your cash, they won't let you retrieve it but will try to rob even more from you. Even if you make successful trades on their manipulative platforms, payoffs are not available and are subject to hefty withdrawal fees that must be paid in advance.
AnalystQue Summary
In summary of this AnalystQue broker review, this unscrupulous brokerage conducts business unregulated, counterfeiting its SVG license.
The firm operates anonymously, reportedly with an HQ in Dominica. Regarding terms of trade, AnalystQue provides unfavorable conditions reflected in an excessive initial deposit ($500 compared to the $1 required by reputable corporations).
Likewise, despite banned bonuses and the limitation of leverage to 1:30 in most jurisdictions, AnalystQue offers lucrative bonuses and risky leverages (1:300) to attract customers.
Trading with AnalystQue carries unnecessary risk. Instead of putting your finance in jeopardy, choose legit business all the way. 
FAQs About AnalystQue Broker
What Is The AnalystQue Minimum Deposit Amount?

$500 is the minimum opening balance required by AnalystQue, far above industry leaders. For example,  you can open a live account for $1 with FBS Broker.
What Are the Deposit and Withdrawal Options for AnalystQue?

AnalystQue supports only Bitcoin payments for deposits and withdrawals, which fraudulent brokers widely use. Other companies accept BTC wallets and offer credit/debit cards, wire transfers, and electronic wallets.
What Account Types Does AnalystQue Provide?

AnalystQue offers the following trading accounts: standard ($500 min deposit), education ($5.000), specialty ($25.000), marginque ($75.000), and platinum ($150.000). Anyway, none of the accounts is worth risking.