May 26, 2023
Reading Time:
5
min
Volofinance Review: Stay Away From This Scammer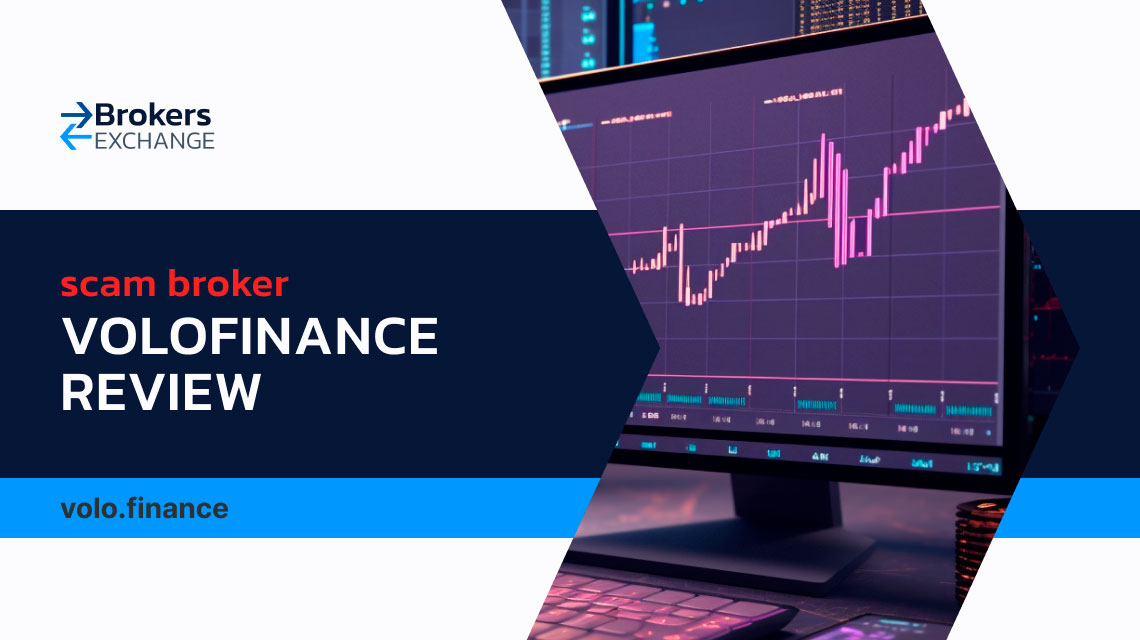 Volofinance is as shady and anonymous as it gets. We say this because the Volofinance broker doesn't reveal any essential information. There is no address, no phone number no nothing.

This broker is providing FX and CFD trading services and because of that, they should have valid licenses. But they don't and they are just another offshore investment scam looking to rip you off.

From lying they are a regulated broker, to claiming they offer the industry standard trading platform MetaTrader4, there is a lot to cover in this Volofinance review.

| | |
| --- | --- |
| Company | N/A |
| Regulation | Unregulated scam broker |
| Warning | N/A |
| Website | volo.finance |
| Address | UAE (allegedly) |
| Email | |
| Phone | +971 54 997 8893 |
| Minimum Deposit | $500 |
| Leverage | N/A |
| Bonuses | N/A |
Should You Trust Volofinance?
Regulation and Security
As we have mentioned, Volofinance is very anonymous and when we say that, we really do mean it. There is no address anywhere on their website, no phone number, no owner information, no nothing. The only thing we managed to find in T&Cs is that all legal acts should be under the jurisdiction of the UAE. Yet, they don't have any licenses for trading in the UAE.
And that is because they don't have any. We did our diligence and took a look at some Tier 1 regulators' registers such as FCA and CONSOB. In the FCA register, we couldn't find any records of the Volofinance trading company. The same results were for BaFin and ASIC and all the other ones.

With this in mind, we can already see scam patterns. Clients don't have any fund security measures. Starting with basic ones like guaranteed stop loss. Not to mention negative balance protection and compensation funds.

Another dealbreaker is that they present themselves as the partner of Vlado Brokers which is a legitimate Australian company. In reality, they are not connected at all.
At the end of the day, Volofinance is an anonymous offshore broker that is not transparent with its clients and holds no security for you or your funds. That's why you should stay away from them and from MainTrade scammers. You will only lose your money.

Trading Platform Available at Volofinance
Volofinance trading company advertises MetaTrader 4 as their trading software. When it comes to the MetaTrader4, it would be amazing if they actually offered one simply because the MT4 has multiple advanced charting and indicators options.

But unfortunately, that is not the case with this poorly done scam. Once you actually download the platform, you are redirected to Vlado brokers. Which doesn't have to do anything with Volofinance as we have stated above.

That leaves us to believe that Volofinace doesn't actually have any trading software and they are just trying to lure more people by the fake ad of having an industry standard and leader MetaTrader4 platform. 
Volofinance Account Types 
Another mysterious thing about this broker is account types. Therefore, traders can't see what conditions they get or how much it will cost. Which is quite ashaming for a broker presenting itself as a trusted one.

We scrolled and dug more on their website and the only thing we could say that could be classified as account types are mentions of Forex minor, Fore major, Gold, BTC, and ETH.

But we can't say that those are account types whatsoever. However, there you can scroll and see what is the minimum amount they are looking for in the deposit. We will state that now. 
Forex minor – $500

Forex major – $10,000

Gold – $30,000

BTC – $30,000

ETH – $10,000
Whatever that may be, the minimum asking amount is still too high and you should avoid this broker at all costs. On top of that, this scammer doesn't even offer a Demo account which means they want your money ASAP.

| | | | | | | | |
| --- | --- | --- | --- | --- | --- | --- | --- |
| Broker | Volofinance | FXTM | OctaFX | FPMarkets | XM Broker | HFM | FBS Broker |
| Minimum Deposit | $500 | $10 | $100 | $100 | $5 | $5 | $100 |
The Volofinance Deposit and Withdrawal Method
Volofinance did not mention anything about possible deposit methods on its website. We were also not allowed to try and make a deposit ourselves since we did not get access to the broker's client area.

Depositing with such a scam broker is a horrible idea. If you manage to do so, you will, without a doubt, end up losing money. Stick to regulated brokers that offer safe payment methods like debit/credit cards, wire transfers, and E-wallets.
How Is The Fraud Carried Out?
The idea of additional income surely does sound nice. Unfortunately, the internet gives the impression that it is much easier to make money even for someone with no experience at all. And frauds like DWS Invest or Volofinance prey on these people who don't know how to choose the best broker. This is done through flashy advertisements and fake stories of satisfied clients.
Once you fall for it and give your information, they will call you non-stop to invest. However, these fake brokers don't invest the money you give them even though they very confidently assure you that you are generating great profits and should invest more. Instead, they just pocket your deposits and make you believe there is some trading going on on their lousy web trader. 
To be frank with you in many cases it is not that easy to be sure you are getting scammed, so if something like this ever happened to you, don't feel ashamed. Be sure to reach out to us as we can assist you in retrieving your money.  
Highly Recommended Broker
Making a decision on which broker to invest with isn't the easiest one to make. It's necessary for you to take some time and research many brokers until you find the perfect one. Or in case you just don't want to do that, we made the table you can see down below. 
It includes some useful information such as the minimum deposit and rating of these well-regulated and user-recommended brokers. 
| | | | | |
| --- | --- | --- | --- | --- |
| Broker | Country, | Rating | Min. Deposit | Website |
| FXTM Broker | Cyprus, UK, Mauritius | 4.5 | $10 | Forextime.Com |
| OctaFX Broker | Cyprus, SVG | 4.4 | $100 | OctaFX.Com |
| FP Markets Broker | Australia, Cyprus | 4.7 | $100 | FpMarkets.Com |
| XM Broker | Cyprus, Belize, Australia | 4.7 | $5 | XM.Com |
| HFM HF Markets Broker | Cyprus, UK, South Africa, UAE, Kenya | 4.3 | $5 | HFM.Com |
| FBS Broker | Cyprus, Belize, Marshall Islands | 4.85 | $100 | FBS.Com |
Volofinance Summary
In this Volofinace broker review, we tried to shine a light on this online trading scam and the many tactics they use to steal people's money. They certainly are not the first or the last scam broker that is lying about their regulations. And once you see all those license numbers you may think they are a real deal, but we once again encourage you to actually check these claims and not blindly believe in them.
As for the minimum deposit, it is set at $500, which is so high, but often seen with frauds that only exist to steal your money. And same goes for leverage which is allegedly 1:200 which should make you huge profits, but of course, these are also mere lies. 
FAQs About
Volofinance
Broker
Is Volofinance Broker Authorized?
No they absolutely are not. They are an unregulated and unlicensed broker.
What Kinds of Assets Can I Trade with a Volofinance Broker?
The only mention of the assets we found was forex, gold and crypto.
What are the Volofinance Available Methods of Withdrawal?
Since they are anonymous, there aren't any payment methods listed anywhere.