July 20, 2023
Reading Time:
4
min
Zackstrade Review: Is the Company Legit and How Does it Operate?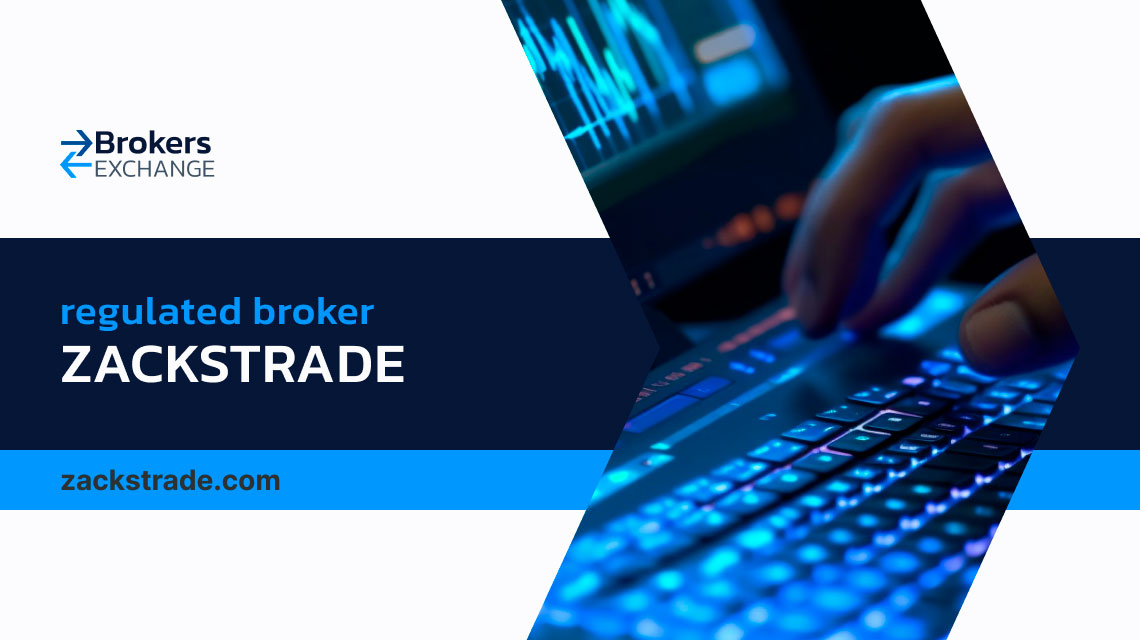 When thinking about trading, selecting a regulated broker is crucial because your money will be safe even if the broker goes out of business. Our Zackstrade review lets you learn about their performance, services, and other aspects.
Check out our most recent evaluations of Sway Markets, Xtrend Speed, and Amana Capital. 
Who Is Zackstrade.com?
LBMZ Securities Inc. established Zackstrade as a division in 2013 and since then, they serve as an online brokerage firm registered at 10 S Riverside Plaza # 1600, Chicago, IL 60606, United States. 
Zackstrade
Legal name:
LBMZ Securities
Regulation:
Regulated by FINRA and SIPC
Registered in:
10 S Riverside Plaza # 1600, Chicago, IL 60606, USA
Established:
2013
Website:
www.zackstrade.com
Financial Authorities Warnings:
None
Contacts:
Local: 312.265.9406 

Toll-Free: 888.979.2257

Fax: 312.265.9547 

Email: [email protected]

If a withdrawal is possible:
Yes
Fees:

$15/month inactivity fee for accounts under $25,000
Withdrawal fees(One time per month free) $1 for an ACH, $4 for a check, and $10 for a wire
Mutual Funds Trade $27.50

If Active on Social Media:
Yes
Investor Protection:
SIPC brokerage account protection
Regulation info
Zackstrade is a division of LBMZ Securities that is regulated by the Financial Industry Regulatory Authority (FINRA) and is a member of the Securities Investor Protection Corporation (SIPC). FINRA is a government-authorized not-for-profit organization that oversees U.S. broker-dealers.
Since Zacks Trade is a member of SIPC, its customers who purchase stocks are covered up to $500,000 (including $250,000 for claims involving cash). In equity and equity options accounts, protection is only offered for the securities and cash held with the purchase or sale of securities. 
Zackstrade Profile 
For aggressive, hands-on traders who don't mind investing a little extra to use items like market research reports and cutting-edge trading tools, Zacks Trade is the ideal option.
Trading platforms:
Zacks Trade Pro
Account types:
Disclosed after depositing
Financial Instruments On Offer:

ETFs

Bonds

Stocks

Options

Mutual funds

Cryptocurrency

Maximum leverage:
N/A
Minimum Deposit:
$2500
Commissions/bonuses:
Commissions vary, full pricing list here/No bonuses
Mobile app:
Yes
Desktop app:
Yes
Autotrading:
No
Demo account:
Yes
Education or Extra tools:
Education videos, Testimonials, Screening, Earnings ESP, Style Scores
Is Zackstrade Safe for Trading?
There might be better options than Zackstrade, depending on your area of expertise and where you are from. The broker is not something we would recommend for novice traders. Zackstrade's countries of operation are: 
United States

Canada

South Korea
We did come across information about LBMZ Securities and how they had neglected to set up and implement written rules to guard against the exploitation of important nonpublic information. Zackstrade was fined $240,000 in civil money as a result.
Zackstrade.com Clients' Reviews
Zackstrade has a limited number of reviews, totaling just over 10, and unfortunately, most of them are negative. The company's choice to stop accepting customers from outside the United States and the challenges encountered while creating accounts, are the main topics of the unfavorable reviews.
Reviews are the true representation of the business, and you can learn about their experiences with past clients before making an investment decision. Contact us right now if you require a trustworthy broker who will work well with your trading preferences.
Zackstrade Investment Products
Zackstrade offers a variety of investment products, including ETFs, bonds, stocks, options, mutual funds, and cryptocurrencies.
Fees for stocks and ETFs start at $0.01 per share with a $1 minimum or 1% of the trade value. 
Regarding bonds, you can pay 0.1% or 0.025% of face value plus $3 per bond for Corp bonds or 0.005% or 0.025% of face value plus $3 per bond for Gov bonds. 
The right to buy or sell assets within a predetermined time frame is granted through options. You must pay $1 for the initial contract plus 0.75% for each extra. 
For diversified portfolios, mutual funds pool investments. There is no charge for broker-assisted trades, but there is a $27.50 fee for mutual fund trades. 
Depending on the monthly transaction value, the fee per trade value ranges from 0.12% to 0.15% or even 0.18% for cryptocurrencies. Orders must be placed for a minimum of $1.75 and a maximum of 1% of the transaction value. You can also trade on margin, and rates start at 8.58% or lower, depending on the account balance.
Deposits and Withdrawal Methods
Both deposit and withdrawal methods can be done through ACH, check, or wire. There are no withdrawal fees if you request it once per month, but if more is required then there are fees to be paid. The process itself is not explained until you open an account. 
Zackstrade Customer Service
Zackstrade offers 24/5 customer service that is available Monday-Friday 9:00 AM – 6:00 PM ET. They are available over the phone, via email, live chat, or social media. 
Zackstrade Trading Platforms and its Features
Zackstrade provides its own trading platform, Zackstrade Pro. You may trade while on the go using Zackstrade app or the desktop version. The Zackstrade Pro platform offers: 
Make several watch lists for various security levels and alter the data columns

Create in-the-moment alerts based on price, time, margin, and volume

See all of your open and filled orders, modify or cancel them

Fully configure your own layout
The platform is free and it will be available at the Zackstrade login page after you successfully create an account. 
Each client of Zackstrade has access to their own Client Portal.  This portal enables simple trade placing and maintenance, access to Zackstrade account balances and documents, and control over account preferences, subscriptions, and permissions.
Pros and Cons of Zackstrade
Pros
Cons

Regulated 

Transparency in pricing

Demo account

Insufficient quantity of reviews

$2,500 minimum investment

If your balance is less than $25,000, there is a $15 monthly inactivity fee

$27.50 mutual funds fee
Personal experience with Zackstrade.com and expert opinion of the author
Depending on your trading preferences, Zackstrade may qualify as a decent broker. With their advanced features, they cater more to experienced traders than newbies. Since there are alternative brokers on the market such as TD Ameritrade and Interactive Brokers, we are unable to say that our overall experience with Zackstrade has been excellent. 
It is wise to investigate and contrast various brokers to determine which one best suits your unique trading requirements and preferences. Reach out to us right away, and we'll find the ideal broker for your requirements. 
FAQ Section
Is Zackstrade legit?
Zackstrade is a trustworthy broker, yes. However, there may be better solutions than Zackstrade, depending on your preferences for trading and your level of experience.
What Is The Minimum Deposit For Zackstrade Account?
The broker doesn't require a minimum deposit but rather a minimum investment. The minimum amount you have to invest is $2,500.
What Is The Best Trading Platform?
Thinkorswim from TD Ameritrade, Interactive Brokers, Fidelity, and E*TRADE are just a few. The best platform for you will depend on your preferences. Contact us immediately and we will help you locate a broker according to your preferences.