March 04, 2023
Reading Time:
4
min
GSL Markets Review: Learn More About GSLMarkets.Com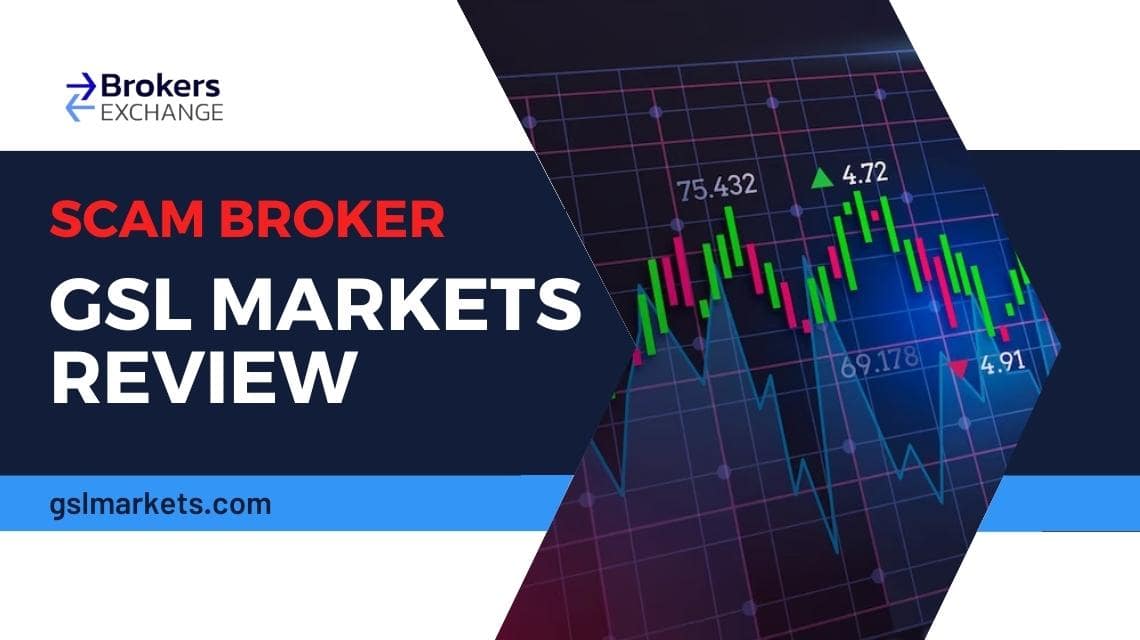 GSL Markets promotes itself as a respectable Forex & CFDs brokerage that is registered in several international jurisdictions. The reality, however, is very different; the broker is operating illegally and exhibits numerous symptoms of being a con artist, and this GSL Markets review will cover that. 
GSL Markets is solely an investment scam, and this website is just a front for the illegal activities taking place behind the scenes. Although experiencing financial loss due to internet fraud can be heartbreaking, you are not alone. We're here to assist you in filing a claim and obtaining what is rightly yours.
Furthermore, we advise you to avoid fraudulent brokers like FTM Trade, Crystal Trust, and Well FX.
| | |
| --- | --- |
| Company | GSL Markets  |
| Website | GSLMarkets.Com |
| Address | Bulgaria / First Floor, First St Vincent Bank Ltd Building, James Street, Kingstown, St. Vincent & The Grenadines |
| Email | N/A |
| Phone | +442045773811 |
| Minimum Deposit | $250 |
| Leverage | 1:500 |
| Bonuses | Yes |
| Regulation | No |
| Warning | N/A |
GSL Markets Funds Safety and Regulation
The GSL Markets is owned by the Bulgarian firm Fizaliya EOOD. Bulgaria, an EU member, regulates financial institutions through the FSC.
This was the first of many warning signs when we checked this registry and discovered nothing whatsoever about GSL Markets regulation.
We checked the databases of many Tier 1 licensing suppliers like FCA, ASIC, BaFin, and CONSOB just in case. As you would have guessed, GSL Markets broker is not to be found.
The company's location in Saint Vincent and the Grenadines, the only nation without Forex oversight, is mentioned in the Bonus Policy, which further explains a lot. GSL Markets is indeed an unlicensed provider of financial services.
Trading Platform Overview
We thoroughly browsed the GSL Markets website, but we were unable to locate any links to download trading software. Furthermore, the broker isn't really open about the type of trading platform it really provides for its clients. We were only able to deduce that their clients have access to some form of web trading program.
So the question is whether or not there is trading software. All we know is that even if there were, using it would be dangerous! So the correct response is that it makes no difference.
Available Account Types
GSL Markets offers five main account types that are actually not cheap at all. Each account is distinct and offers a range of features and services. Consequently, based on your former experience and current goals, you can select the option that is most appropriate for you.
But since we are dealing with scam brokers, you should avoid any interaction with them, let alone investing. Here is the list of the accounts and their minimum deposits:
Bronze – $10,000
Silver – $20,000
Gold – $50,000
Premium – $100,000
Platinum – $250,000
GSL Markets Offers Bonuses and Promotions
Each customer who registers and finances their account has access to the GSL Markets bonus. However, per rules, consumers are not permitted to withdraw money until rolling over $100,000 in one lot. You do not want to get involved in that scheme.
Unreliable, unregulated services like GSL Markets have a history of using fraud tactics that are tragically all too frequent. Typically, scam brokers utilize promises of lucrative returns or trade bonuses to seduce their victims. The thieves would keep demanding more money once a deposit was made, never letting anyone make a single withdrawal.
They will come up with all kinds of justifications to reject or continually postpone your withdrawals, but in the majority of cases, this is a supposedly alluring bonus that you received after making your initial deposit. Such trading incentives have conditions and give con artists the perfect justification to refuse withdrawal requests.
Deposit and Withdrawal Method
Your trading account must have a minimum deposit of $250. Generally, GSL Markets broker only accepts credit/debit cards and wire transfers as payment options. These are the tried-and-true methods for funding accounts that will help you get a refund with ease. When making withdrawals, traders must use the same channel they choose for deposits.
Money withdrawals can take up to a few working days. GSL Markets has a 5% commission fee on withdrawals for credit/debit cards, but none for wire transfers. 
Unregulated Brokerage Techniques
When a question arises, scam brokers are frequently challenging to get in touch with. This may be a result of their lack of concern for the people who register on and use their fictitious site. However, regulated brokers have a very different approach since they appreciate their clients. 
Therefore, before enrolling with a brokerage, try to get in touch with them first. Traders can easily get in touch with regulated brokers via email, telephone, and chatrooms.
GSL Markets Summary
It gave us the joy to write this GSL Markets review since we want to inform as many people as possible about this financial fraud. Remember, anyone may become a victim of a scam!
In addition to being a fraud broker, GSL Markets is not trustworthy, legitimate, or authorized by anybody. Please get in touch with us if you ever experience a situation involving unlicensed brokerage or have a comparable tale to tell. In order to help you, we can report an investment scam.
Our everyday world is not secure, but if we band together and take immediate action, it could get better. With this in mind, educate yourself and those around you, and act as a voice of reason. They may be scam brokers, yet if we are all conscious of it, they won't cause much damage.
FAQs About GSL Markets Broker
Is GSL Markets Legally Registered?

GSL Markets is unregulated and poses a risk to all consumers. Make no investments here!
How Secure is GSL Markets Broker?

GSL Markets broker is not secure at all, every investment and giving personal information to them should be bypassed.
We do not have every information about this investment scam, so the existence of hidden fees is entirely possible