April 06, 2023
Reading Time:
5
min
Liquidspro Review: Is liquidspro.com Legit?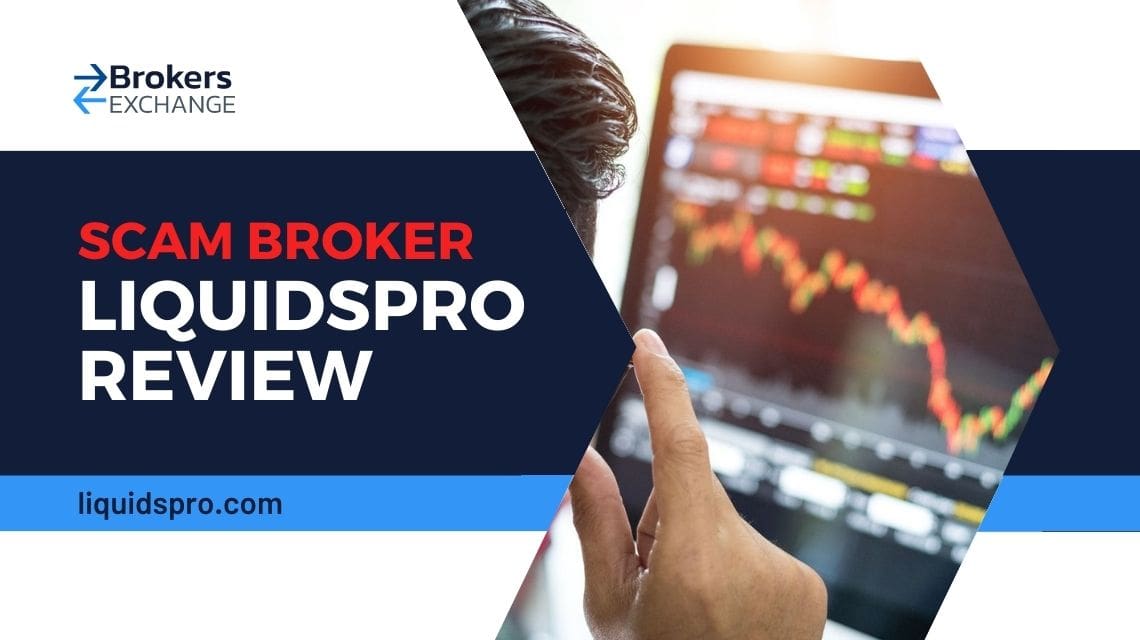 Liquidspro Review, How curious to find a brokerage domain, that claimed to be a top Forex dealer, abandoned and for sale. Liquidspro was a highly untrustworthy broker, suspicious of fraud and illegal monetary transactions. After investigating this monkey business more thoroughly, we've stumbled upon several warnings:
FCA (UK)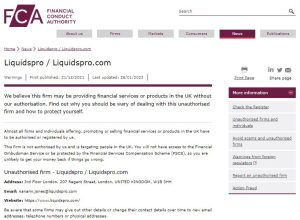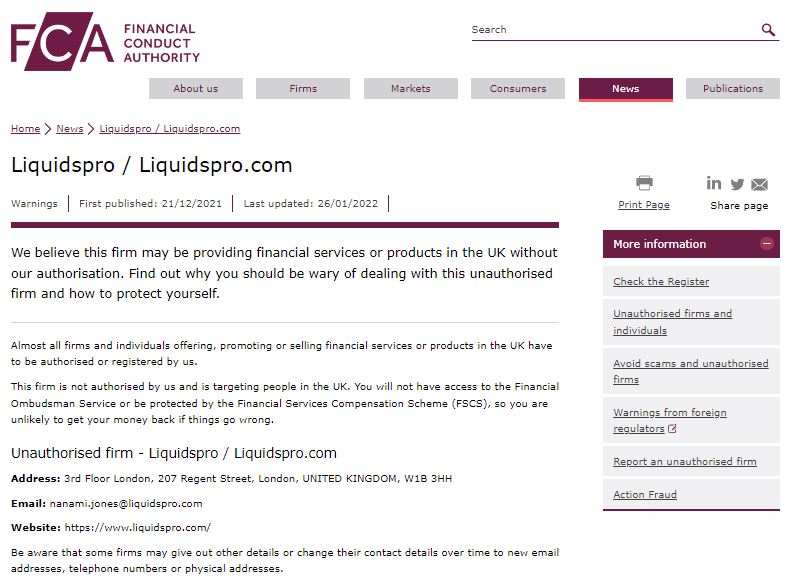 FMA (Austria)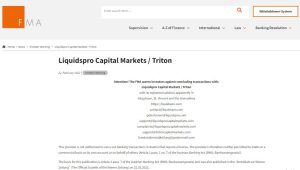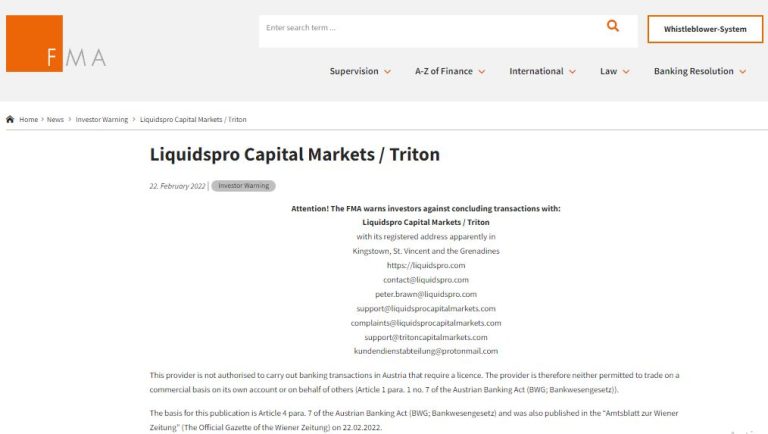 Finanstilsynet (Norway)


Also, avoid trading frauds Tradiso, FTSFX, and GMT Trading at all costs! Moreover, before investing, always look into the past of internet trading firms!
Company

Liquidspro

Websites
LiquidsPro.Com
Address

UK/ SVG

Email
[email protected]
Phone

+3617008892

+442045251255

Minimum Deposit

$250

Leverage

N/A

Bonuses

N/A

Regulation

Unregulated

Warning

FCA, FSMA, FMA, Finanstilsynet
Liquidspro Reliability – Regulation and Security
It can't be simpler than this: trading with blacklisted brokers prone to scamming is utterly unsafe. Throwing your money down the drain would be an easier thing to do and just as efficient. Why are we so certain about Liquidspro not being a reliable brokerage? Keep reading this review to find your answer. 
Let's start with the fact that Liquidspro has multiple warnings issued against their illicit conduct. It seems that Liquidspro is associated with Triton Markets, which went out of business before. Both are managed by a company named Karello D Buro and are different domains of the same scam group without a license, registered in SVG. 
Regulation Warning
Liquidspro was primarily focused on scamming English and German-speaking customers. But FCA, the leading UK financial watchdog, was quick to detect their fraudulent activities and has, therefore, posted a warning. You can read it on the link from this review's intro. 
Several other warnings followed and together they cement the general belief of Liquidspro being a dangerous investment scam. Since they're a proven cyber thief, there is no way they were eligible for an FCA license or any other trading certificate. 
You cannot expect one such company to have 730 000 GBP to invest in their brokerage plan to begin with. We won't even start on safety measures and precautions related to the segregation of funds through separate bank accounts, or a leverage cap of 1:30. 
Liquidspro surely didn't provide negative balance protection, either. Or access to the Financial Ombudsman for their clients. Their only goal was to extort more money from their victims. And could Liquidspro be casually reporting their money transactions and allow any supervisory body to keep track of their cash flow? Surely not.
All that points at a single plausible conclusion to our research: Liquidspro is a scam through and through!
Trading Platform Available
Liquidspro Trade Station should be some kind of an ultimate trading machine that allows you to accumulate tremendous profit with minimum effort and even less investing. All ridiculously fake claims didn't take our breath away as the platform was nowhere to be seen.
Even now, when the domain went dark, proving if Liquidspro even had a functional platform from the start would be wild guesswork. 
Instead of being tricked by controlled web traders that are nothing more than scamming tools, you should choose better. MT4 and MT5 are the most widely used platforms today. Vastness of functions and exceptional speed and flexibility has ensured their place as leading Forex trading solutions. 
Account Types Available
Seems to us that the shallow Liquidspro offer didn't include a variety of trading account types. Rather, you had one general account type that you had to open since a Demo account wasn't provided, either. 
Opening a live trading account with Liquidspro cost $250, which was a bit over the average cost with most brokers today. Regulated ones are crystal clear with the account pricing and what each type offers. Liquidspro doesn't respect its obligation to be transparent with its customers when it comes to this.  
Deposits and Withdrawals
Depositing with Liquidspro was so poorly explained on the website that we weren't in the least motivated to attempt account funding. Although the broker claims to provide safest transactions via bank wire and credit cards, these methods aren't verified as accepted. 
Actually, our limited access to the website features didn't help us find out more on how depositing works, except that the minimum first-time deposit has to be at least $250.
The minimum amount for withdrawal is $100. But the notorious fees and commissions do apply. These are up to 5% upon each withdrawal and are subject to changes without any prior notice. An inactivity fee also applies after one month of not trading and it starts from $100. 
How is the Fraud Delivered?
Such sloppy service like Liquidspro is an obvious scams that should be avoided. But it doesn't necessarily seem like a fraud to a less experienced eye. Liquidspro is a type of cyber theft designed to look lucrative as long as you're in the mood to invest. 
Friendly customer support will persistently urge you to invest as long as you're able to. But if you, by any chance, find a moment to request a withdrawal, your entire experience at Liquidspro will drastically change. 
The first thing that will greet your withdrawal attempt is the ruthless fees and commissions. Liquidspro will reject your refund requests under the pretext of not having enough data. Another excuse is you supposedly not submitting all necessary documents. All that paired with trading volume requirements are all elements of your worst nightmare.
Liquidspro
Summary
Liquidspro is a risky place for trading. You may as well light your life savings on fire and watch it burn in case you decide to invest here. Because that is how lucrative and factually profitable the Liquidspro trading environment is. 
Even if you don't believe the results of our investigation, you can refer to the acclaimed financial houses that have posted alerts on this  con artist. 
The most concerning element in the entire Liquidspro story is the fact that their firm has already had another fraudulent domain set up. Only they know what new unscrupulous project they are gonna come up with after Liquidspro. 
FAQs About
Liquidspro
Broker
Is My Money Safe With Liquidspro?
Any investments and funds are at high risk with a blacklisted fraud such as Liquidspro.
Does Liquidspro Offer a Demo Account?
No, the only account type you can open with this swindler is a live trading account funded with real cash.
Is Liquidspro a Trustworthy Broker?
Liquidspro is a cheating scheme set up in order to extort your hard earned money and several financial institutions warn you about it.