May 02, 2023
Reading Time:
5
min
CJC Markets Review: The Truth About This Broker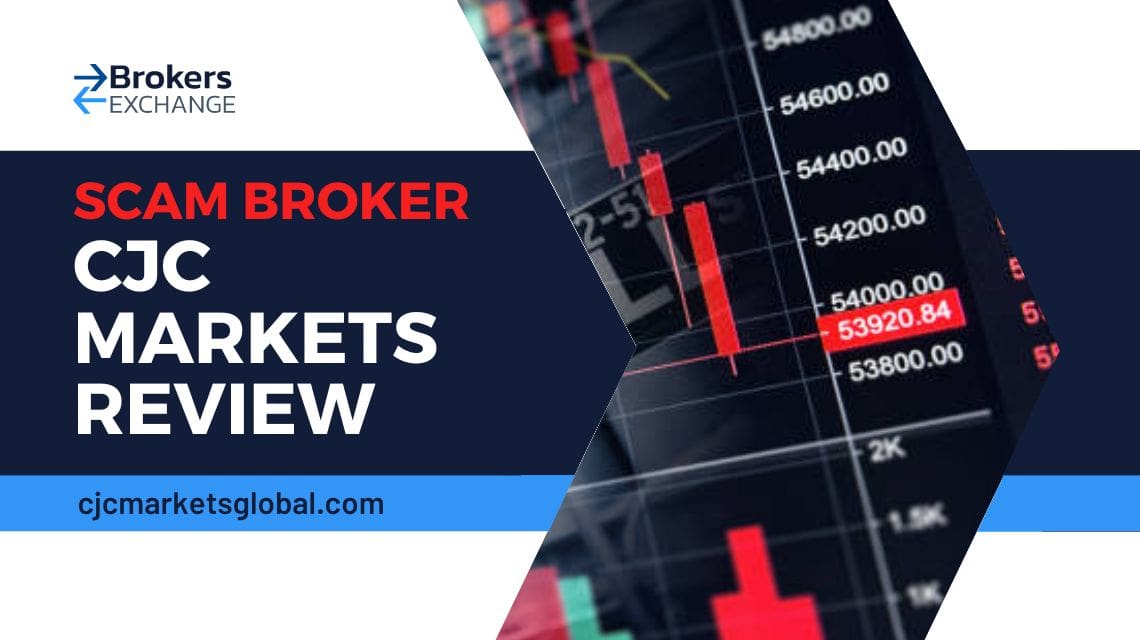 CJC Markets Review, Where do we start with this one? Everything about this firm is so foggy and complicated, there's no end to it. But our CJC Markets review will bring you the result of our research and the truth this broker attempted to hide from traders. 
The broker claims it was registered in New Zealand, back in 2012, as a brokerage brand belonging to CJC Markets Pty Ltd. The site mentions FINTRAC which supervises their monetary transactions. Following that claim, there are two others. One is the statement about having an ASIC license and the other was about being registered with the SVGFSA. 
To top that off, there's an official FMA (New Zealand) warning against one of the domains run by this company: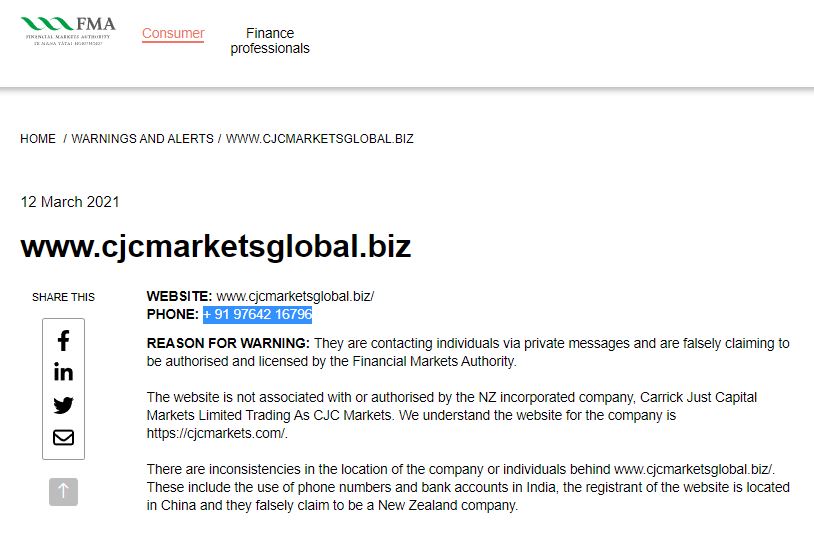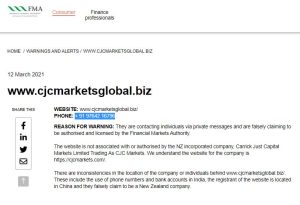 What is more, we strongly advise you not to invest in SolidusX, Finex Trader, and Mg Trade Solutions fraudulent brokers.
Company

CJC Markets Pty Ltd

Regulation

Unregulated

Warning

FMA (New Zealand)

Website
cjcmarketsglobal.biz

cjcmarkets-svg.com

cjcmarketsglobal.com

cjcmarketsafrica.com

Address

New Zealand

Email

[email protected]




[email protected]

Phone

+ 91 97642 16796

Minimum Deposit

N/A

Leverage

1:400

Bonuses

N/A
Is
CJC Markets Legit? Regulation and Safety of Funds 
If we were to start from the very beginning, CJC Markets claims to be founded in 2012 in New Zealand. However, they were actually registered in 2019, and judging from the FMA warning, it wasn't New Zealand at all. 
Phone numbers and bank accounts used were opened in India, and the registrant of the website was located in China. FMA has them blacklisted for offering trading services in securities and derivatives to NZ traders without a valid license. That domain is now blank (www.cjcmarketsglobal.biz/).
The first claim on the website is the FINTRAC license. The Financial Transactions and Reports Analysis Centre of Canada oversees the monetary transactions but does not issue brokerage licenses. IIROC is the central regulatory unit that licenses brokers in Canada. Even so, there's CJC Markets Co., a Limited participant in the FINTRAC register, but their entry has expired.
ASIC Warning:
Next is the ASIC license that CJC Markets claims to have. Looking through the ASIC register of regulated brokers provided confusing results. A company formerly named CJC Markets Pty Ltd and KISMY Pty Ltd exists but has now changed its name to HT EDU Pty Ltd and is indeed regulated. 
The CJC Markets website we're reviewing here possibly has no connection to this company and could be a clone. The supposed ASIC license number, 517661, actually belongs to another firm, which is in no way connected to CJC Markets.
The only detail that matches the CJC Markets claims is the reg. number in SVG, but SVGFSA doesn't issue brokerage licenses anyway, so all we have is their registration there. Looking through other registers like FCA, CySEC, IIROC, and BaFin provided no results for CJC Markets.
Despite claims to be licensed, CJC Markets respects none of the regulatory laws of ASIC. The most obvious one is the leverage, which CJC Markets sets as high as 1:400, while only 1:30 is allowed as the maximum.
Due to the lies about regulations, we can assume the broker doesn't provide segregated bank accounts, negative balance protection, and compensation funds. This broker is also not transparent and doesn't do transaction reporting. All in all, a pure scam!
CJC Markets Trading Platform Overview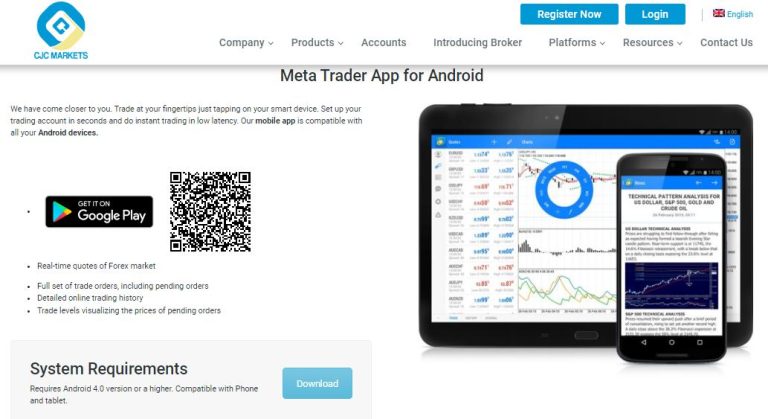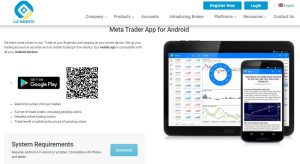 MT4 has been known as one of the industry standards for years. Offering a wide variety of advanced trading tools helps traders of all skill levels progress and earn on Forex. The most notable advantage of MT4 is probably its flexibility. Plenty of tools it features allow you detailed customization and design your personalized trading environment. 
CJC Markets advertises the prestigious MT4 on its website and provides download links for the software. The first suspicious detail is the mobile platform being in Chinese. Second is the fact that the desktop platform only allows demo trading. CJC Markets doesn't have its own trading server set up. And how would they? They're just another offshore shady firm with no legitimate status. 
Account Types Offered at CJC Markets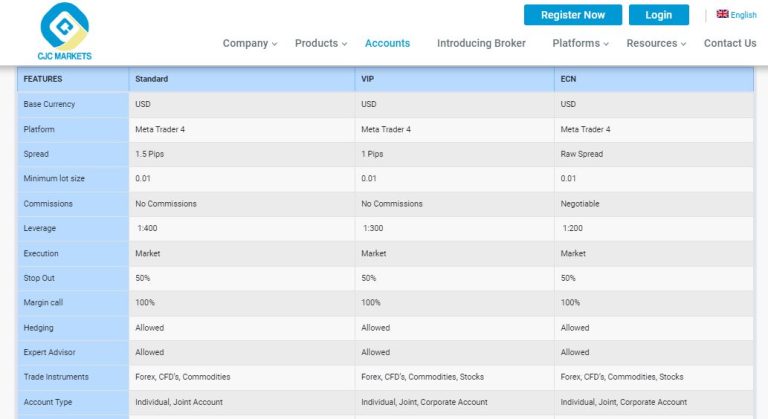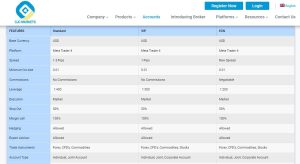 CJC Markets offers three types of packages with different options. However, they do not reveal what is the cost of each account type. Each of the packages is supposedly available as an individual, joint, or corporate account. The types of accounts available are the following:
The key differences lie in spreads, leverage, and commission. Some advanced features like Hedging and Expert Advisors are also advertised. 
| | | | | | | | |
| --- | --- | --- | --- | --- | --- | --- | --- |
| Broker | CJC Markets | FXTM | OctaFX | FPMarkets | XM Broker | HFM | FBS Broker |
| Minimum Deposit | N/A | $10 | $100 | $100 | $5 | $5 | $100 |
CJC Markets Funding Methods
CJC Markets is explicit about only accepting electronic transfers. The broker does not accept cash, cheques, or any other instruments or types of transfers. However, the details of the client's trust bank account can only be obtained from CJC's representatives. The website further advertises a palette of funding methods but we suspect the diversity is just another trap to lure investors. 
The Withdrawal Policy doesn't exist. The traders have no idea how payouts are performed and which fees are included. CJC states in the Client Agreement to reserve the right to forbid the withdrawal of funds or limit the amount of withdrawal. 
How is Fraud Orchestrated?
CJC Markets easily confuses traders and instigates trust by providing fake regulatory information. Especially weak targets for their deception are beginner traders. The ever-persisting scam agents will ruthlessly call and insist on you making a deposit until you do. However, that's not the end of it. No deposit is ever enough and you will be constantly pressured to invest more. 
The story changes and the situation takes a new course once you ask for your profit. CJC Markets makes up excuses that prevent any withdrawals or retain funds. Common methods they use for that are fees, missing documentation, additional conditions, and trading volume requirements. 
Forex Brokers Highly Recommended
Respected global brokerages differ from CJC Markets on many levels. From holding several licenses and regulations to offering customized accounts with transparent pricing and trading conditions. 
The websites are far more informative and there's no confusion when trying to obtain info from a reputable broker. Because the authorizations bind them to honesty, all the details are on the websites and the support isn't insisting or shady on the other hand. Our table below contains several suggestions, so feel free to try them out. 
| | | | | |
| --- | --- | --- | --- | --- |
| Broker | Country | Rating | Min. Deposit | Website |
| FXTM Broker | Cyprus, UK, Mauritius | 4.5 | $10 | Forextime.Com |
| OctaFX Broker | Cyprus, SVG | 4.4 | $100 | OctaFX.Com |
| FP Markets Broker | Australia, Cyprus | 4.7 | $100 | FpMarkets.Com |
| XM Broker | Cyprus, Belize, Australia | 4.7 | $5 | XM.Com |
| HFM HF Markets Broker | Cyprus, UK, South Africa, UAE, Kenya | 4.3 | $5 | HFM.Com |
| FBS Broker | Cyprus, Belize, Marshall Islands | 4.85 | $100 | FBS.Com |
CJC Markets
Summary
CJC Markets website is a fraud so carefully set up it takes a certain level of skill to see through it. Nonetheless, we have managed to find the facts and present them to our audience in this CJC Markets review. 
What appears as a reputable and authorized broker is nothing more than a fraudulent scheme. The details of the unscrupulous project are carefully tucked away and you won't just find them by checking the website. 
However, there's plenty of misinformation and inconsistencies to connect. Once you've done that and checked the licenses mentioned, you get an entirely different picture about CJC Markets. 
FAQs About
CJC Markets
Broker
What Can I Trade with a CJC Markets Broker?
The broker supposedly allows trading Forex, Indices, Shares, Commodities and Crypto.
hat are the Available Methods of Withdrawal?
Since there's no Withdrawal Policy or precise info on the website we can't list any of the possible withdrawal channels.
Is CJC Markets Broker Regulated?
No, this broker is not regulated. They only list several licenses which are not theirs and belong to other companies.