March 31, 2023
Reading Time:
4
min
Prime Investing Review – Truth Behind This Scam Broker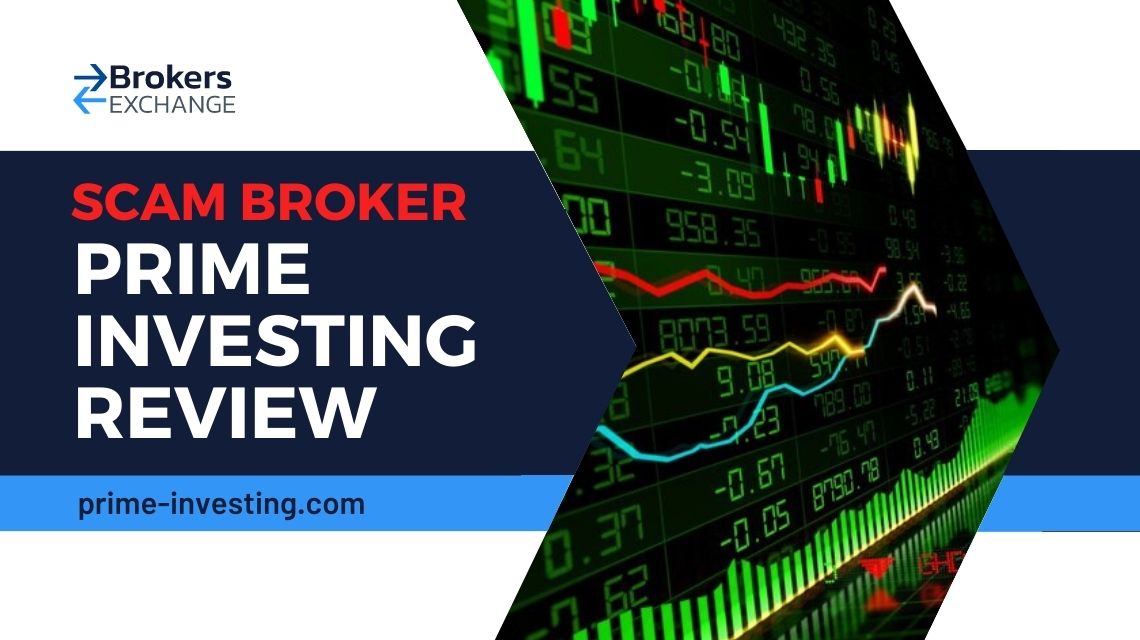 Prime Investing is another cliche that only has false promises to offer. The website describes this anonymous company as one with an excellent international reputation. The only element they seem to be known for is defrauding clients to make a quick profit. 
Regulation is the major issue with this firm. Due to inconsistency and omitting the mandatory company info, we couldn't figure out where they are really from. Some claims on the web presentation point to the possibility of the broker operating from Bulgaria, an EU country. But there's no proof of anything related to the claims. 
General trading conditions are jokingly unrealistic. For example, the spreads on EUR/USD supposedly start from 0 pips, which is absurd without commission. Leverage is capped at 1:200, and this is another reason to suspect Prime Investing having a trading license at all. Our Prime Investing review debunks all the lies and claims coming from this faulty broker and their now non-functional website. 
What is more, we strongly advise you not to invest in UniGlobal Assets, FTMO, and BitmartExpo fraudulent brokers
| | |
| --- | --- |
| Company | N/A |
| Website | Prime-Investing.Com |
| Address | Bulgaria |
| Email | N/A |
| Phone | N/A |
| Minimum Deposit | 5 000 GBP |
| Leverage | 1:200 |
| Bonuses | N/A |
| Regulation | Unregulated forex scam |
| Warning | N/A |
Regulation and Security of Funds
Prime Investing never really mentions anything about being regulated on their site. The single piece of information that stood out is the company location supposedly being in Bulgaria. That motivated us to immediately check the local regulator's database for Prime Investing. The jurisdictional financial authority in Bulgaria is the Financial Supervision Commission, but they do not have any knowledge of this shady broker. 
Bulgaria, being a member of the European Union has to abide by the same regulatory laws, including ESMA and MiFID. That would mean that Prime Investing has had at least 730 000 EUR to invest in their business and then provide segregated bank accounts for clients' investments. 
This company would also have to respect the leverage limit at 1:30, while they offer an astonishing 1:200. The site also hints at having some bonuses available, but never fully discloses which ones. Another example of Prime Investing breaking the regulatory rules in the EU, which clearly state that bonuses are forbidden. To top it off, MiFID forces every single EU-regulated broker into full transparency and transaction reporting, which Prime Investing doesn't follow either. 
All these reasons, or proofs if you like, are why we believe Prime Investing to be an incognito offshore fraud. From the info presented in this review, you can conclude by yourself already that this is not a firm to entrust your money with. 
Account Types Available
In exchange for 5 000 GBP, how much do you have to invest to start trading with Prime Investing, you don't really get much. The broker doesn't offer a palette of trading accounts, each with different features and options to choose from. Instead, you can only open one general live trading account, since you can't choose a Demo account either. 
But this is only the beginning amount you have to invest to unlock the platform's offer. What other features you buy is a plain mystery, if there are any at all. Prime Investing doesn't bother describing or advertising anything realistic. You're supposedly getting access to an ultimate trading platform, the tightest spreads from 0 pips, no commission and leverage up to 1:200. It all sounds so fictive that you can't help but suspect its truthfulness.  
Trading Platform Overview
Although completely unresponsive until you deposit real money, Prime Investing offers a simplified web trader that could help beginner investors start off. If you're new to the entire Forex trend, you can use this terminal to get a gist of the trading process. Be aware that it wouldn't be long until you start needing more advanced features and decent software that can respond to your demands and trading needs. 
Another detail you have to be very careful about is the fact that scammers use basic trading terminals in order to manipulate them. The one that Prime Investing offers is something we've already seen in hundreds of other swindlers! 
By skillfully altering the perimeters and trading information shown in the terminal, fraudsters will attempt to force you into more investing. A strong reason to only choose to trade with a regulated broker instead!
Deposit and Withdrawal Options 
Since we weren't really in the mood to donate a fabulous 5 000 GBP to the scammer only to be verified, we couldn't access the payment area. Any additional information was out of our reach so we had to rely on the data from the site. Prime Investing said they allow credit and debit cards, bank wire, and several e-wallets, which remained unspecified. 
What was interesting was the fees disclosed in the deposit and withdrawal policy. Apparently, withdrawing funds through bank wire costs $50, $35 for card transactions and $25 for e-wallet transfers. That is not all. Any withdrawal attempt will be discarded as invalid until you reach a 200 times turnover in trading. 
How the Fraud Is Conducted?
Being an obvious scam Prime Investing still might seem credible and attractive enough for beginner traders. They are the main targets of this and similar fraudsters. So the Prime Investing scam agents diligently work on convincing their victims to invest by presenting them with fictitious earning opportunities and fast profit. 
Little do the amateur traders know about the traps in waiting. Accepting the bonuses pulls unbelievable troubles even genius traders would hardly overcome. Being able to retract money means completing 200 successful trades, which is next to impossible. Prime Investing also applies insane processing fees to further dishearten you from attempting to take back your investment. 
Prime Investing
Summary
Unlawful and lacking any regulatory framework, Prime Investing is another shark in the scammer's sea. Because of the increasing threat that con artists impose on the Forex world, we advise you to be extremely cautious when choosing a company to invest with. 
Not only do you need to double-check your broker's permits and certificates, but also all the other relevant aspects. These include the trading conditions, software, pricing, and experiences of other users. Internet experts also selflessly share their knowledge of brokers, so make sure you follow those. Eventually, we're also here for any advice or more data you might require. 
FAQs About
Prime Investing
Broker
Is Prime Investing Good for Beginners?
This brokerage site isn't suitable for any traders, beginners or professional ones. Their site is malfunctioning, the software is a fake terminal and prices are too high.
What is The Funding Method at Prime Investing?
Although Prime Investing says to offer cards, bank wire, and e-wallets, we couldn't open the client zone so this remains unconfirmed.
What Trading Instruments are Available at Prime Investing?
Stocks, Forex, Commodities, Indices and Crypto are advertised at Prime Investing, but trading is only fictive, as the software is heavily manipulated by the scammer behind the platform.