September 15, 2022
Reading Time:
5
min
Crypto1Capital Review – Who is Crypto1Capital.Com?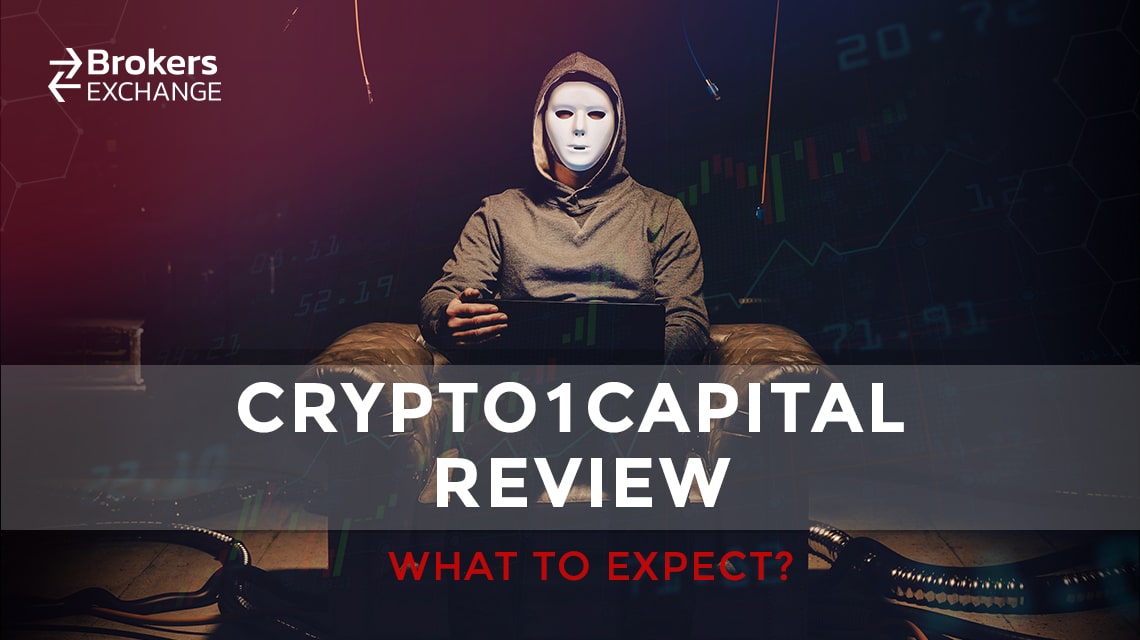 Crypto1Capital isn't a regulated Forex provider. This enterprise will make sure you get tricked by the oldest tricks in the books. They are unlicensed and you shouldn't consider trading with them.
Also, we recommend you not invest in these fraudulent brokers Palo Traders, Clearpoint Capital, and Finutrade.
| | |
| --- | --- |
| Broker status: | Offshore Broker |
| Regulated by: | None |
| Scammers Websites: | Crypto1Capital.Com |
| Blacklisted as a Scam by: | N/A |
| Owner: | Awardhill Limited |
| Headquarters Country: | Saint Vincent and the Grenadines |
| Foundation year: | 2021 |
| Supported Platforms: | WebTrader |
| Minimum Deposit: | $250 |
| Cryptocurrencies: | Yes (BTC, IOTA, CRO) |
| Types of Assets: | Forex, Indices, Shares, Crypto, Commodities |
| Maximum Leverage: | 500:1 |
| Free Demo Account: | Yes |
| Accepts US clients: | Yes |
| Site Grid: | m.crypto1capital-trade.com |
Crypto1Capital Detailed Review
This Crypto1Capital review will uncover everything you need to know about this firm.
The legal owner of Crypto1Capital is Awardhill Limited from SVG. It's already been addressed among traders that this area is fraudulent, so this establishment turned out to be no different.
There are many Crypto1Capital reviews out there, but most of them aren't genuine – they're just a mask for fraudulent activities under the surface.
The entire website is crafted in such a way as to trick you. It's beyond obvious that all of the content displayed is put there with the goal of you getting attracted to the sublime world of cryptocurrency. The Crypto1Capital broker is unregulated and you should stay away.
How Safe Is The Crypto1Capital Platform?
This institution operates just like any other within the same frauding scheme – they lure the victim into a false sense of security. Novices on trading platforms tend to believe all sorts of lies planted by skilled scammers.
Thus, Crypto1Capital trading fits superbly into the strategy of exploiting the victims' weaknesses. Moreover, Awardhill Limited is an offshore company that isn't regulated.
Reasons Not to Trust an Unlicensed Broker
Unlicensed brokers have nothing else in mind but robbing you. You should never consider investing on such platforms or you might end up scammed.
It's extremely suggested to always aim at the regulated and trusted brokers who will make your trading experience pleasant. 
The Crypto1Capital broker doesn't possess any of the following licenses: FCA, ASIC, or BaFin. This broker doesn't have the Tier1 regulation, thus making this business unreliable. 
What Do Traders Think Of Crypto1Capital?
Scammed and unsatisfied users have left reviews about this broker on numerous sites. We took a look at the trustpilot.com website, to see what honest reviews say. 



Crypto1Capital Available Online Trading Platform & Tools
The Crypto1Capital's WebTrader offers a handful of basic functions, but we weren't expecting much after all. It only provides you with chart customization and about 15 indicators, so that shows you how terrible the solution is.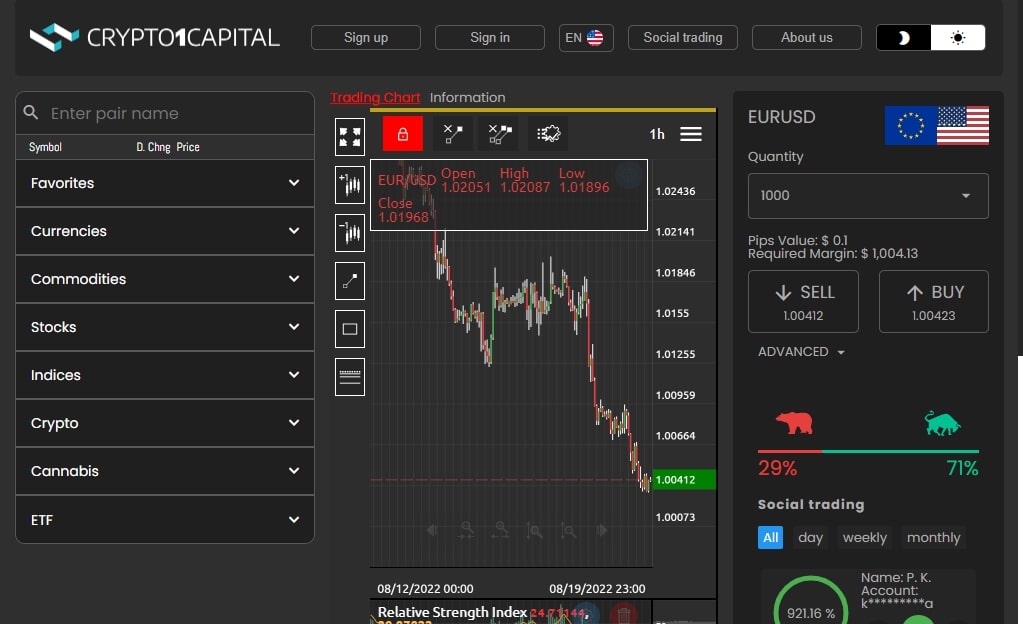 What Is The Most Efficient Software?
There is two software that has proven themselves to be the most reliable trading solution. The MetaTrader4 (MT4) and MetaTrader5 (MT5) are used by the vast majority of legitimate brokers because they provide you with all the necessary insights you need.
We advise you to always work with firms that use either MT4 or MT5. 
Crypto1Capital Accounts Overview
There are four different account types available on the Crypto1Capital investing platform:
Silver – 250€
Gold – 5000€
Platinum – 10000€
VIP – 100000€
Besides the minimum deposit provided above, the accounts differ in spreads, commissions, and the number of free consultations. Spreads go from 3 pips for a Silver account, to 1.7 pips for a VIP account.
Also, there's an "Investment protection fund" for every account, which we doubt even exists.
Membership – Crypto Conduct Authority Certificate
Crypto1Capital has a "certificate of membership in CCA". It's stated that client disputes work through CCA with a "compensation fund" of over 100000€. 
This is just another cheap trick since CCA doesn't exist and it's not a real regulator of any kind, and there is no compensation fund.
Don't fall for their lies – any unlicensed broker should be avoided! 
Crypto1Capital Broker – Countries Of Service
Victims of this fraudulent firm get pulled in by the scamming traders from:
Finland
Netherlands
Sweden
Germany
Crypto1Capital Range of Trading Markets
These are the available assets with some of the examples that their WebTrader provides:
Forex – EUR/USD, GBP/USD
Shares – TSLA, AAPL
Commodities – Gold, Oil, Wheat
Indices – SP500, CAC40
Crypto – BTC, CRO, IOTA
What Are The Trading Terms On Crypto1Capital?
Crypto1Capital's Terms of Use give us a very poor page of their usage conditions. Unlike other legitimate firms that provide a very detailed representation of every aspect of their investment platform, this fraudulent brokerage gives us no reason to believe that they don't have any hidden fees or requirements.
Minimum Investment Amount
The minimum investment needed to start trading on this platform is 250€. That's a lot of money, but most scam companies follow a weird pattern of having very expensive beginner accounts. 
About Leverage and Spread
The proposed leverage is 500:1, which means you can initiate a position valued at 500 times your capital. That can be profitable, or it could annihilate your capital if the price moves 0.2% against you.
As for the spreads, they start from 3 pips for a Silver account and go to 1.7 pips for a VIP account. These spreads aren't the best and are unprofitable for the user.
Crypto1Capital Deposit, Withdrawal Methods, and Fees
According to the information delivered on the website, the minimum deposit is 250€. The company doesn't provide you with any insights on withdrawal methods.
So, you can't know if there are any hidden outrageous fees and if withdrawal is even possible.
Methods of Payment
The only accepted method of payment is credit/debit cards, and we don't know what kinds of shady payment processors they use.
Legitimate brokers will provide all sorts of transparent payment methods, including wire transfers, credit/debit cards, e-wallets, etc.
Crypto1Capital Bonus Types
There are a few Crypto1Capital bonuses. These include:
Signup Bonus
Initial Deposit Bonus
Loyalty Bonus
Occasion-based Bonuses
However, bonuses are banned in most countries. This firm not only offers bonuses but also requires clients to repay those given bonuses plus a deposit multiplied 500 times before being eligible for a withdrawal.
FAQs About Crypto1Capital Broker
What is Crypto1Capital?

Crypto1Capital is a fraudulent offshore trading company and you should avoid it.
Is Crypto1Capital a Scam Broker?

Yes, it is. It's exceedingly advised to stay away from unlicensed brokers.
Is Crypto1Capital Available In The US or UK?

Yes, it is. Crypto1Capital accepts clients from both the US and UK. 
Does Crypto1Capital Offer a Demo Account?

A Demo account is available. Keep in mind that profits with virtual money are there to lure you into depositing real money.