November 16, 2022
Reading Time:
3
min
Dcmgroup Review – Who Is Dcmgroup Broker?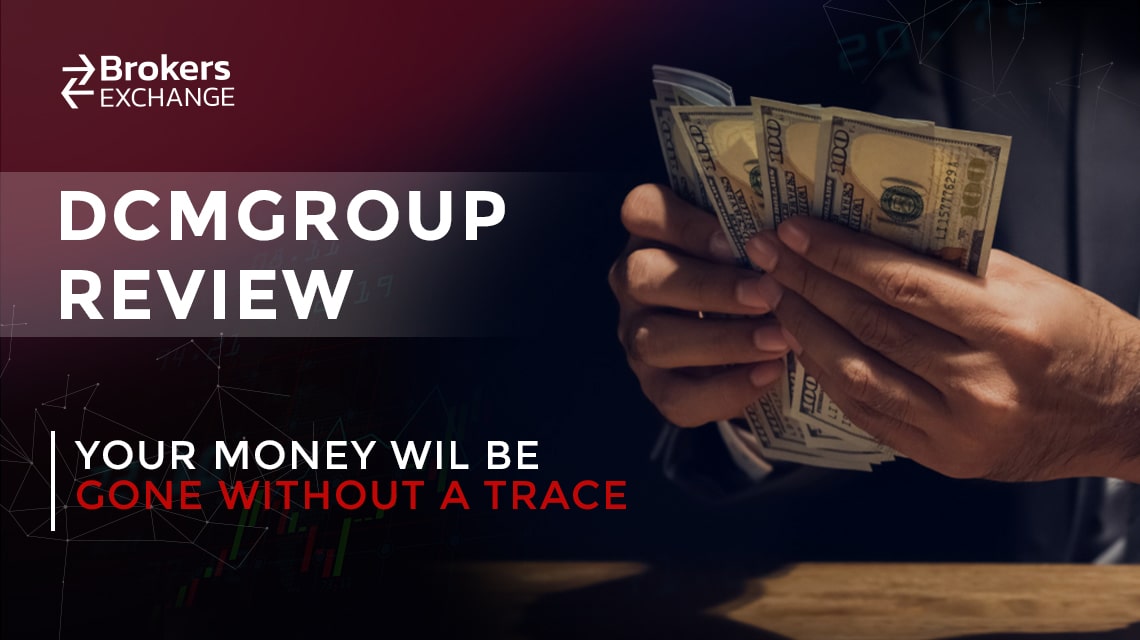 Dcmgroup, Archax LTD is supposedly the owning company of Dcmgroup. Based on the information from their official website, this firm is located in the Marshall Islands. 
Furthermore, the site claims that this is a legal brokerage company that offers safe trading. Sadly, this cannot be the truth, as there is no jurisdictional regulator that can back this claim.
So without being regulated, means that this brokerage business is another one of the fraudulent brokers belonging to an offshore company and operating illegally. 
Working with unauthorized brokers, such as those described in the following section, has the same risks OpoFinance, IndexStockPro, and Capitality.
| | |
| --- | --- |
| Company | Archax LTD |
| Website | Dcmgroup.Io |
| Address | Republic of the Marshall Islands |
| Email | [email protected] |
| Phone | 35722278306 |
| Minimum Deposit | $3500 |
| Leverage | 1:200 to 1:500 |
| Bonuses | N/A |
| Regulation | Not regulated |
| Warning | CNMV (Spain) |
Dcmgroup Is Unregulated Broker – CNMV Warns the Public
Since Dcmgroup is a non-regulated broker that is trying to operate on regulated markets without a license, it has been blacklisted by the CNMV. 
Usually, the warning is published after a jurisdictional regulator was informed or approached by investors who were scammed before.
If a regulator like Spanish CNMV issues a warning against an online trading site, it is a clear sign that the site cannot be trusted.
What Trading Platforms Does Dcmgroup Offer? 
This broker states that they offer a powerful and reliable platform called Dcmgroup.io web trader. They also state that it's supported by Windows, Apple, and Android. All of this seems to be untrue, as this trading platform is actually inaccessible. 
If a broker offers a non-functioning trading platform, they can't be taken as anything else but a fraudulent scammer who just tries to steal money from the investors.
Therefore, as usually recommended, the investors should stick to the flawless MT4 and MT5, which are acclaimed and most widely used trading platforms in the industry. 
What Trading Account is Available at Dcmgroup?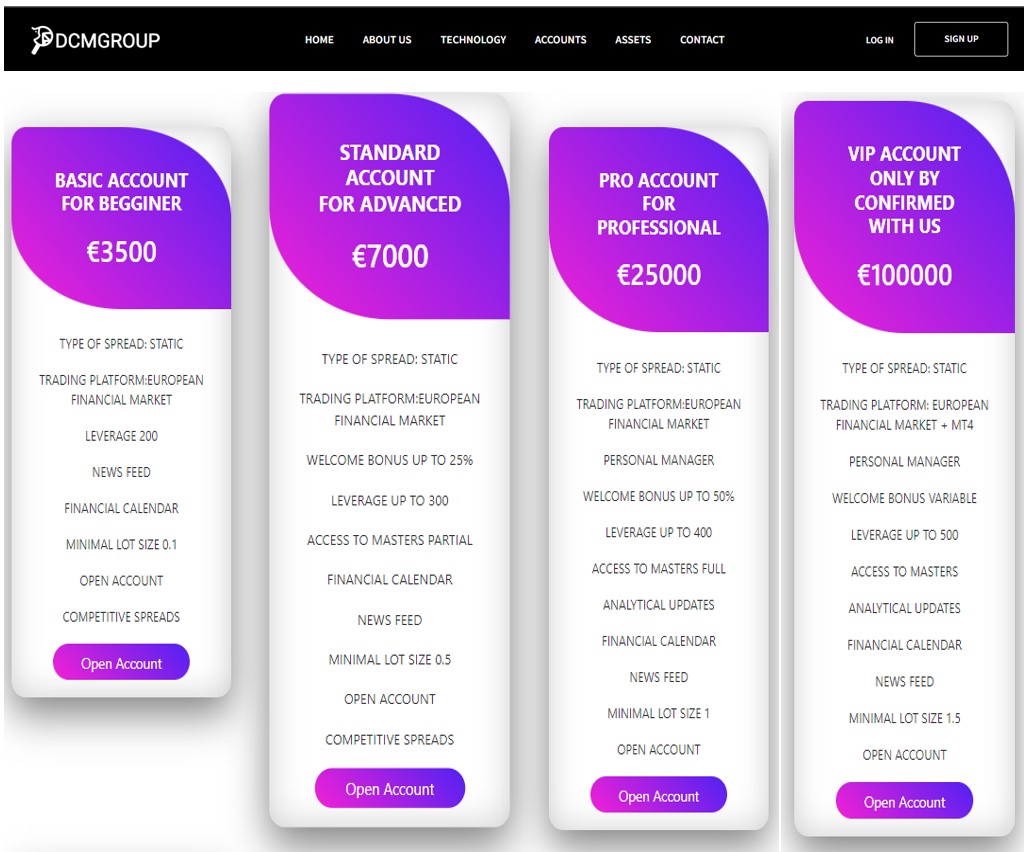 On Dcmgroup.io you are offered to choose between several different account types, based on how much you are willing to invest in the start. 
Account types offered are:
In case you'd like to open a Basic account the minimum deposit is $3500 and the leverage claimed is 1:200. Every other account requires a higher minimum deposit and supposedly provides bigger leverage, bonuses, support manager, etc. 
Deposit and Withdrawal Methods at Dcmgroup
The sole fact that the minimum deposit required on the Dcmgroup's site is so ridiculously high is seriously suspicious. If we were to compare that sum of $3500 with the starting deposit that the industry's giants require, we can see the concerning difference. 
Most of the popular brokers require a deposit of just $5. If not, it's not that much bigger and mostly doesn't go over $100. The way of depositing is accepted via questionable Paybox, proven to be used by other scammer websites as well.
The withdrawal comes with a mentioned 10% fee if it's possible at all. This broker charge account inactivity.
Here Are Some Details About How The Scam Works
A fraudulent broker will make it so easy for you to deposit and also make it basically impossible for you to withdraw your deposit or earn at all. 
The point of shady brokerage businesses across the globe is to lure unsuspecting investors to give them money and then to just disappear with it. 
This broker will offer you outstanding profit, bonuses, leverage, and promises of exceptional services. Just to invest and pay insane amounts of minimum deposit. 
Do not be fooled, though, those are just the techniques used to get what they want.  
Once your payment goes through is when the nightmare begins. You will be convinced that you are growing your funds while sadly nothing is happening. 
If after a while a client decides to ask to withdraw the funds, the scammer may either disappear or ask for extra fees and conditions that are impossible to meet.
Dcmgroup Summary
As was already mentioned, Dcmgroup is a non-regulated offshore broker with the purpose of stealing people's hard-earned money. Since it is so, Dcmgroup is blacklisted by Spanish jurisdictional regulator CNMV and a warning has been issued against this broker. 
If you were having any doubts or concerns about Dcmgroup, they are hopefully cleared now and as a potential investor, you will not decide to do business with this scammer.
In case you were a victim of their cyber theft before, or anyone else's, please do not hesitate to share your experience online. It is undoubtedly important to let as many people as possible know who is trustworthy and who isn't. 
FAQs About Dcmgroup Broker
What Is The Dcmgroup Minimum Deposit Amount?

The minimum deposit amount on Dcmgroup.io is $3500 for the Basic account.
What Are The Trading Instruments Available at Dcmgroup?

Trading instruments available at Dcmgroup are cryptocurrencies, commodities, forex, and stocks.
What Account Types Does Dcmgroup Offer?

Account types offered are Basic, Standard, Pro, and VIP.