March 26, 2023
Reading Time:
4
min
Grow Pro Markets Review: Avoid This Broker at Any Cost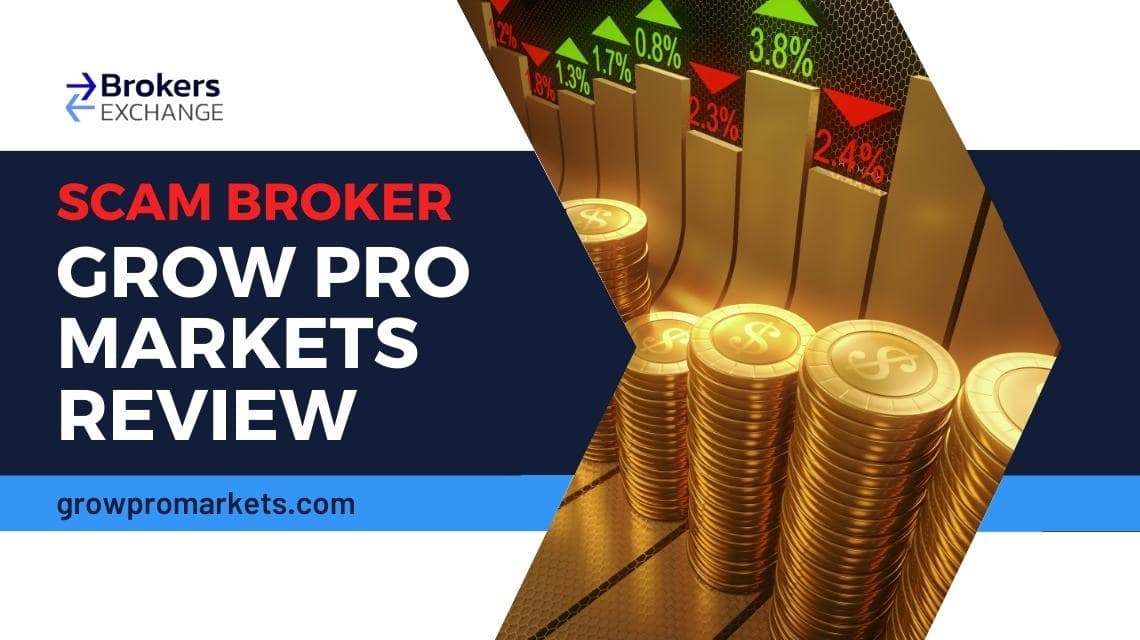 Financial and professional safety is one of the pillars on which modern society is based. Without these two factors, it would be impossible to run the economy. Safety should never be taken for granted. Grow Pro Markets are decidedly unsafe, and today we will do our best to show you how to recognize and avoid scam brokers in the future.
There is not much to say about this group. An address is mentioned on their website, but neither the city nor the country are specified in this address. It's incomplete. This is an important point of critique because depending on where the company is based, different financial regulators will have jurisdiction.
After some digging a country of origin does pop, and what do you know it's St. Vincent and the Grenadines. As we know, SVG is a developing country that has become somewhat of a tax haven for large companies. For finance, this is a bad sign. The reason for this is that the main financial regulator in St. Vincent and the Grenadines does not regulate forex brokers.
In addition, we urge you to be extra vigilant with unregulated brokers such as PNL Advanced, PrimeOakmont, and Finero.
| | |
| --- | --- |
| Company | Grow Pro Markets |
| Website | growpromarkets.com |
| Address | 439 Oxford Street |
| Email | [email protected] |
| Phone | +447360538455 |
| Minimum Deposit | $250 |
| Leverage | 1:300 |
| Bonuses | Offered, not disclosed |
| Regulation | Unregulated |
| Warning | None currently |
Grow Pro Markets Financial Regulation and Safety
For Grow Pro Markets, being based in St. Vincent and the Grenadines holds certain implications. We have mentioned before that FSA, the main financial regulator in SVG, does not regulate online broking companies. 
This is clearly stated on FSA's main website. For our purposes, this means clearly as day, that this company is an unregulated company. Having no regulation basically means they don't abide by any law.
It is exceedingly important for a broker to have a trading license. In case of online brokerage firms, one of the main measures of safety is the type, and number of international licenses obtained.
Some of the most prominent licenses are issued by CySEC in Cyprus, which requires upwards of €730,000 of funds to start a broking company. There are additional regulations, such as negative balance protection and transaction transparency. CySEC license also has to abide by additional rules outlined in the MiFID directives.
Overview of
Grow Pro Markets
Trading Platform
Reviewing Grow Pro's trading software is somewhat of a moot topic. The problem with scammers is that even though they might have a top-of-the-line solution, it's useless if you can't conduct trade with it. It's like giving a new Ferrari to a person that lives on an island with no roads.
This company only offer the most rudimentary trading platform, the Web Trader. This is entirely by design with these frauds, because the numbers in the trading platform can easily be manipulated to advance the scammer's schemes. There are claims of MT4 support on the website, but this feature was not active during the writing of this review.
Many renowned online brokerage firms also offer Web Trader as a basic means of reviewing market data. Their main trading software is usually the acclaimed MetaTrader4 or MetaTrader5, and these legit firms usually offer advanced proprietary solutions as well. Web Trader is only used for backup.
Payment and Funding Method
In order to understand the dangers of trading with Grow Pro Markets, we must review how a legitimate company conducts business. Online trading markets require real time execution and lightning-fast transactions. All leading brokers offer a number of digital transaction options, such as Bank Card payments. 
This is not the case with Grow Pro Markets. The only way you may deposit or withdraw currency is through Bank Wire Transfers. This method is slow for the modern trader, and also lacks the security of transaction chargeback, a feature common with Bank Cards for instance. The minimum deposit is US$250, which is not a high amount. Some accounts require upwards of US$500,000 which borders on insanity.
Withdrawing from Grow Pro Markets is subject to a pseudo-legal document named "Withdrawal Policy". These frauds can get away with such documentation because they are unregulated. Contents of this document outline special conditions pertaining to asset withdrawal, all of them tailored to suit the fraud's needs.
How Does Fraud Work?
To illustrate how this whole deal works, let's make an example. An inexperienced trader wishes to make an investment in Forex. This individual becomes swayed by a high quality presentation on the Grow Pro Markets website, opens an account, and deposits some funds.
Since only the Web Trader platform is available, data manipulation is made easy by the miscreants. Like financial vampires, they will try to suck up as much money as they can from their victims. They will show the numbers and charts that forward this foul agenda of theirs.
In order to facilitate a withdrawal, the client must disclose additional personal information. There are other dangers when it comes to sharing your personal information with a  scammer, who can then misuse it for other nefarious deeds. If the victim complains, the scammers will always revert to their so-called legal documentation.
Grow Pro Markets
Summary
Grow Pro Markets is a fraudulent broker that claims to be based in St. Vincent and the Grenadines. Although this tax haven attracts many companies, it is notorious for not regulating forex or other online broking businesses. Grow Pro Markets is an unlicensed entity!
With no legal restrictions, Grow Pro Markets revert to documentation on their website to alleviate any responsibility they might have. This makes withdrawals difficult if not impossible. When attempting to withdraw money, clients will be asked to provide additional personal information. This can later be used in other schemes that may do more damage other than financial!
FAQs About
Grow Pro Markets
Broker
Is Grow Pro Markets a Good Broker for Beginners?
Grow Pro Markets are only good for people who wish to throw their money away. This is an unlawful, unregulated entity!
What Funding Methods Does Grow Pro Markets Accept?
The only funding method with Grow Pro Markets are Bank Wire Transfers. Because this method lacks some safety features, we discourage our readers from depositing any money with Grow Pro Markets.
Does Grow Pro Markets Charge Any Deposit or Withdrawal Fees?
There are no deposit or withdrawal fees, as claimed by these frauds. There are other fees that are quite expensive, and are made so that the victim is encouraged to deposit funds frequently.