August 30, 2023
Reading Time:
5
min
Monte Verde Review: Let Us Give You the Truth About This Scammer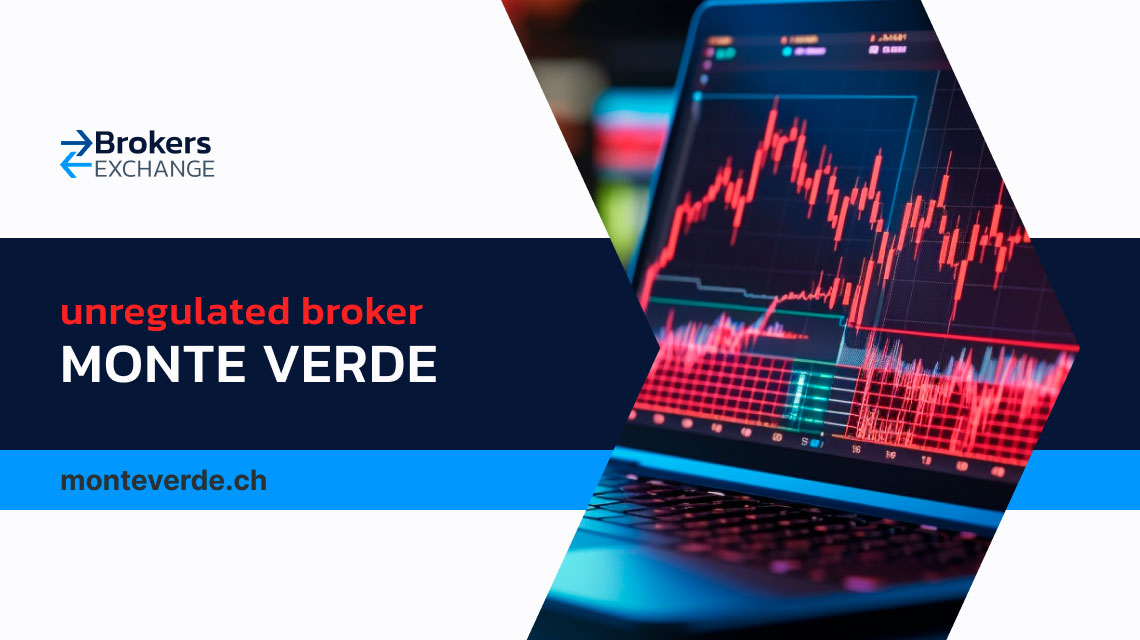 It is not often we see brokers from the German-speaking region. The US, UK, and Cyprus are some of the more common ones, so we were excited when we saw Monte Verde, but the thrill was short-lived.
We took a closer look at this broker and found many things we did not like. You can read all about it in our Monte Verde review, so you can see why investing with them is not a good idea. Let's start!
Broker name
Reliable Broker Must Have
Legal name:

Monte Verde

Transparently displayed in the disclaimer or legal documents

Regulation:

Unregulated

Within your legal jurisdiction – local regulator

Registered in:

Austria

Your country or the country whose license applies in your legal jurisdiction 

Established:

N/A

The older the domain – the higher the possibility the company is trustworthy

Website:

https://monte-verde.ch/

Domain should be from local or international zones, no .xyz, etc.

Financial Authorities Warnings:

BaFin

None

Contacts:

Email:

[email protected]

Online form

Phone, email, social media, web form

Is withdrawal possible:

Highly unlikely

Yes

Fees:

Hidden fees if not

Transparent fees – list of spread and commissions

If Active on Social Media:

No

Often present on social media

Investor Protection:

No

Compensation fund
Regulation Info
The first and most important thing you should check about any broker is their license. A trustworthy broker will have a valid license with the highest-rated regulator in their region, which, in this case, means FMA.
However, we encounter major issues right from the start. Not only is Monte Verde not regulated by FMA, but BaFin even issued a public warning against this broker. When a regulator warns the public as BaFin did, you can be 100% sure they are dangerous and that you should not approach them in any way.
Brokers you can trust will have no warnings against them and will have a clean record when you check with their regulators. Some of the best ones come from Germany, Switzerland, and the United States, so because Monte Verde does not have one of their licenses, you should not trust them.
Monte-Verde.ch Profile
Monte Verde employs a lot of tricks to lure you into their trap, but they are not hard to see through. The first thing they do is confuse traders about their trading platform. They say you can use the "MT4 webtrader" but they do not have it anywhere on their website. The only platform you have access to is their proprietary WebTrader, which is not safe at all.
From their trading software, we learned you can trade five sets of instruments, including stocks, crypto, indices, currency pairs, and commodities. This is a pretty standard scenario for both legit and shady brokers. Since we know they are scammers, we were surprised to see a very decent leverage of 1:15. Scammers usually drive the leverage so high, that even veteran traders would think twice before investing, but this is only one more Monte Verde ch trap.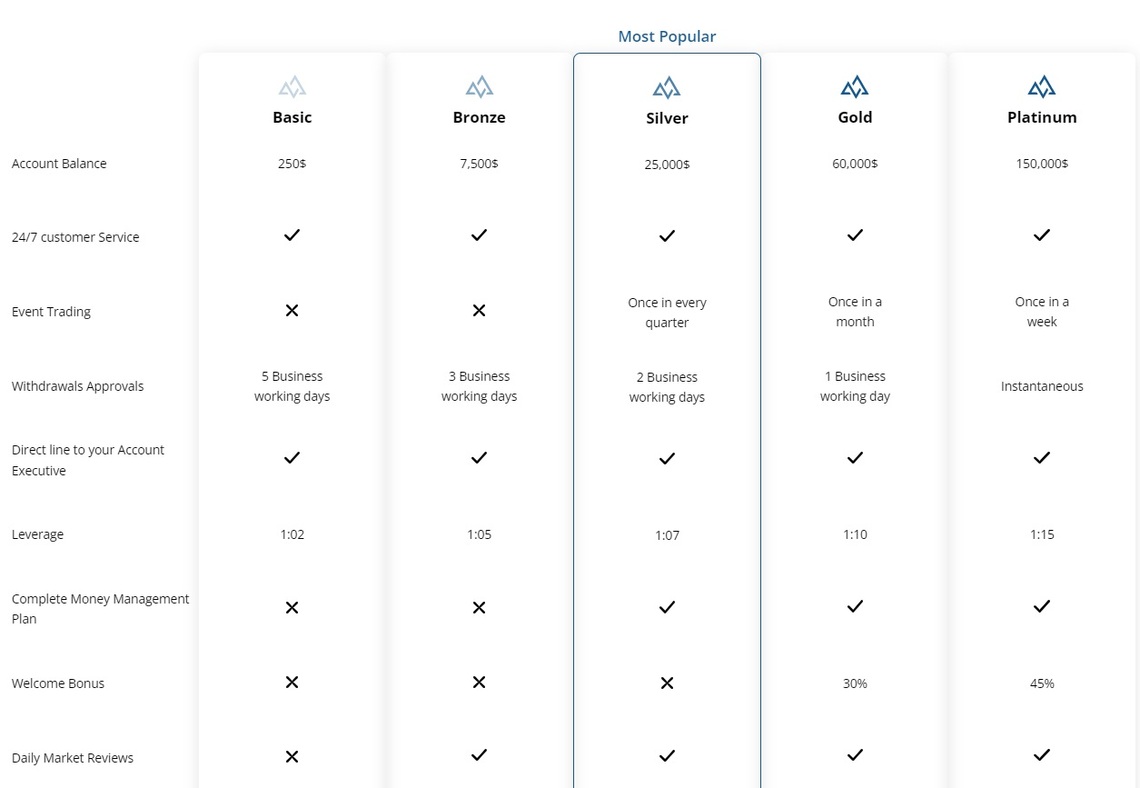 The account situation is where it all gets outrageous. You have five options:
Basic – $250

Bronze – $7,500

Silver – $25,000

Gold – $60,000

Platinum – $150,000
The minimum deposit is not as high as with other scammers, but high nonetheless. And from the Bronze account up, the numbers are so crazy you cannot help but suspect they are scammers.
Trading platforms:

Proprietary WebTrader

Account types:

Basic – $250

Bronze – $7,500

Silver – $25,000


Gold – $60,000

Platinum – $150,000

Financial Instruments On Offer:

Stocks (Lufthansa, Adidas, Bayer, etc.)

Crypto (Bitcoin, Ethereum, Litecoin, etc.)

Indices (AEX 25, DAX 40, BEL 20, etc.)

Currencies (EUR/JPY, EUR/CAD, AUD/NZD, etc.)

Commodities (Brent oil, cocoa, coffee, etc.)

Maximum leverage:

1:15

Minimum Deposit:

$250

Commissions/bonuses:

Yes, a welcome bonus for the two most expensive accounts

Mobile app:

Yes

Desktop app:

Yes

Autotrading:

N/A

Demo account:

No

Education or Extra tools:

Yes
Is This Broker Safe?
We would put Monte Verde ch in the same category as Gatebits and Maddex of extremely dangerous brokers. This scammer does not have a license to provide Forex trading services, and one of the most reputable regulators in its area even issued a warning against them. This should be good enough for you to avoid them!
However, if you are looking for a broker in the German-speaking region, don't despair. Monte Verde might be a scammer, but there are plenty of reliable brokers you can trust. Contact us today for our free consultations, where we will tell you who they are and how to get in touch with them.
Trader Reviews – Sharing Experiences
You can find Monte-Verde.ch on Trustpilot, with an average grade of 2.9 stars and only two reviews. Unsurprisingly, both are negative, 1-star reviews, where traders had a lot of problems on multiple fronts.
The first client comes from Switzerland and he was not too elaborate, saying only:
"While working with this company, everything seemed fine until they didn't want to honor my withdrawal."
The second trader, however, had much more to say:
"Proving not to be reliable at every point of transaction, from the clearing of the income within the wallet to the trading suggestions. One thing you cannot take back with sites like these is the time spent. Monte needs some sort of overhaul with the system as nothing is working with what I experienced."
How Does the Monte Verde ch Platform Reach Clients and Who Are They?
The broker does not have any social media presence, so we doubt it contacts people through those channels. However, they might randomly contact you via email that they found online, so beware. After doing some research, we would say the scammer mostly targets people from:
Germany

Switzerland and

The US
Deposits and Withdrawal Methods
Deposits and withdrawals at Monte Verde are somewhat of an unknown. We know the broker accepts these payment methods:
Visa

Mastercard

Bitcoin

Skrill

Cash
However, we do not know anything else. They did not place a deposit/withdrawal page anywhere on their website, which is an obvious red flag. If we were to judge by their promo texts, opening an account is free, and there is no demo account.
Withdrawals, on the other hand, are a complete mystery. There is no clear information on this, making Monte Verde extremely unreliable.
Reasons To Avoid This Company
The biggest gripe we have with Monte Verde is their license situation. Much in line with what we said about Jetbitx, Monte is not regulated and you cannot trust them with your money, as a result. And if you won't take our word for it, you can listen to a reliable authority in the business – BaFin, which warned all traders against this scammer.
Our Safe Trading Experts' Opinion of Monte Verde 
Having read our Monte Verde review, we hope you understood why this broker is not a good choice for your next trading partner. 
However, your Forex adventure does not have to stop there. Reach out now, and we will offer you free advice on how to navigate the market and choose the perfect broker for you.
FAQ Section
Is Monte Verde ch a good broker?
No, Monte Verde ch is not a good broker. They do not have a license and have a track record of shady activity, which is why BaFin put them on their warning list.
How do I get into Forex trading?
Firstly, you should become knowledgeable about the market. Learn what you can trade, how trading works, and how to do it safely. After that, you should find a reliable broker to partner with, and this is where we come in. Contact us, and we will provide you with a free consultation where we work together to find you the perfect broker for your needs.
How can you help me find a good broker?
The most important service we do for you is personalizing our recommendations. When you come to us, we consider everything – your needs, skill, budget, etc. and then form a list of what we think are the best brokers for you. And the best thing of all is that our consultations are completely free.