March 27, 2023
Reading Time:
4
min
PredCoin Review: Stay Away From This Scam Broker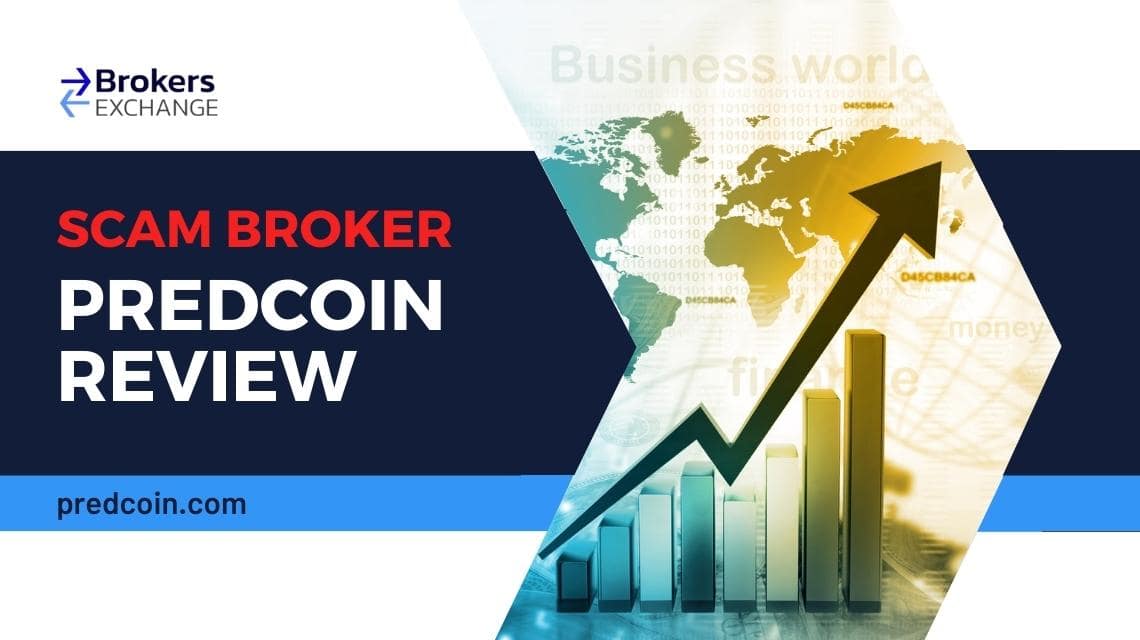 PredCoin review is to forewarn any potential traders about how these miscreants operate. PredCoin does not have a professionally made webpage. For this reason, this undoubtedly cheap feeling that it gives off allows us to make it into a good example of what to avoid when trading.
International brokerage, finance, and economics are very lucrative fields everywhere in the world. If you have enough money to start a brokerage, you certainly have enough money to pay a professional to make you a website.
The reason why it is nearly unthinkable for a "real" broker to have a "bad" website is the costs pertaining to licensing rights. We will touch upon this in detail soon, so keep reading.
Also, we recommend you not invest in the fraudulent brokers Grow Pro Markets, PNL Advanced, and PrimeOakmont.
| | |
| --- | --- |
| Company | PredCoin |
| Website | predcoin.com |
| Address | Stasikratous 15, Nicosia 1065 |
| Email | [email protected] |
| Phone | +357 22 656142 |
| Minimum Deposit | 0.01BTC ~ US$ 250 |
| Leverage | 1:500 |
| Bonuses | Alleged promotional code |
| Regulation | Unregulated scam broker |
| Warning | None |
How Trader's Protected at PredCoin? Brokers Licensed
Many scammers to attempt to emulate credibility by either starting their businesses in unregulated financial areas, mostly in developing or 3rd world countries. Others pretend that they have, in fact, obtained a trading license in one of the developed nations. PredCoin is of the latter group.
How do we know these claims are false? When we check the database of the UK's Financial Conduct Authority or FCA for short, we get a message that says no companies or individuals are registered by that name. So, these licenses PredCoin claims to have been non-existent.
In the UK, clients' funds must be in segregated bank accounts, and negative account balance protection must be implemented as well. No bonuses are allowed in the UK, and a compensation scheme of at least £85,000 must exist in case the firm goes under. Additionally, leverage is restricted to 1:30 and the company must report all transactions and make them transparent.
PredCoin
Trading Software Overview
PredCoin only offers a single trading platform – the Web Trader. This platform is used by most brokers today, but only as a backup in case their clients can't access one of the more prolific trading platforms that are available.
The reason behind this is the ease of data manipulation from the bogus trader's side. With only a web-based trading platform, manipulating data is easy, as all the information will be streamed directly from their server. We can easily see this data manipulation unfold on their platform – the history shows unrealistic fluctuations not typical for a stable market such as Forex.
Reliable brokers offer cutting-edge software like the one developed by MetaQuotes, MT4 or MT5. Some offer additional proprietary solutions that allow trading automation and additional market analysis tools. Software support is thus an additional measure of a broker's credibility.
PredCoin Account Types
As of the time of writing, no account information is made public before opening an account with the scam site. This should raise another red flag about this whole deal. You see, there are many different ways a broker profits from offering their trading services.
With PredCoin only one account is on offer. The way it charges for the alleged services is only made known to the user after depositing their first amount of currency. We found out that the starting spread for EURUSD Forex Major is 0.1 pips, which is dirt cheap. You'd expect Commission, Swap et cetera to be highlighted, but all these costs are hidden.
We have noticed another discrepancy with PredCoin leverage as well. In the UK, a leverage restriction of 1:30 is required by law. With PredCoin, leverage can be as high as 1:500 for some trading instruments. 
Deposit and Withdrawal Method
Funding the account is made available only directly through their WebTrader platform. Having only a single financial channel only labels PredCoin as a predatory entity.
Any profitable company will have a number of dedicated financial channels that allows for a steady flow of money. These are most commonly different Bank Cards, Bank Wire Transfers, and e-wallets as of recently.
This fraudulent company only accepts deposits in Cryptocurrency. At the time of this writing, the minimum deposit is around US$250 (0.01BTC). Because PredCoin is a scam and Cryptocurrency transactions are difficult to track, it would be like tossing your 250 dollars into the bin.
The way withdrawals are handled is outlined in a pseudo-legal document, "Trading Conditions" which is found on their website. We say pseudo-legal because trading conditions are governed by the financial regulation entities, not by the broker.
How Does Fraud Perform?
Compared to some other swindlers that can be found online, the fraud implemented by PredCoin is pretty simple and straightforward. This mirrors their simplistic and unfinished website. Perhaps the whole scam is still in its infant stages, and not completely thought through.
It all starts on their website. If a victim doesn't pay enough attention and decides to open an account, they must enter their personal data to do so. There are no demo accounts, so in order to speculate, you must deposit funds. Depositing money triggers the trap, so to speak.
When the funds are deposited, the scammers will allow speculation to take place. They will manipulate market data that is displayed in the WebTrader. In time a victim would wish to withdraw money, they will simply refer to the Trading Conditions document, and invent a myriad of reasons as to why withdrawals are impossible or subject to expensive fees and charges.
PredCoin
Summary
Broker is a fraud that claims to have trading licenses but checking this claim with the regulation registry returns no results. 
Scammers will manipulate data in their trading platform, the Web Trader, to attempt and take as much money as they can from their victim. If a victim wishes to withdraw their money, scammers will point to the document named "Trading Conditions" to justify withdrawals being impossible, or expensive.
This false broker only accepts payments in Cryptocurrency. Transactions involving Crypto are notoriously difficult to track. Knowing this, Crypto has been used for nefarious purposes such as funding terrorist organizations, or even money laundering and child and narcotics trafficking!
FAQs About
PredCoin
Broker
Is my Money Safe with PredCoin?
No, you risk losing your assets and personal information when dealing with this scammer.
Is PredCoin Legitimate Broker?
No, PredCoin is a non-legitimate business that claims to have trading licenses it does not possess.
What is PredCoin Leverage?
PredCoin leverage is stated to be up to 1:500, which is in conflict with their claim of being regulated in the UK. We should remember that maximum leverage allowed by FCA is 1:30.