August 14, 2023
Reading Time:
5
min
Primiselite Review: Unraveling the Mystery of This Brokerage Company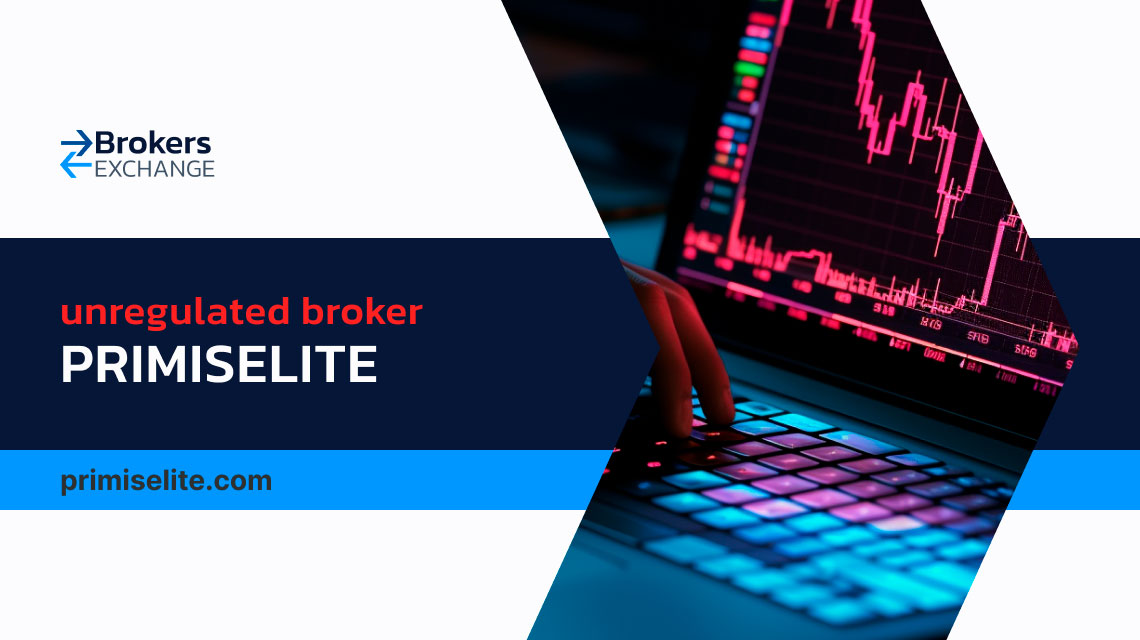 Primiselite is well-known for both its reviews and scams. It appears from reading their reviews that the broker is a trustworthy and secure choice. Unfortunately, as our Primiselite review will demonstrate, the company is a big scam. 
Primiselite, like Allinvestfx, makes no mention of regulation at all. Though more investigation for this Primiselite review will reveal that the broker is surrounded by them, we wish it was the only red flag for the broker. 
Who Is Primiselite? All About primiselite com
Primiselite is an unlicensed scam broker that was founded in 2022 and purports to be situated in the UK. We are only able to conclude that they are not even based anywhere in the absence of any other information about their address. 
Scammers can operate from any location in the world, and they typically fabricate their origins. It's concerning that the only method of communication offered is an email and a phone number.
Primiselite
Reliable Broker Must Have
Legal name
Primis Elite

Transparently displayed in the disclaimer or legal documents

Regulation
Unregulated

Within your legal jurisdiction – local regulator

Registered in
Based in the UK, not registered

Your country or the country whose license applies in your legal jurisdiction 

Established
September 06, 2022

The older the domain – the higher the possibility the company is trustworthy

Website
www.primiselite.com 

Domain should be from local or international zones, no .xyz, etc.

Financial Authorities Warnings

None

Contacts

[email protected]

 

+1 2065294530

Phone, email, social media, web form

If a withdrawal is possible
Highly unlikely 

Yes

Fees

Transparent fees – list of spread and commissions

If Active on Social Media
No

Often present on social media

Investor Protection
None

Compensation fund
Regulation Info
Primis Elite is not authorized nor registered to conduct business as a trader. The danger of trading is substantial, and the risk is increased when dealing with unregistered brokers. AMF lists websites, businesses, and people whose actions are considered high-risk. Primiselite is included on the blacklist, just like Dakkengroup.  
The Ontario Securities Commission (OSC), which alerts traders that the broker is not registered in Ontario to conduct securities trading, endorsed the notice. 
With a link to the news release, the Canadian Securities Administrators (CSA) endorsed the AMF's warning as well. 
Furthermore endorsing the OSC warning, the International Organization of Securities Commissions (IOSCO) offered a news release link. 
Primiselite is generally regarded as a fraud due to the large number of cautions and advisories that credible financial authorities have issued.  
Primiselite Broker Profile
You can trade indices, commodities, cryptocurrencies, stocks, FX, and cryptocurrencies via their dubious-looking trading platform. The platform has a maximum leverage of 1:400 and may be accessed by both a mobile app and a web trader. The broker states that it is based in the UK, but the leverage cap there is 1:30, which raises suspicions that they are either lying or, worse, breaking the law. 
Trading Platform

Web trader

Account Types

Standard, Gold, Business, VIP

Financial Instruments On Offer

Forex

(EURUSD, EURGBP, USDNOK)

Stocks

(Apple, Amazon, Microsoft)

Cryptocurrencies

(BTC, ETH, XRP)

Indices

(S&P 500 Index, Dow Jones Industrial Average, FTSE 100 Index)

Commodities

(Crude Oil, Natural Gas, Corn)

Maximum leverage

1:400

Minimum Deposit

N/A

Commissions/Bonuses

N/A

Mobile app

Yes

Desktop app

No

Autotrading

No

Demo account

No

Education or Extra tools

Economic Calendar, Asset Calculator
Is Primiselite Safe To Trade With?

Primiselite is absolutely someone you should avoid at all costs. They are not only opaque and uncontrolled, but they have also received several warnings. The broker simply offers a bogus phone number and invalid email address as means of contact, and the majority of their information is concealed.
Additionally, withdrawals and the organization as a whole have been the subject of complaints, rendering them unfit for trade. Trader caution is advised, and this broker should be avoided to prevent being a victim of the Primiselite scam. Please get in touch with us if you're seeking a broker so that we can provide the best choices and ensure your profitable trading endeavors. 
Primiselite Review: Traders' Thoughts and Opinions
Although this broker has a long list of glowing testimonials, we doubt the veracity and integrity of these endorsements. The fact that Canadian traders—the primary victims of the Primiselite scam—accounted for the great bulk of these complaints raises alarms.
With an overall score of 4.1 including all 125 reviews on Trustpilot Primiselite seems like a reliable option. But reviews can be faked which is most likely the case. 15% of negative reviews are focusing on the scam such as withdrawal issues and once you deposit the money, they disappear into thin air. 
Overall it is clear that the favorable reviews for this company are fake, especially since their website doesn't even exist anymore. Scams are becoming more and more common and it is easy to fall for one. Don't feel guilty if you were cheated by Primiselite, EuFxBank, or any other broker online. It is possible to get your money back, so get in touch right away. 
A Look at Primiselite's Traders They Serve
German, British, Indian, and Canadian traders make up the bulk of Primiselite's trader base. The majority of difficulties that are documented are in fact for Canadian people, and the financial authorities in Canada that have issued the warnings are IOSCO, CSA, and OSC. The broker's strong Trustpilot score and abundance of positive reviews most likely draw traders. 
Finding trustworthy brokers might be difficult given the extensive, time-consuming research required to trade with security. Make the sensible choice to engage in safe trading! Consult with us for expert guidance right now to find out which brokers are the most reliable. Trade with assurance and protect your capital. Use caution and let us help you navigate the challenging process of finding a trustworthy broker.
Deposits and Withdrawal Methods
We frequently come across websites saying "Your trading account is 100% safe and secure with us". We quickly disregarded this assertion after seeing it on the Primiselite website. Among the payment options that Primiselite provided are Mastercard, Visa, and credit/debit cards; wire transactions; Bitcoin. It was not disclosed what the minimum deposit and the deposit/withdrawal fees were. Primiselite does, however, have a dubious bonus policy. 
The broker states that in order to withdraw bonuses given to clients by Primiselite, they must execute a minimum trading volume equal to thirty times the deposit amount plus the bonus. It's absurd how much is needed. Remember that the UK has outlawed bonuses.
Primiselite Pros and Cons
Pros
Cons

None! 

Unregulated

Lack of transparency

No demo account

No educational material

Warnings from IOSCO, CSA, AMF, and OSC

Fake contact details

No social networks

Fake reviews

Withdrawal issues
Long Story Short – Primiselite
On the surface, Primiselite seems to be a reliable broker, but a further look reveals it to be a massive hoax. In addition to being unregulated, the broker withholds crucial information and has been placed on a blacklist by reliable financial authorities. Withdrawal problems have been reported by traders, and phony evaluations and contact information add to the suspicions. 
For a trustworthy and secure trading experience, it is highly recommended to stay away from Primiselite and look for registered brokers. To safeguard your money and trade with confidence, get in touch with us right now if you're searching for the greatest options and knowledgeable advice.
FAQ Section
Is Primiselite Legit or a Scam?
Yet another scam broker you should stay away from is Primiselite. Too many things, including the broker's regulatory status, point to it being a scam, as our Primiselite review reveals.
What Are Primiselite's Withdrawal Issues?
For this broker, there are far too many reported withdrawal problems. They appear to be a really helpful and trustworthy option prior to investing, but as soon as you make a deposit, they start to ignore you and stop responding. Then, like your assets, they vanish into thin air.
How To Get Your Money Back From Primiselite?
Make an instant withdrawal request. If the procedure is taking longer than anticipated, file a dispute with your bank and ask for a chargeback. Please get in touch if it doesn't work. It's crucial to keep in mind that you can get your money back.