March 27, 2023
Reading Time:
5
min
Roisea Review: Who Is Behind Roisea.Com?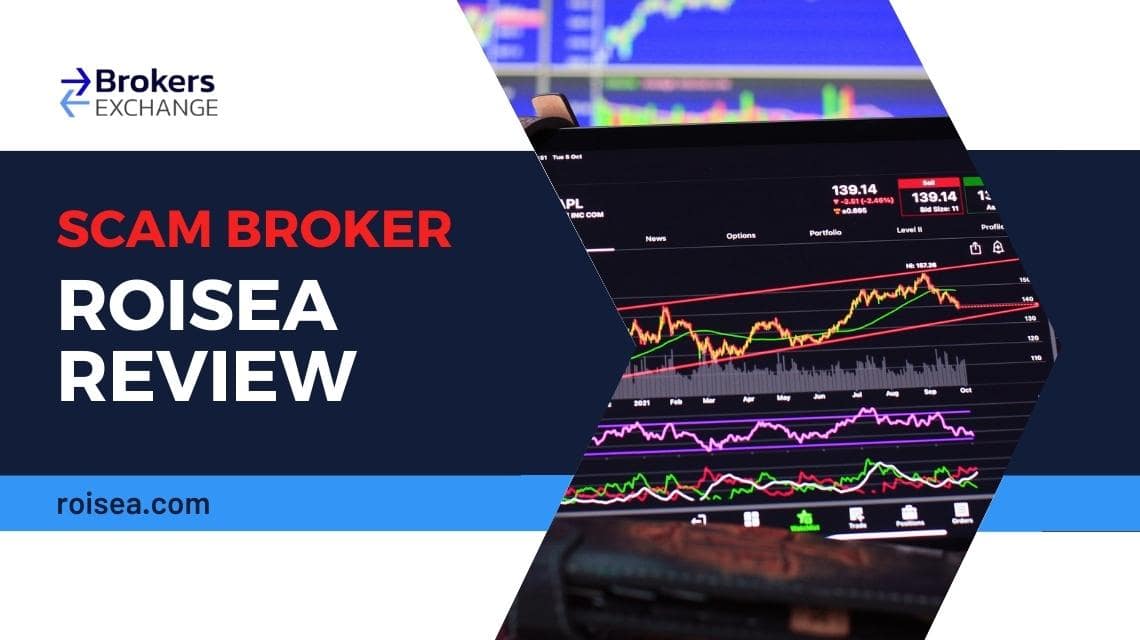 Roisea Review, the broker's website is quite detailed and the broker doesn't miss a chance to lure clients by great sounding but completely fake and fabricated claims. Aiming to earn their clients' trust and then rob them to the very last penny, Roisea comes off as an honest, accurate, and quality online trading services provider.
Since there was no mention of the company's location, they immediately came off as suspicious, rather than honest and transparent as they like to sound. The Belgian Financial Services and Markets Authority – FSMA has detected irregularities in this conduct and warned the public about it: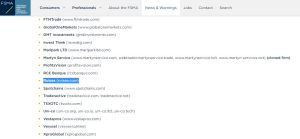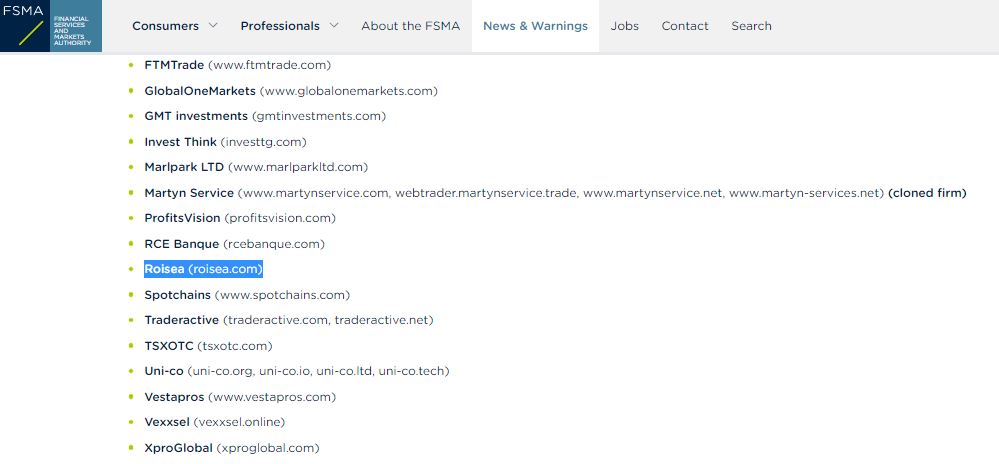 For the purpose of digging out the truth from under a pile of lies, our diligent team has conducted their research. We've assembled a detailed report about this anonymous monkey business in the form of this Roisea review.
Furthermore, we highly recommend that you avoid the scam brokers PredCoin, Grow Pro Markets, and PNL Advanced.
| | |
| --- | --- |
| Company | Roisea |
| Website | Roisea.com |
| Address | N/A |
| Email | [email protected] |
| Phone | N/A |
| Minimum Deposit | $5.000 |
| Leverage | 1:50 |
| Bonuses | N/A |
| Regulation | Unregulated |
| Warning | FSMA |
Regulation of Roisea and Safety of Funds
The only hint given about the broker's location is the false claim of them being licensed under EEA regulatory standards. Since the European Economic Area is one of the world's most heavily regulated zones, we have to list at least the basic licensing criteria:
Initial deposit by the company has to be at least 730.000 EUR

Investors' funds and the deposited capital have to be safely stored in segregated bank accounts

Leverage is capped at 1:30

Negative balance protection as a risk-reduction measure has to be enforced to lower the chance of clients losing more capital than they've initially invested

Absolute transparency in terms of all cash transactions is mandatory
But that is certainly not all. ESMA is an independent EU regulatory body that enforces an additional set of rules known as MiFID. All EEA brokers have to abide by these rules that contribute to even better customer protection and even more strict transaction monitoring. 
Since our mission was to determine if Roisea was really regulated or not, we've checked databases of many major EEA regulators – FCA, FINRA, CySEC, BaFin, CONSOB, CNMV and KNF. To no one's surprise, Roisea shows up in none! However, that's not all. 
Turns out Roisea ended up on one regulator's blacklist because of their unscrupulous actions. The link to the warning was provided in the introduction of this review. When a financial authority recognizes a broker as a scamming scheme, only one thing is for sure – they're dangerous for your funds!
Trading Platform
Overview
Roisea trading platform is available for desktop, mobile and web trading. Well, obviously not. Because besides bragging about it being a ''multi-asset trading platform that is reliable, stable, and globally well-known'' no download links exist. 
Since we couldn't find the option to register a new account, we couldn't even access the user panel and check the web trading terminal. As it appears, only users with previously opened accounts can log in and use the site features. New users can only shuffle through the fancy-looking web pages.
Every single licensed broker allows you to open a Demo account to test the platform performance and trading environment. With Roisea, none of that is an alternative. We may as well conclude that Roisea doesn't have a working trading platform at all.
Roisea Deposit and Withdrawal 
What we concluded from combing through the website is that Roisea supposedly offers transactions via credit/debit cards and bank wire. All these depositing and withdrawal methods should be safe and secure processes, without third-party involvement. 
However, our access to the client area was restricted due to the inability to open a new account. As it turns out, Roisea only allows existing clients to log in, while any new investors are opted out. This is something you will never come across while working with a legal broker. 
The absence of legal docs to clarify the confusion we found ourselves in didn't help resolve the issue of account opening. 
Withdrawals are claimed to be handled fast with up to five business days, how much it takes for the funds to show up on your account. Not a single word was said about fees following the processing of inquiries.  
Roisea Account Types Offered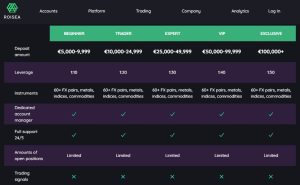 Let's talk about something you will never see with regulated brokerage conduct. If there was a competition of the most ridiculous minimum deposit requirements, Roisea would definitely be one of the runner-ups. Take a look at what Roisea has to offer for insane and totally unjustified prices:
Beginner – $5.000 – $9.999

Trader – $10.000 – $24.999

Expert – $25.000- $49.999

VIP – $50.000 – $99.999

Exclusive – $100.000+
Some features we commonly see in other offers by regulated brokers are there, but for this price you'd expect guaranteed returns and insane profit. 
Even these basic features that Roisea supposedly offers aren't certain, since this is a scammer after all. They've just made their offer sound attractive, but no regulatory framework actually obligates them to provide those services. None of it was possible to confirm since Roisea didn't allow us to open an account.
How Is the Scam Conducted?
Despite the solid-looking website, Roisea is still a scamming entity with the tendency to deceive and rob their users. At the present moment, new accounts cannot be opened which signalizes something is wrong. However, Roisea is a common fraudster that manifests some generally known patterns. 
First off, they glorify their non-existent legitimacy and shady services. Getting their victims' trust is only the first step. After enough convincing over the phone and email spamming, they manage to convince at least someone to invest. The disgustingly expensive account types are a first step of the cyber theft project.
Dedicated to robbing their targets to the very last penny, Roisea boiler room agents never stop being pushy while promising huge returns. Less knowledgeable traders will sooner or later fall for it and suffer later. 
Our recommendation is to read the following part if you're looking for a reliable and trustworthy brokerage.
Roisea Overall
Summary
In addition to what we've talked about in this Roisea review, we have also given you some suggestions for incomparably better broker choices. Furthermore, we'd like to encourage you to contact us if you still have any doubts considering this broker or any other. 
Keeping the Forex market safe yet fair and beneficiary to every trader is a difficult task, but you can contribute to it by reporting unsafe brokers you encounter. We can help you with that, and authorities from a particular jurisdiction will deal with the fraudsters. 
Roisea also serves as an example of what reputable brokers aren't allowed to do. The unclear trading conditions, insufficient software offer and excessive pricing are just some of the details. Do not fall for it. 
FAQs About
Roisea
Broker