August 02, 2023
Reading Time:
6
min
Venus FX Review: An Insider's Look at Their Fraudulent Practices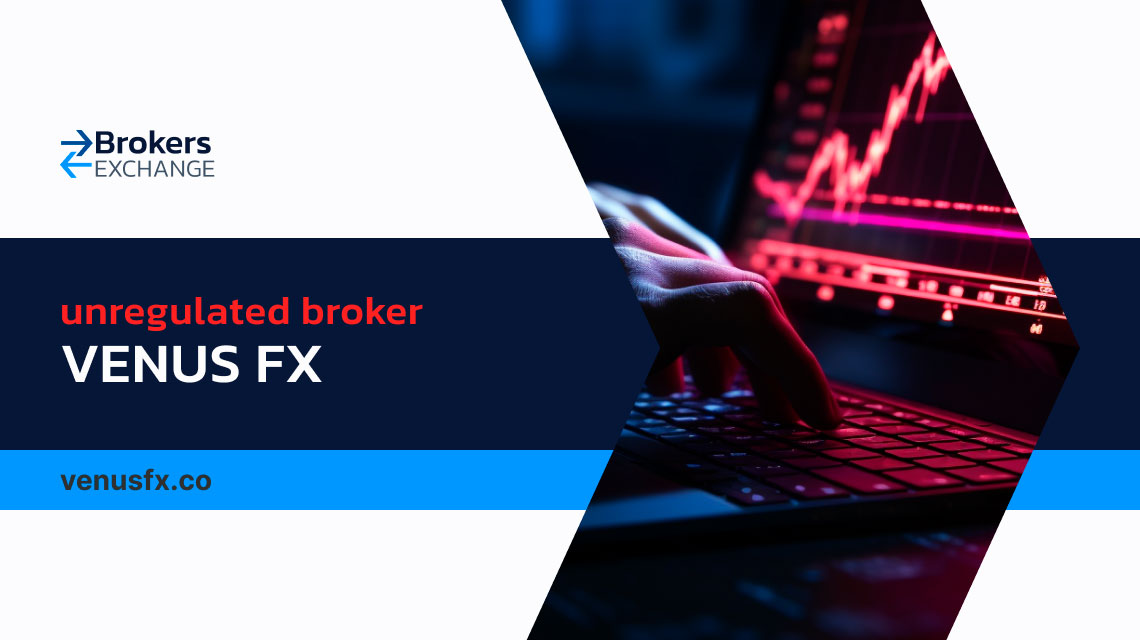 Account types, payment methods, leverage, regulation, and many more are uncovered in this Venus FX review. Join us in uncovering the truth behind the brokerage and putting a stop to their fraudulent practices by exposing them. 
TradeFCA is a different broker that is comparable. When conducting that analysis, it appeared that practically all of the information they offered was untrue, and a broker who lies is never good. Reliable brokers are open and transparent about their backgrounds and business procedures.  Join us as we expose the broker in our Venus FX review right away. 
Who Is Venus FX? All About venusfx co
Venus FX is a brokerage firm that deals in commodities, indices, digital currencies, and forex. The website initially appears to have all the information it needs, but after checking each part, it becomes apparent that it is purely cosmetic. We entered the spreads area to view the spreads, but regrettably, the only information provided was an explanation of what spreads are rather than where they begin. 
Further investigation has revealed that this broker hides information on spreads, fees, and many other critical features you should look for in a broker. Traders are urged to exercise caution because lies are frequently told by brokers like Venus FX or Virtus Capital. 
| | | |
| --- | --- | --- |
| | VenusFX | Reliable Broker Must Have |
| Legal name | VenusFX | Transparently displayed in his disclaimer or legal documents |
| Regulation | Unregulated | Within your legal jurisdiction – local regulator |
| Registered in | Not registered | Your country or the country whose license applies in your legal jurisdiction  |
| Established | 2023 | The older the domain – the higher the possibility the company is trustworthy |
| Website | venusfx.co | Domain should be from local or international zones, no .xyz etc. |
| Financial Authorities Warnings | | None |
| Contacts | +442081576795 | Phone, email, social media, web form |
| If a withdrawal is possible | Highly unlikely | Yes |
| Fees | | Transparent fees – list of spread and commissions |
| If Active on Social Media | No | Often present on social media |
| Investor Protection | None | Compensation fund |
Regulation Info
In addition to the fact that VenusFX is not governed by any financial regulatory body, they have also been published with a warning. Red flags just kept popping up as we dug more into this Venus FX review, making us think that the Venus FX fraud is true. 
The FCA must either permit or register nearly all businesses and persons selling, marketing, or offering financial services or products in the UK. The Financial Conduct Authority (FCA) issued a warning regarding VenusFX, advising traders to exercise caution when trading with the broker as they won't be covered by the FCSC compensation fund in the event of a mistake. 
The International Organization of Securities Commission (IOSCO) supported the FCA warning, providing a direct link for traders to be aware. 
Given their lack of regulation and the warnings from a very reliable institution, it is safe to state that the broker is terrible news overall. 
Venus FX Broker Profile
The FCA's warning, the broker's phony address, and their lack of openness and regulation is all we currently know about this broker. Additionally, they offer a web-based trading platform that is pretty dubious. It was unexpected to discover that they are providing a demo account, but we think the absence of educational resources is a huge drawback and that even the demo account won't be sufficient to make up for it. 
Trading Platform

Web-based VenuxFX Platform

Account Types

Basic, Silver, Gold, Platinum, Diamond

Financial Instruments On Offer

Forex

(EURUSD, EURGBP, USDNOK)

Cryptocurrencies

(BTC, ETH, XRP)

Indices

(S&P 500 Index, Dow Jones Industrial Average, FTSE 100 Index)

Commodities

(Crude Oil, Natural Gas, Corn)

Maximum leverage

1:1000

Minimum Deposit

$250

Commissions/Bonuses

Welcome bonus 40% – 125%, Rewards $1,000 – $75,000

Mobile app

No

Desktop app

No

Autotrading

No

Demo account

Yes

Education or Extra tools

None
Venus FX Account Types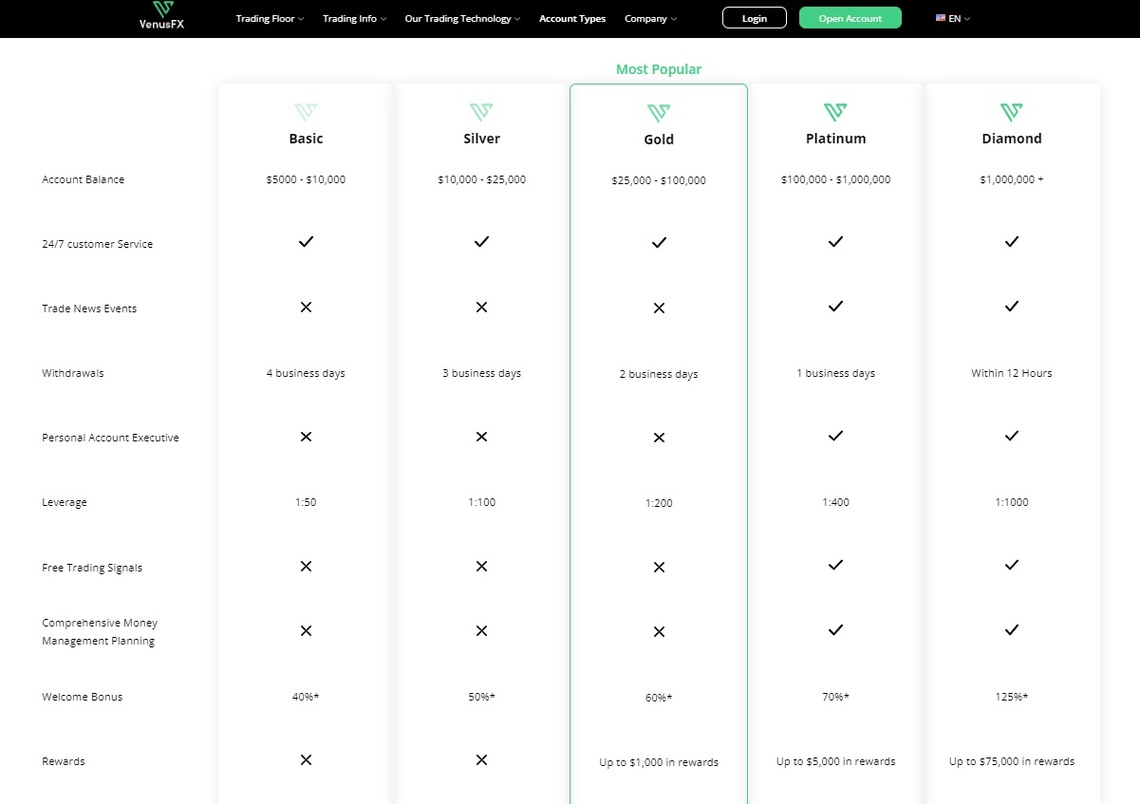 VenusFX offers a total of five different account categories, each with a unique set of "benefits" and leverage. The account types and advantages provided are:
Basic account

($5000 – $10,000): Basic features and a basic account. You receive a 40% welcome bonus, a withdrawal wait time of 4 business days, and leverage up to 1:50. 

Silver account

($10,000 – $25,000): The leverage for this account type increases to 1:100, the waiting period for withdrawals is 3 business days, and the welcome bonus is up to 50%. 

Gold account

($25,000 – $100,000): With this account type, the leverage is 1:200, the welcome bonus is 60%, and you can earn up to $1,000 in rewards. You also receive daily market updates, educational materials, educational webinars, trade alerts & market analysis, and a VIP mentoring program. Overall, paying up to $100,000 gets you what you could have gotten for free. 

Platinum account

($100,000 – $1,000,000): The only differences between the Platinum and Gold accounts are the leverage (1:400), withdrawal wait (1 business day), welcome bonus (70%), and reward cap of $5,000. 

Diamond account

($1,000,000+): Everything you get is the same as with the Gold and Platinum account types, but if you deposit $1,000,000, you get a leverage of 1:000, which seems excessive considering that withdrawals take 12 hours to complete and bonuses are up to 125%. You can also obtain rewards of up to $75,000 if you deposit $1,000,000 as well. 
Overall, the deposit amounts are relatively high given that some brokers allow trading for as little as $1. To entice traders, sizeable welcome incentives are distributed across all account kinds. The awards, which can total up to $75,000, are presumably also a fiction intended to entice traders to make a huge deposit. 
Is Venus FX Safe To Trade With?
Venus FX is risky to trade with in light of the warning from the FCA endorsed by IOSCO, lack of regulation and transparency, significant welcome bonuses and awards, hidden costs, and spreads. Venus FX appears to be a fraud that attracts traders with deceptive promises, and there are no trader reviews available for the broker. The one pro is that they provide a demo account, but even that doesn't make up for the other drawbacks. 
Protect your investments and stay away from fraud. Avoid Venus FX if you want a secure and dependable trading environment. Get in touch with us right away to look into better options and choose a trustworthy broker who puts your financial security first. Schedule a free consultation right away to trade with assurance!
A Look at Venus FX's Traders They Serve
Unregulated, fraudulent brokers frequently provide large incentives like prizes or welcome bonuses. The same is true with VenusFX. By making fictitious claims of enormous earnings and generous awards that can reach $75,000, they are drawing in traders. No trustworthy broker would provide awards or welcome bonuses this size. 
Most of the victims of the brokers are from Malaysia, the UK, Italy, France, and Germany. Investors have already been advised not to trade with Venus FX as they are not covered by the FCSC compensation fund, according to the UK's FCA. You never know what can happen to regulated brokers, and the most important thing is that your money is secure. 
Stay away from unsafe brokers like Venus FX and bogus promises. Protect your assets by selecting regulated, safe solutions. Get in touch with us right now for help locating reputable brokers who put your financial security first. Schedule a free consultation right away to trade with assurance!
Deposits and Withdrawal Methods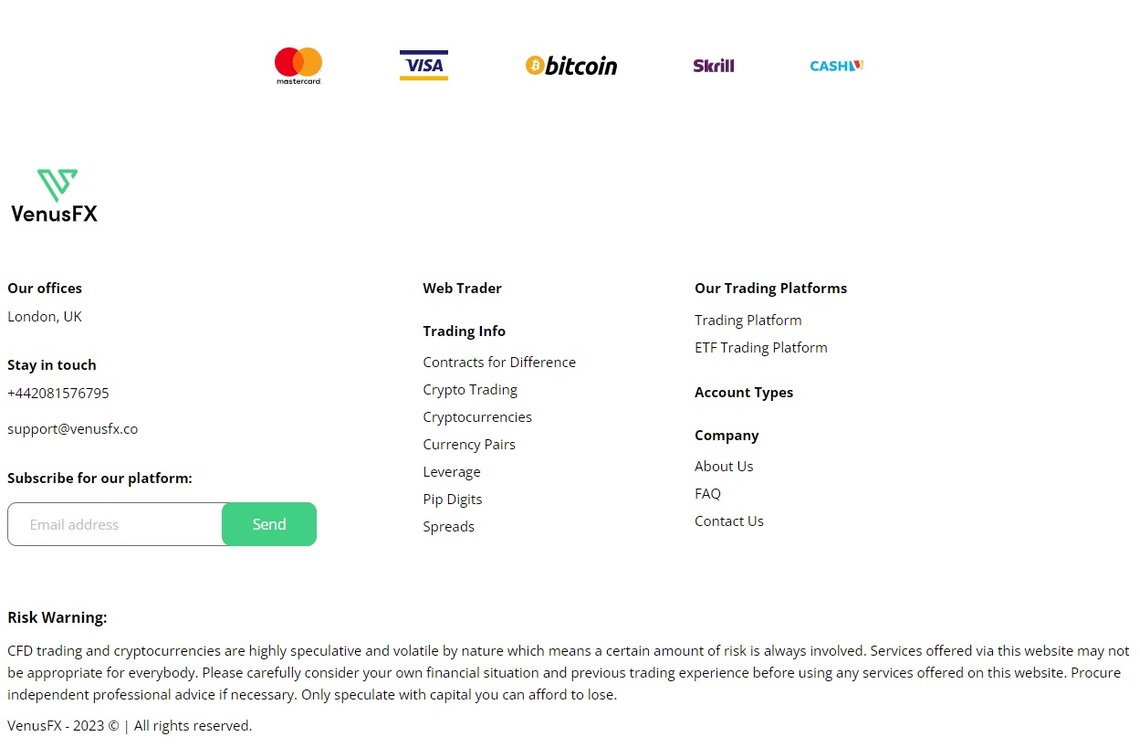 The easy deposit options provided by Venusfx include bank wire, eWallets, and popular credit/debit cards. While bank wire deposits might take up to 5 days, eWallet and card payments are immediate.
The base currency for your account may be USD, EUR, AUD, or GBP. With your native currency, there won't be any additional fees when funding. If you need help with account currency, contact customer service.
Venus FX Pros and Cons
Pros
Cons

Demo account 

Unregulated

Warnings from FCA and IOSCO

Suspicious platform

Not registered

Lack of information and transparency

Hidden spreads and fees

High deposit amounts

Luring welcome bonuses and rewards
Long Story Short – Venus FX
Venus FX is a fraud that you should avoid, as evidenced by the lack of information, regulation, and transparency, large welcome bonuses and prizes, the FCA warning, the dubious platform, the phony address, hidden fees, and many other above-mentioned red flags. The only positive aspect of this broker is that they provide a demo account, but even that doesn't do much to help their reputation.
We wouldn't have much to talk about if brokers like Venus FX, BB360, or any others like them didn't exist. Like previous reviews, our Venus FX review reveals the truth about the brokerage and sheds light on its operations. Avoid bogus brokers like BB360 and Venus FX. Choose reliable, licensed brokers for a secure trading experience and safeguard your investments. Say no to stress and get in touch with us right away for help finding reputable brokers who put your financial security first. 
FAQ Section
Is Venus FX Legit?
Venus FX is an unregulated brokerage company probably established in early 2023. Due to multiple red flags including their regulatory status, lack of transparency, trading platform, and many others, Venus FX is not legit.
How does Venus FX Scam Work?
They are luring in investors by offering large welcome bonuses that go up to 125%, rewards that can go up to $75,000, and mostly by offering false hopes. Traders are advised to proceed with caution.
What Are Venus FX Trading Platforms?
Venus FX doesn't offer any reliable platform such as MT4 or MT5. They offer a web-based platform that has no name, which raises even more doubts about the reliability of the brokerage.