September 19, 2023
Reading Time:
5
min
Traders With Edge Review: Evaluating the Firm From Head to Toe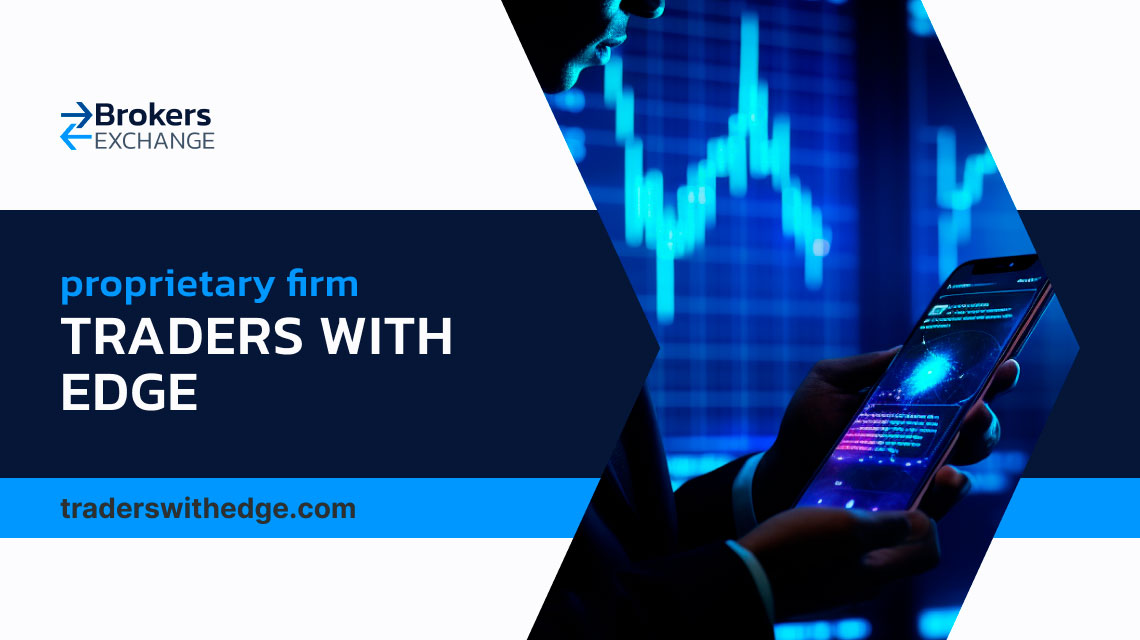 Traders With Edge prop firm is based in Hong Kong and the US and was established in 2022. Without a long history, many would say that this firm is unreliable. However, they are one of the fastest-growing prop companies today. Read our Traders With Edge review and find out whether or not this prop firm is for you. 
Additionally, make sure to check out Dakkengroup, an unreliable brokerage company ready to scam investors. Now without further ado, let's start our Traders With Edge review. 
Who Is Traders With Edge?
Traders With Edge is a proprietary trading firm that educates and funds traders who want to quit their day job and trade full-time, or who are already trading full-time and want to increase their income by trading a larger account. The firm is backed by several large private equity companies that provide the funding. 
The free trial is available as an abbreviated version of the Traders With Edge Challenge for you to familiarize yourself with our platforms, and trading rules and get a sneak peek of what it's like trading with Traders With Edge. They are partnered up with Symbiosis Capital and Eightcap, brokers for all types of traders. 
Traders With Edged
Reliable Broker Must Have
Legal name
Traders With Edge Limited

Transparently displayed in the disclaimer or legal documents

Regulation
Regulation not expected

Within your legal jurisdiction – local regulator

Registered in
Unit 1603, 16th Floor, The L. Plaza, 367 – 375 Queen's Road Central, Sheung Wan, Hong Kong

Your country or the country whose license applies in your legal jurisdiction 

Established
2022

The older the domain – the higher the possibility the company is trustworthy

Website
traderswithedge.com

Domain should be from local or international zones, no .xyz, etc.

Financial Authorities Warnings

None

Contacts
Web Form

Live Chat

Phone, email, social media, web form

If a withdrawal is possible
Yes

Yes

Fees

$15 Evaluation Fee
$55 – $7,500 Participation Fee 

Transparent fees – list of spread and commissions

If Active on Social Media
Yes

Often present on social media

Investor Protection
No

Compensation fund
Regulation Info
Prop companies don't necessarily have to be regulated, however, like, in this instance, the regulation compliance falls onto the brokerage. Luckily, clients of Traders With Edge can rest assured that their money is in a safe place, in segregated accounts with Eightcap. 
Eightcap is a regulated and transparent broker, located in Australia. It is regulated by 2 top-tier authorities, ASIC and the FCA, and additionally, it is regulated by CySEC and SCB. Even though the prop firm is based in Hong Kong, it doesn't accept its residents, as well as residents from Australia, Cuba, Iran, North Korea, Sudan, and Syria. 
Traders With Edge Broker Profile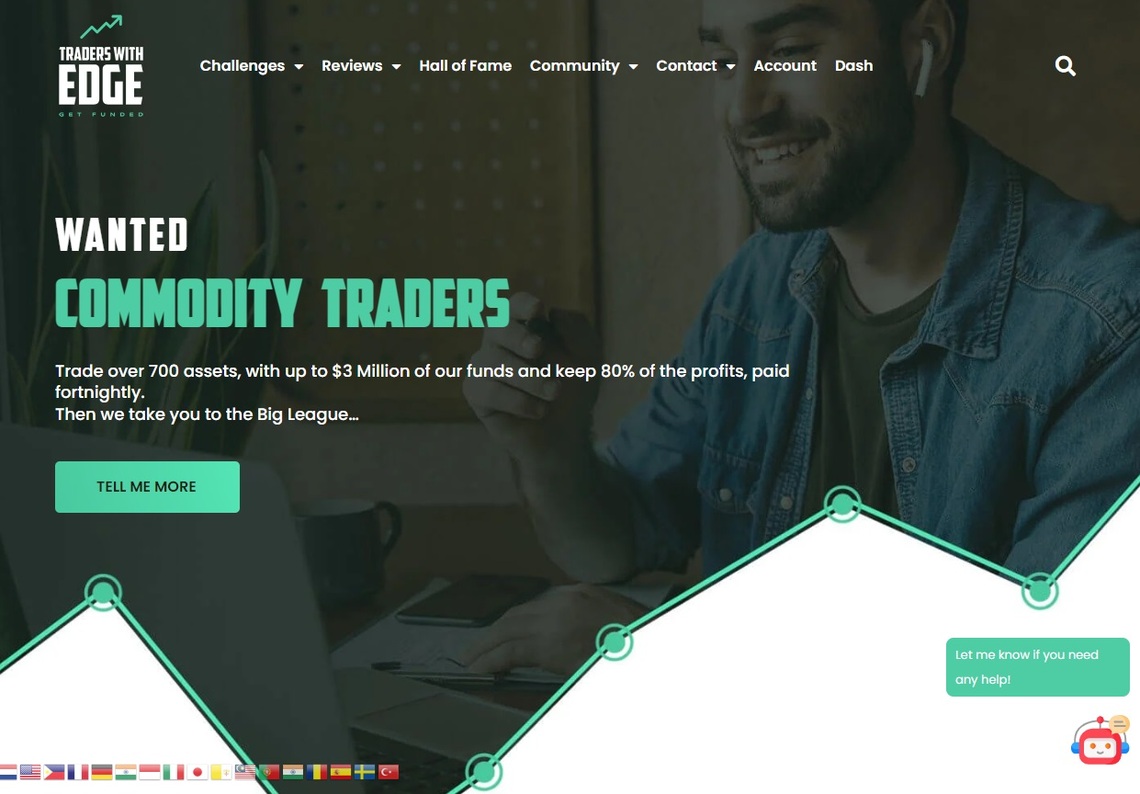 There is no maximum time limit for finishing the accounts, so you can take it slow, at your own pace. As long as you don't go over the idle period, there is nothing to worry about. Upon completing the evaluation, you will receive login credentials for a demo account at the Eightcap MT4 trading platform. 
Trading in stocks, indices, commodities, digital currencies, forex, and news is possible, with the help of EA. There is no lot size limit, however, there is a maximum risk per trade and maximum open risk on the account. There are two scaling plans on offer, the Organic, which is for those who need payments sooner, and the Rapid plan which is for those who want to trade a large account fast. 
Trading Platform

MetaTrader 4, MetaTrader 5

Account Types

Turtle, Hare, Instant 5k-1mil

Financial Instruments On Offer

Forex

(EURUSD, EURGBP, USDNOK)

Stocks

(Apple, Amazon, Microsoft)

Cryptocurrencies

(BTC, ETH, XRP)

Indices

(S&P 500 Index, Dow Jones Industrial Average, FTSE 100 Index)

Commodities

(Crude Oil, Natural Gas, Corn)

Maximum leverage

1:20, 1:50

Minimum Deposit

No deposit

Commissions/Bonuses

25% off for the challenge

Mobile app

Yes

Desktop app

Yes

Autotrading

No

Demo account

Yes

Education or Extra tools

Trading Tips Videos, Community Section, Courses and Mentors
Is Traders With Edge Safe To Trade With?
All things considered, Traders With Edge is a reliable prop firm. They are partnered with a reputable brokerage Eightcap, have no hidden rules, provide various financial instruments, and the firm is one of the fastest-growing prop firms in the market. 
However, not everything is sunshine and rainbows with this prop firm. For instance, the challenge is time-limited so if you are an inexperienced trader, it could be difficult to complete it. Overall we do recommend Traders With Edge, especially knowing your funds will be safe. 
Traders Share Their Experiences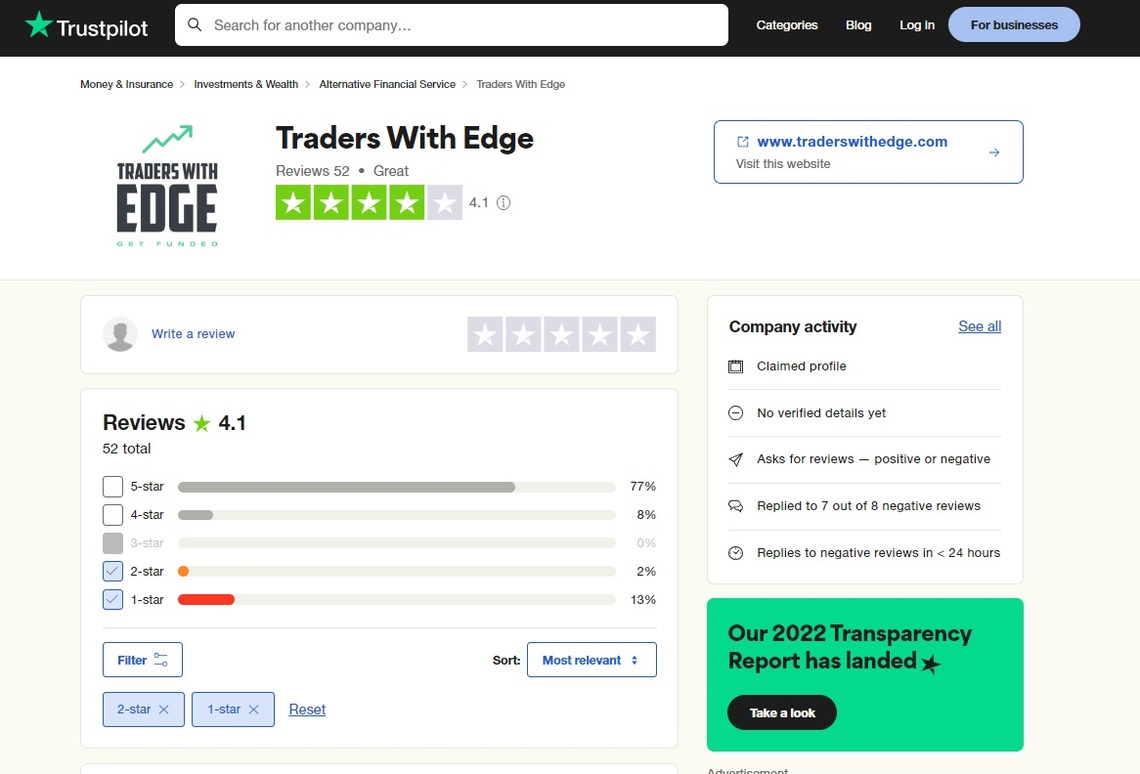 On Trustpilot, Traders With Edge has over 40 reviews, earning an overall score of 4.3 stars. Don't think we overlooked the fact that 40 reviews aren't enough, however, the firm is relatively new in the market and even some well-established firms don't have a high score like this. More than 10% of the reviews are unfavorable, focusing on account issues. 
Traders experienced problems accessing their accounts once the evaluation was completed and the rules the company offers are not sitting well with their clients. Overall, the prop firm has a good reputation for paying out its clients, so that is something to consider. 
Who Are the Traders They Cater To?
Unlike Kacapital Emporium which poses as an authentic brokerage, TradersWithEdge actually is authentic and that is why many traders feel attracted to this firm. With their affiliate program and great marketing, they attract traders all around, including the United States, India, the UK, Canada, and South Africa. 
Research and due diligence are crucial when choosing a broker or a prop firm, so make sure to educate yourself prior to investing.
Deposits and Withdrawal Methods
When the time comes, you can withdraw money from your account via a bank transfer, Wise, USDT, or BTC. Phase 2 must have been reached, your account must be paid, and you must have traded for at least ten days.
Keep in mind that you can only withdraw once per 14 days when using your winnings. The bottom line for future investments will be impacted since Traders With Edge will simultaneously take its portion of the gains.
Weighing the Pros and Cons
Pros
Cons

Associated with a regulated broker

Holds trades overnight and over the weekend

Variety of instruments

Allows EA's 

$3 Million US dollars capital

80/20 profit split 

Time-limited challenge

High participation fee for some accounts
Can I Make Money While Trading Online?
Making money while trading online is possible, especially with the help of our AI bot with unparalleled predictive power. The future of trading starts with us and it's up to you to discover how our tool can help you make more informed decisions. The best thing about it all is that we are so confident in our tool that we offer a 10-day money-back guarantee. 
If you reach out immediately, you have a chance to be one of the first 100 traders eligible for our Early Bird promotion, a 14-day trial period for our AI bot, the future of trading! Forget about unsuccessful strategic approaches and take the first step toward a more successful trading experience. 
FAQ Section
What is Traders With Edge?
Traders With Edge is a prop firm located in Hong Kong and the US, funding traders to trade in stocks, indices, currencies, commodities, forex, and news.
Is Traders With Edge Legit?
Although it doesn't have a long history, Traders with Edge is a reliable platform. The prop company is also among the fastest-growing in the industry.
What Is The Minimum Time For Passing With Traders With Edge?
The minimum days to trade is 10 days and the challenge duration is 365 days.